SHENANDOAH, Tx. -- Emory did something that has only occurred once before.
The Emory University men's and women's swimming and diving teams each won a Division III national championship on Saturday night. They are the second institution to win both titles in the same year since 2009.
The women's team clinched its eighth consecutive national title and the tenth in program history. They won four individual events and swept all five team relays. The women's team finished with 645.5 team points. Second place was Williams with 445 points.
The men claimed a national title for the first time in program history. The men had come close several times in the past couple of decades, but were finally able to claim the trophy this time around.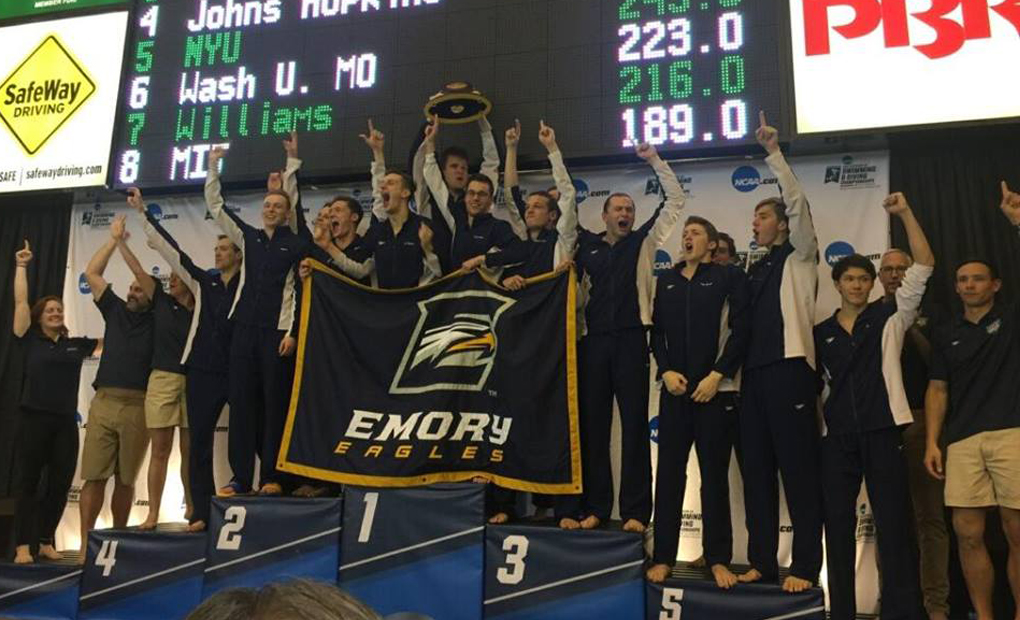 The men's team had never won more than three event national titles until Saturday. The Eagles had 438 points. Second place was Kenyon College with 384. Senior Andrew Wilson was named the Swimmer of the Year for the second time in his career after winning three national titles.
Both teams are coached by Jon Howell, who was named the CSCAA men's and women's coach of the year.
Women's winners:
Julia Durmer won 1650 Freestyle: 16:27.82
Fiona Muir won 100 Freestyle: 49.28 (school record)
400 Freestyle relay team (Muir, Marcela Sanchez-Aizcorbe, Marissa Bergh and Caroline Olson) wins: 3:19.56 (Division record)
Men's winners:
Andrew Wilson won 200 IM, 100 Breaststroke, 200 Breaststroke (all Division records)
400 Freestyle Relay team (Trey Kolleck, Alexander Hardwick, Oliver Smith and Hayes Burdette-Sapp) won: 2:56.68 (Division, school record)
200 & 400 Medley Relay team