Turner Classic Movies confirmed Monday afternoon on its Facebook page that its longtime on-air host, Robert Osborne, died in New York City on Monday at the age of 84.
"Robert was embraced by devoted fans who saw him as a trusted expert and friend. His calming presence, gentlemanly style, encyclopedic knowledge of film history, fervent support of film preservation and highly personal interviewing style all combined to make him a truly world-class host. Robert's contributions were fundamental in shaping TCM into what it is today, and we owe him a debt of gratitude that can never be repaid," TCM general manager Jennifer Dorian said in a statement released Monday afternoon.
The cable network announced his death in a tweet, but did not disclose a cause. The network told The Associated Press he died Monday in New York.
Osborne hosted four prime-time movies every night, seven days per week for TCM. He also hosted special one-on-one interviews with numerous stars and filmmakers such as Lauren Bacall, Angela Lansbury, Shirley MacLaine, Anthony Quinn, Jack Lemmon and Robert Mitchum. He also co-hosted, currently with Alec Baldwin, Essentials, a series of films considered to be "essential viewing" for anyone seeking a well-rounded knowledge of the best films ever made.
The latest update of the book, 85 Years of the Oscar, was published in 2013.
Prior to working at TCM, he had been a host on The Movie Channel, and worked as a columnist for The Hollywood Reporter. In 1988, the Academy of Motion Picture Arts and Sciences commissioned him to write an official history of the Academy Awards, 60 Years of the Oscar.
While Osborne missed the 2015 and 2016 TCM Classic Film Festival due to health issues, he was an ever-present calm voice on the cable channel from its inception in 1994 until earlier this year.
Osborne was a former actor and columnist for The Hollywood Reporter, and his scholarly and genial manner served him well both as a reporter and in his later guise as a television host, first with The Movie Channel, and later with TCM.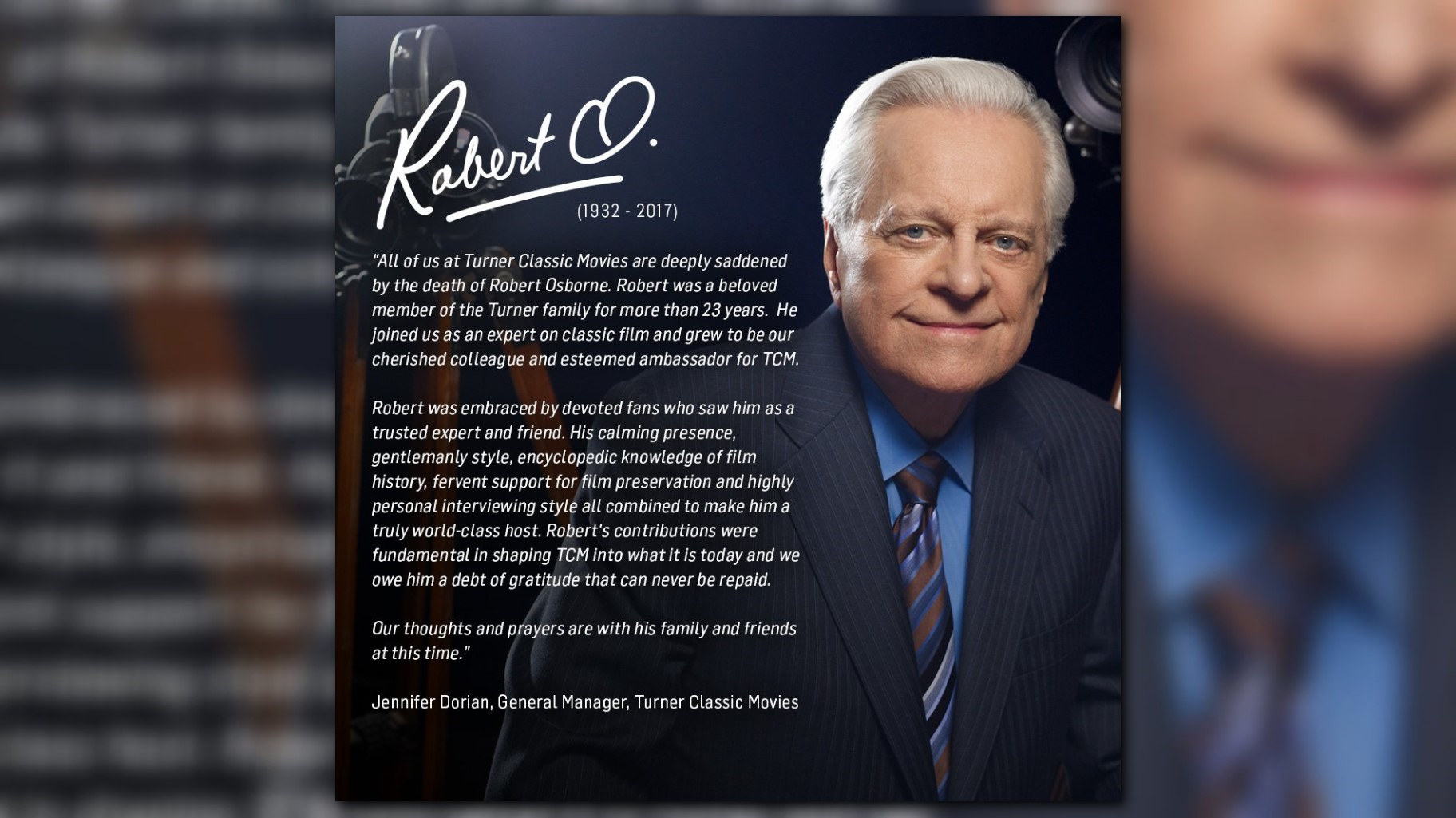 According to his IMDb page, Osborne got his start working for Lucille Ball and Desi Arnaz, but appeared as an actor in such TV series as Death Valley Days and The Beverly Hillbillies.
Eventually, Ball suggested he combine his interest in classic film and his journalism training to become a writer, which led to his first book, 1965's Academy Awards Illustrated, which led to his column for THR, and his role as the official historian of the Oscars.
Between 2006 and 2010, he even served as the official red carpet greeter for the academy at the Oscars ceremony, according to his website.
An elegant and unassuming man, Osborne had a remarkable memory for movie names, dates and facts and a storytelling gift that made him perfect as a host.
Osborne's celebrity fans began tweeting condolences and memories almost immediately.
"Pure class and one of the first people in Hollywood who supported my breaking barriers. RIP," tweeted Oscar winner Marlee Matlin.
"A good & true gent, unique and irreplaceable," tweeted Mitzi Gaynor.
Osborne was especially hailed as "an exceptionally charming" man, as one admirer put it in a tweet.
"A special man," tweeted Pat Sajak.
A "class act" whose "historical nuggets" made watching old movies even more fun, tweeted Larry King.
PHOTOS | People we've lost in 2017
PHOTOS: People we've lost in 2017
Actress Della Reese died at the age of 86. (Photo by Alberto E. Rodriguez/Getty Images)
Actress Della Reese died at the age of 86. (Photo by Alberto E. Rodriguez/Getty Images)