Family and friends come first, but have you ever considered putting college football on your Thanksgiving list?
The College Football Hall of Fame and Chick-fil-A Fan Experience are out with 10 reasons to give thanks for college football.
10.) Procrastination – There's no better excuse for putting off your honey do list than with a quick, "Sure, I can clean out the garage as soon as the game is over."
9.) Heisman Watch – Because we all like to brag about our team's hopefuls before the season even begins.
8.) Post-Game Celebrations – Dancing, water cooler dumps and grown men sitting on the shoulders of the young because we can't all be graceful winners.
7.) Play-by-Plays – From Verne and Gary to Chris, Kirk, Jesse and Dave and all the sideline reporters in between, nobody in sports can call a game better than our college football announcers.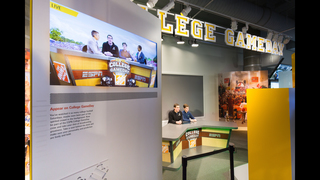 6.) Body Paint – Nothing says "GO TEAM" like "GO TEAM" spelled out on the chests of you and your 5 closest friends.
5.) Rivalries – Iron Bowl, World's Largest Outdoor Cocktail party, Holy War – when regular season games have their own names, you know the game means something.
4.) Tradition – Clanging cowbells, rubbing rocks and midnight yells – yep, sounds like college football to us.
3.) Upsets – Everybody loves upsets. And if you don't, you're just flat out wrong.
2.) Tailgating - Because what other time of the year is it acceptable for a man to eat three hot dogs, shirtless, from the back of a truck before noon?
1.) Saturdays – The rest of the items on our list are great, but none of them would be as sweet if they didn't all happen on our favorite day of the week.
You can celebrate what you love about the game at The Hall, which is closed on Thanksgiving Day but open the rest of the week, including Black Friday.