SAN FRANCISCO — The alt-right has an unlikely new martyr in the culture wars: A Harvard-educated engineer in the heart of Silicon Valley.
In the days since James Damore published a memo questioning Google's efforts to create a more welcoming environment for women, African-Americans and Latinos — then was fired for what Google said was a violation of its code-of-conduct— pundits and activists in this offshoot of mainstream conservatism have embraced him.
Damore's new Twitter handle, fired4truth, launched Tuesday and had 62,800 followers by Saturday afternoon. The leaders of the alt-right, distinguished by their understanding of how tech platforms like Twitter, Reddit and YouTube can spread and shape ideas, and whose anti-liberal ideology includes opposition to feminism and promotion of a white "ethno state," have voiced their support.
Alt-right organizers have announced plans for what they call a March on Google at as many as nine Google campuses in the United States next Saturday, to protest what they call Google's "anti-free speech monopoly."
The planned marches will come a week after an alt-right protest march "Unite the Right" in Charlottesville, Va., during which one person was killed and 26 injured when a car plowed through a group of counter-protesters. The event had been cleared by police in riot gear after local authorities declared it an unlawful assembly following bottle-throwing clashes between alt-right demonstrators, counter-protesters, white nationalists, neo-Nazis and supporters of Black Lives Matter.
Tweeting about Damore, conspiracy theorist Mike Cernovich suggested he was battling "the Diversity Industrial Complex."
How do you make the world a better place while battling the Diversity Industrial Complex? @fired4truth

photo by @peterdukephoto pic.twitter.com/BKySxGiYIT

— Mike Cernovich 🇺🇸 (@Cernovich) August 10, 2017
On Thursday Damore was photographed by Peter Duke, known for his portraits of alt-right stars such as blogger Charles Johnson, who has been involved in multiple controversial fake news stories. Duke was dubbed the Annie Leibowitz of the movement by the New York Times.
Some supporters lauded Damore as a "modern-day Martin Luther" and his Google manifesto likened to the ninety-five theses Luther nailed to a church door in Germany in 1517, launching the Reformation.
And so the author of the google memo James Damore has become modern day Martin Luther who in 1517 nailed a copy of his 95 Theses 2 the door. pic.twitter.com/iiDCbHW8kl

— Julian Soloninka (@JulianPhilosphy) August 10, 2017
Fake bus-stop ads sprouted in Venice, Calif., slamming Google as "Goolag" in the same type and color as Google's logo, a reference to Soviet camps in which as many 30 million prisoners are estimated to have been starved or worked to death between 1918 and 1956.
Damore's 10-page memo criticizing Google's diversity efforts and focus was originally posted on internal Google discussion lists, then leaked to tech websites on Aug. 5.
In it, he wrote that while he did not oppose diversity, efforts to increase the number of women in technical fields were unlikely to succeed because in general, women are more interested in people than ideas. Some of the traits that make women not as good a fit for technical positions as men are biologically-based, he wrote. Women are also more prone to anxiety and less tolerant of stress, he said.
Citing Google's Code of Conduct, which states that the company "strictly'' prohibits unlawful discrimination or harassment on the basis of race, color and sex among other characteristics, Google CEO Sundar Pichal fired Damore on Aug. 7, saying parts of the engineer's manifesto violate the code by advancing harmful gender stereotypes.
After the firing, Damore mostly bypassed traditional media to make his case, instead, giving a series of interviews on conservative and alt-right sites such as Stefan Molyneux' Freedomain Radio and Jordan B. Peterson's YouTube channel.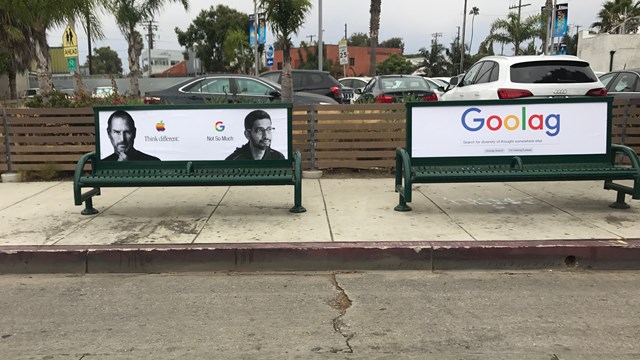 "Upper management started shaming me, calling the document harmful and unacceptable and not what Google stands for," Damore told conservative talk-show host Michael Medved Friday. He said he had not claimed that women were incapable of doing technical jobs, just that they were less interested in them, he explained.
In a bylined submission to the Wall Street Journal Friday, he repeated his original memo's criticism that Google was existing in an "ideological echo chamber" by preventing questioning of its diversity efforts. "I committed heresy against the Google creed by stating that not all disparities between men and women that we see in the world are the result of discriminatory treatment," he wrote.
Pichai, who has defended Damore's firing, told girl coders on Thursday "there's place for you in this industry, there's a place for you at Google. Don't let anyone tell you otherwise."
Pichai made his comments after the Mountain View, Calif., the company canceled a town hall meeting to address fallout from Damore's memo, which it said was out of concern for the safety of Google employees. Their names and questions began appearing on alt-right sites before the scheduled meeting.
The 28-year-old engineer's ascension into the limelight stands in contrast to the culture of Silicon Valley, broadly liberal with a strong dose of libertarian thrown in. Its biggest companies have supported the rights of a transgender student in Virginia, opposed President Trump's travel ban, and in Google's case, funded efforts to fight racial injustice. Most recently, Airbnb said it would cancel the accounts of customers trying to use its platform during the white nationalist rally in Charlottesville.
But to their users, social networks including YouTube, Facebook and Twitter have stressed that they're value-neutral platforms, designed to allow the free exchange of ideas. A new wave of younger, tech-savvy conservatives have capitalized on these networks' ability to reach geographically dispersed, like-minded followers.
"Silicon Valley businesses are creating products that have become platforms for political speech and have in fact changed political speech," said Margaret O'Mara, a history professor at the University of Washington in Seattle who studies the political history of the tech world.
Until the late 1980s, Silicon Valley was reliably Republican. What changed was the political culture around it. "The Google memo moment is really bringing a lot of these things to the fore, at a scale and a velocity that's bewildering to everybody — and I'm sure especially in the C suite at Google," said O'Mara.
Outrage over Damore's firing by his supporters has given a name and face to complaints that tech companies and their powerful news feeds silence conservative voices while their leaders throw financial heft and influence behind liberal causes.
Distrust in tech's political objectivity came to the fore last year when Facebook was attacked for allegedly keeping conservative stories off its trending news sidebar. Facebook denied the charge.
"World of Warcraft" to November 2016
While the culture wars — in their 2017 manifestation — may be relatively new to Silicon Valley, some of its most popular products have helped shaped them.
Steve Bannon, President Trump's adviser who oversaw Breitbart News Network and crafted his successful campaign, told a reporter he learned to harness the power of a troll army — legions of anonymous online users who attack and promote around a single belief — from the hit multi-player game World of Warcraft.
He recruited Milo Yiannopoulos, an author who often plays the role of alt-right provocateur, to spearhead technology coverage at Breitbart. Much of that conservative news start-up's tech coverage was on cultural issues including Gamergate, a long-lasting online argument over gaming culture and media coverage that lead to physical harassment of women who criticized female portrayal in video games.
Trump has used Twitter and other social media like no other president or candidate, rallying supporters and denouncing his opponents. His campaign capitalized using Internet platforms like Facebook Live to bypass the traditional media and give followers a raw connection to the candidate.
Tech companies have tried to walk a fine, avoiding the perception of censorship while responding to criticism that their sites enable hate speech, harassment and enable violence and terrorist recruitment. Twitter's removal of some alt-right accounts in November sparked a wave of criticism that it was biased against conservatives. It eventually reinstated white nationalist Richard Spencer one month after he and others associated with the alt-right movement were kicked off.
"So what we have is a country that is very divided on the kinds of issues that Mr. Damore has now come to symbolize, which are cultural," said Rita McGrath, a professor of management at Columbia Business School. "Things like attitudes toward equality and diversity, attitudes toward immigration, and so on."
Damore, she said, "came out and said what a lot of people were thinking, and I think the fact that it showed up in the context of Google, technology and Silicon Valley makes the story even better for those who feel that they are on the wrong end of efforts to promote greater equality by companies."
Follow USA TODAY's San Francisco Bureau Chief Jon Swartz @jswartz on Twitter and Elizabeth Weise @eweise.