October marked a milestone for Second Helpings Atlanta as volunteers picked up their one-millionth pound of rescued food this year.
The donation from Whole Foods in Sandy Springs was delivered to the Community Assistance Center for families in need.
Second Helpings Atlanta is a nonprofit food rescue organization that aims to drive out hunger and reduce food waste across metro Atlanta.
SHA has an army of volunteer drivers who pick up donations from 60 food donors and deliver to 32 partner agencies.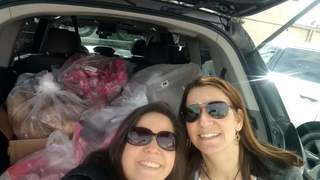 Since its first food pick-up in 2004, SHA has collected and distributed more than 5.5 million pounds of food, enough to provide more than 4.6 million meals.
This year, SHA has added 15 new food donors and 11 new partner agencies.
Close to 350 active volunteer drivers rescued 116,591 pounds of food in September, which up 31 percent compared to last year.
It was enough to provide 97,159 meals.
Parents & students from Pace Academy rescued the five-millionth pound of food on May 21 and delivered it to Hope House in Sandy Springs.
Studies show as much as 40 percent of all food produced in the United States every year is never consumed, and the value of that unconsumed food has been placed at $165 billion.