The Federal Bureau of Investigation is releasing new information on a massive credit card fraud ring that's been stealing thousands of personal cards across metro Atlanta for months.
So far, no one has been able to stop them.
The card thieves have stolen the cards mostly from Cobb and Gwinnett counties, using the credit cards to by thousands of dollars in gift cards from all sorts of merchants and restaurants.
11Alive just obtained new security footage of a person of interest from the FBI. The video shows a woman who tried to use a credit card to buy more than a dozen gift cards at once. The merchant became suspicious and told her she would have to pay cash. She turned around and left.
PREVIOUS COVERAGE
► FBI: Thousands of credit cards stolen by group in metro Atlanta
The FBI isn't sure if the woman was trying to use a stolen credit card but they want to talk to her. It's not clear if she's the same woman caught on camera previously who the FBI said is, along with her gang, using stolen credit cards.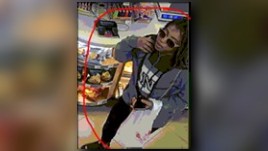 Authorities believe that group is using stolen credit cards to buy a relatively few gift cards at a time. The strategy rarely raises any red flags but has allowed the theft of thousands of dollars, in all, so far - definitely felony grand theft.
"Not anything shocking or alarming individually, but it's the volume that is what's alarming," FBI Special Agent Stephen Emmett said. "Just like shoplifting or cargo theft - everyone pays for this. The banks, the card companies eat the cost, but in the long run everybody eats the cost."
Emmett said one issue is that merchants don't always check identification when people use credit cards which helps this theft ring get away with it. Anyone who might know who the women in the photos are can call the FBI in Atlanta, 404-679-9000, or police in Gwinnett County or Cobb County.