RUTHERFORD COUNTY, Tenn. -- Donnie Rowe and Ricky Dubose made their first court appearance Friday in Tennessee, after being captured Thursday night, following a three-day run on the lam.
Rowe shuffles into court, donning an orange jumpsuit, his hands cuffed together. He waives his right to extradition. The judge explains to him that he has a fugitive warrant and other warrants out of Tennessee, but that Georgia will pick him up and return him to Tennessee on those charges.
He answers the judge simply with, "Yes, mam."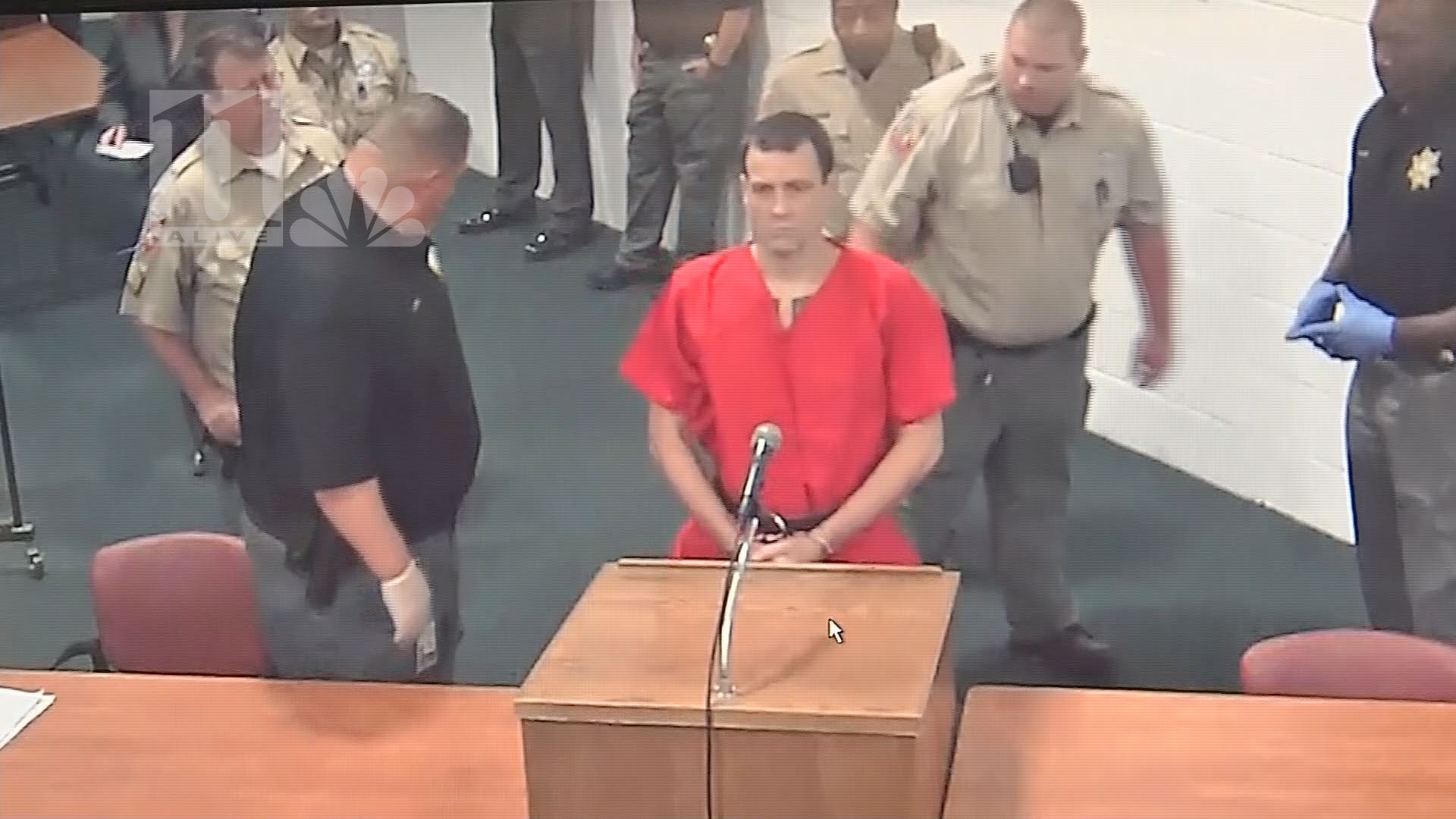 The judge tells Dubose that he too has a fugitive warrant.
He waives his extradition back to Georgia. While there may be more warrants in Tennessee, she relays to the inmate, Rutherford County is giving him to Georgia on the charges he faces for the deaths of the officers.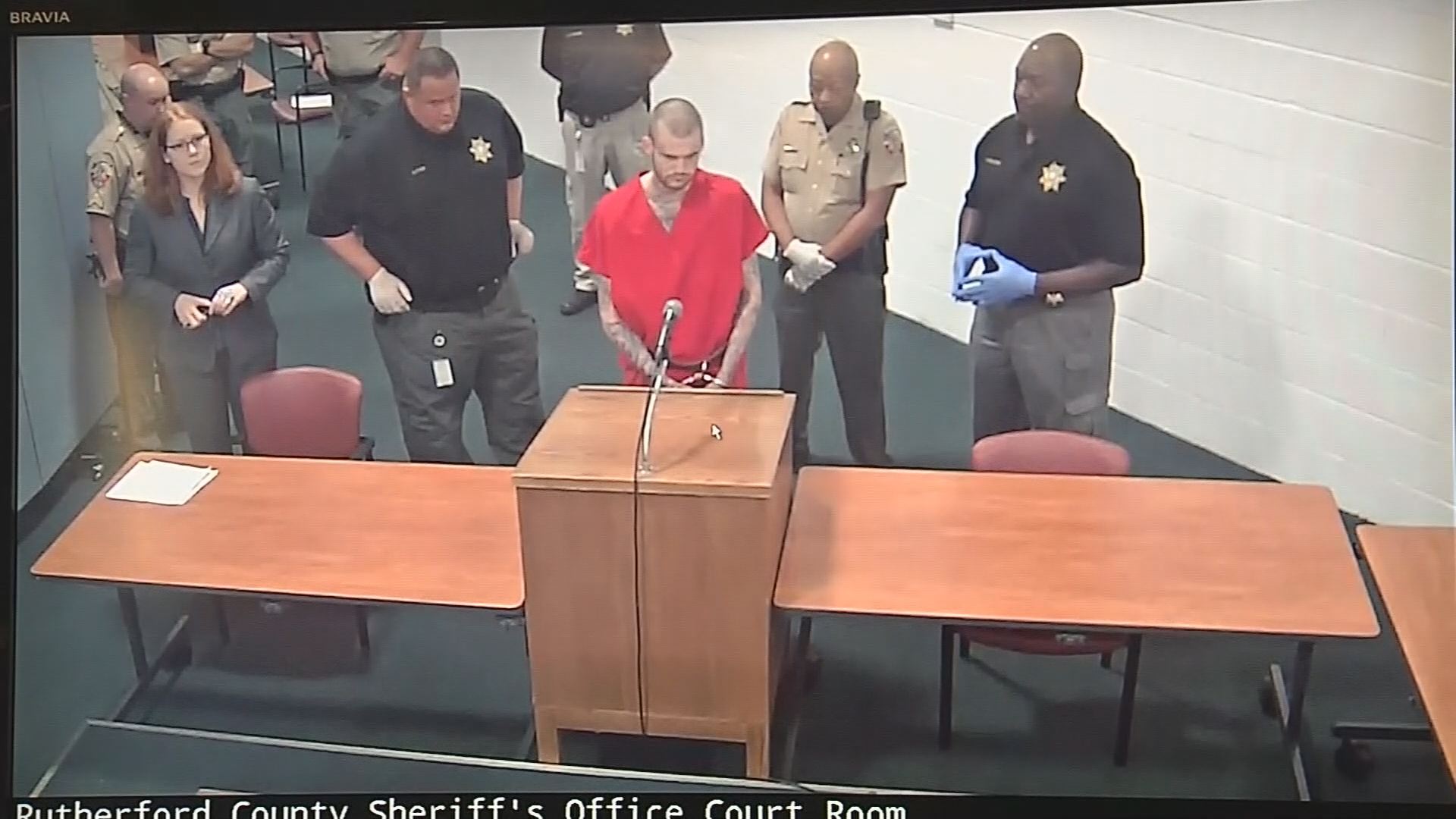 It's a sobering morning for Rowe and Dubose who were captured after escaping a department of corrections bus and allegedly killing two officers.
It was a moment the southeast had been waiting for, including several law enforcement officials across several state.
The heavily tattooed Rowe and Dubose were shirtless on the ground, laying on their stomachs, hands cuffed behind their backs and staring up at more than a dozen law enforcement members.
That's how an intense manhunt that spanned three days, and stretched across the nation, ended.
On a Tennessee highway, more than 270 miles away from where their escape began, is where authorities caught the men, who they say killed two of their own.
MORE | What really happened on the Dept. of Corrections bus?
PHOTOS: Escaped inmates recaptured after massive manhunt
A photo shared by law enforcement shows Donnie Rowe (left) and Ricky Dubose (right) after their capture in Tenn. on Thursday.
A photo shared by law enforcement shows Donnie Rowe (left) and Ricky Dubose (right) after their capture in Tenn. on Thursday.
Photos of Dubose and Rowe were shared hundreds of thousands of times across social media since Tuesday morning, when authorities say the inmates overpowered and killed two corrections officers on a prison transport bus, filled with more than 30 other inmates, near Eatonton, Ga.
The two carjacked a passerby and disappeared in his Honda Civic. They would later switch stolen cars to a white, pick-up truck.
Over the next few days, there were several reported sightings, from a Family Dollar store in Madison, Ga., (that was later confirmed to be true) to a rest stop in South Carolina (that turned out not to be them), but no concrete idea of where they were -- or where they might be headed.
Until Thursday.
Around noon, Bedford County Sheriff Austin Swing said an abandoned car was found on a highway that appeared to be covered up with branches.
Around 2:30 p.m., Dubose and Rowe broke into a home in Shelbyville, Tenn., and tied up a man and woman. For several hours, the suspects threatened the couple, while eating their food and stealing their clothes and valuables.
The men originally planned to have the woman drive them somewhere in her car, but when she got in, the vehicle wouldn't start.
At that point, the fugitives left in the couple's other vehicle, a Jeep Cherokee, Swing said.
Within minutes, the couple called police.
Authorities caught up with the Cherokee on Interstate 24 near the Bedford County/Rutherford County line, about 10 miles south of Murfreesboro, Tenn.
A 10-mile pursuit ensued, during which shots were fired. Vehicles were hit, but no people were injured. Finally, the Cherokee crashed,and the fugitive men left the vehicle and a foot chase commenced.
The suspects ran to a house and tried to break inside. The homeowner, who is a former corrections officer himself, according to Putnam County Sheriff Howard Sills, came out and watched the suspects, who were laying face down on his driveway, until authorities arrived.
And just like that, the manhunt that had brought fear, uncertainty and tension to the state of Georgia was over.
"If the man had not done what he did... they would have gotten another car, the chase or the pursuit would have been on yet again, and more crimes would have been committed," Sills said.
"We're very grateful to him. His actions culminated this. Brought it to a halt. Without anyone else being hurt. And certainly, I believe that if they had not been apprehended, more people would have been hurt. More crimes would have been committed, until they were apprehended or killed."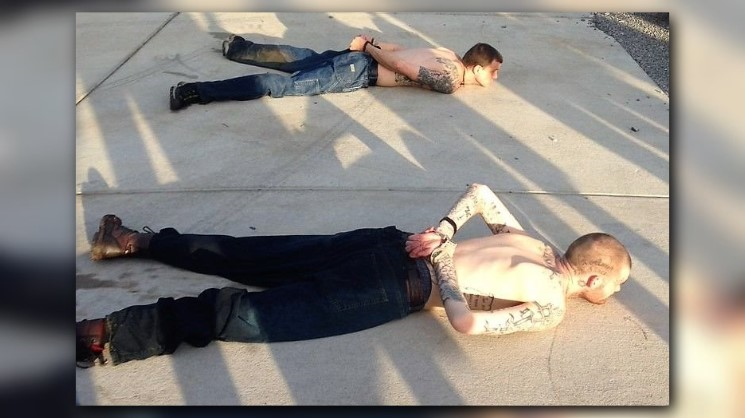 A photo of the two suspects after their capture was quickly shared by law enforcement and news agencies across the country Thursday night.
AERIAL FOOTAGE | Georgia fugitives caught in Tennessee
It showed the two men tattooed and tired, but alive--which may have caught them by surprise. Earlier, they told their hostages that "they'd be dead in 24 hours."
They will be transported back to Putnam County, where Sheriff Howard Sills said each will be charged with escape, motor vehicle high-jacking, burglary, auto theft in Morgan County, Ga.
They will also face charges in Tennessee for auto theft in Moore County, Tenn., and home invasion/armed robbery.
Sills expects to have them in custody in Georgia within 72 hours, he said.
"Right now, the intent of the sheriffs [is] to let us have them because their charges here are more serious."
The sheriff said within two hours of the fatal shooting, he had warrants for both men for murder charges.
"I want a jury to convict them and sentence them to death. That's what I want," Sills said. "They're savages. That's what they are. And you know what they are today? They're caged savages. Just that simple."
TIMELINE | Manhunt for escaped Georgia inmates
Aerial footage: Georgia fugitives caught in Tennessee