ATLANTA -- Neighbors of a Sandy Springs home were shocked Wednesday after a 911call from a woman who said she was being held against her will led police to arrest a human trafficking suspect. (Click here to hear the call)
Police arrived to the million-dollar home to find eight women aged 19 to 23 inside being held against their will.
Since, with the help of the FBI, police have charged 33-year-old Kenndric Roberts of Sandy Springs with false imprisonment and trafficking of persons for labor.
PHOTOS | Human trafficking suspect holds 8 women captive in million-dollar home
PHOTOS: Human trafficking suspect arrested for holding women hostage
RELATED | Alleged victim's mother: He said, 'I will find you and kill you'
ALSO | Alleged human trafficking victim met 'boss' on dating website
But in the hours following the story, many of our viewers have been asking: what is the difference between human and sex trafficking?
11Alive went to federal investigators to get answers.
What is trafficking and who investigates it?
Human trafficking, according to the U.S. State Department, is defined as "the recruitment, harboring, transportation, provision, or obtaining of a person for labor or services, through the use of force, fraud, or coercion."
The Immigration and Customs Enforcement Agency, or ICE, is one of the bodies that investigates and prosecutes human trafficking. The FBI is another. Officials tell 11Alive that human trafficking is the name for all cases that involve trading of people.
What is the difference between human and sex trafficking?
According to the U.S. State Department, trafficking is not just limited to the sex industry. It can also includes forced labor and "involves significant violations of labor, public health, and human rights standards worldwide."
Falling under the banner of trafficking are different sub-types, like sex and child trafficking, and forced labor trafficking. According to ICE, there is a fair amount of overlap in these sub-types, which is why the term "human trafficking" is used.
How common is trafficking?
"It's modern day slavery, to use a blunt term," ICE's Southern Regional Communications Director Bryan Cox told 11Alive in January.
In 2016, there were more than 1,900 human trafficking arrests that uncovered more than 400 victims over the year. Cox said an increased focus on human trafficking has resulted in record-high arrests, but those numbers don't even include human smuggling operations.
RELATED | Dozens arrested in Georgia as part of FBI sex trafficking sting
PHOTOS | Mug shots of dozens arrested in FBI sex trafficking, prostitution sting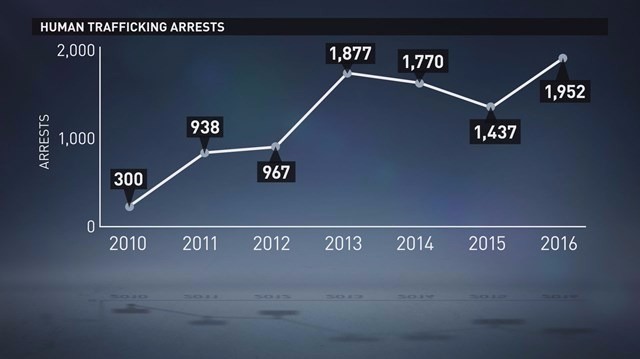 The FBI also calls Atlanta a "hot spot" human trafficking. In a document published by the former U.S. Attorney for the Northern District of Georgia Sally Yates, she writes "the same ready access to commercial air and ground routes that draws businesses and travelers to Atlanta also entices criminals engaged in human trafficking."
Human Trafficking | An epidemic too close to home
MORE | Mom with local ties fears daughter has become victim of human trafficking
Atlanta, she writes, is now one of 14 cities with the highest levels of sex trafficking of children.
How can you identify trafficking victims?
According to Cox, traffickers often coach victims to lie about their age, identity, and relationships when approached by law enforcement. Child victims are often prevented from attending school or other activities where they might be discovered by authorities.Victims often lie about being victims. It's why Cox said ICE has adopted a victim-centered approach to human trafficking.
RELATED | Flight attendant saves passenger from human trafficking
Victims are eligible for a U Visa, provided they work with authorities in the prosecution case. Cox said that cooperation is vital to making a case against traffickers.
"It's critical, because they have the first hand experience," he said. "Proving that this is an individual that has been held against their will and forced to do things against their will is central."