COVINGTON, Ga. -- A Facebook post claiming on duty firefighters were denied service at a local restaurant has gone viral, but is it true?
People were furious after the post said that workers at the Wendy's in Covington allegedly told firefighters in full gear they wouldn't serve them. The post was shared hundreds of times with even more people commenting with outrage.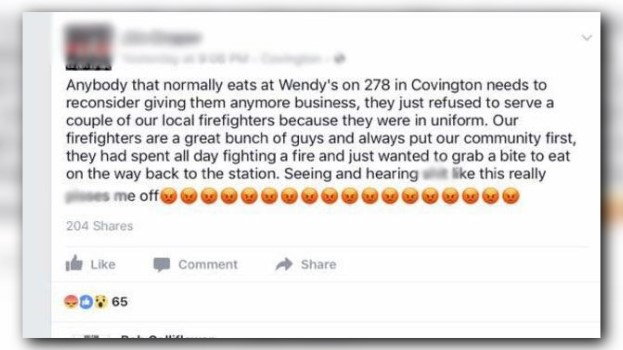 The post claimed that the incident happened at the Wendy's in Covington on Highway 278. A manager at the store confirmed to 11Alive that at least that part of the story is true.
But the post went on to say they were denied service simply because they were wearing their uniforms.
The district manager of Wendy's in Atlanta said that part of the post is false. He said the employee's shift had ended 20 minutes earlier and she refused service to everyone -- not just the firefighters.
11Alive's Kaitlyn Ross observed several police officers wearing their uniforms and being served on Tuesday, and a firefighter with the city of Covington got in touch to say that he was served just last week at the restaurant while in uniform with no issues. He thinks the issue is with one employee, not the entire restaurant chain.
The district manager said the employee has been disciplined and they've talked to the fire chief and the firefighters involved to apologize.
UPDATE: Man behind Wendy's firefighters post clarifies what happened