Former Atlanta Falcons linebacker Buddy Curry and defensive back Bobby Butler will hold a free youth football camp this week in Norcross.
This is the pair's 15th year of organizing camps for kids across the Southeast through their nonprofit organization, Kids & Pros.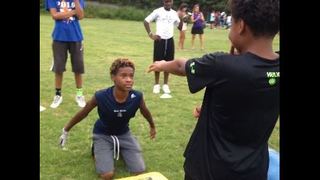 This week's camp will include nine hours of football instruction over three nights, from July 12 through July 14, at Peachtree Corners Baptist Church.
The camp will also include a special Parent Info Session on the first day from 6:30-7:30 pm.
This session is open to surrounding area youth recreation and school coaches and parents interested in learning more about coaches as role models, character-building through football, equipment fitting, concussion avoidance and proper skill training and tackling techniques.
Gwinnett Medical Center's Concussion Institute Dr. Adam Shunk will lead the discussion on concussion awareness and answer parents' questions.
NFL Alumni Buddy Curry (Atlanta Falcons 1980-1988) and Bobby Butler (Atlanta Falcons 1981 – 1992) will lead the camp.
It is free, thanks to donations by the following partners: Walmart, Sam's Club, NFL Players Association, Concussion Institute Gwinnett Medical Center-Duluth, Sports Medicine Gwinnett Medical Center-Duluth, Bank of North Georgia, Law Office of John Z. Wu, HTFW, NFL Foundation, and National Christian Foundation, Thompson O'Brian, Dennis & Deborah Patterson, and Waste Pro.
Since camp registration has hit 500, online registration is closed. Walk ups will be allowed.
Kids & Pros, Inc. is a non-profit organization, started in 2002 by Butler and Curry to teach character and skills through athletics.