Upper school students at Holy Innocents' Episcopal School left their classwork behind and spread out across metro Atlanta to volunteer as part of their Great Day of Service.
They were joined by faculty members to mow, rake, garden, paint, cook, pack and work for several nonprofits, including Furkids, Habitat for Humanity ReStore, Clifton Ministries. the Salvation Army in Atlanta and Lawrenceville, A.G. Rhodes, Health & Rehab (Cobb), HELP Org, Inc. and the Good Samaritan Health Center.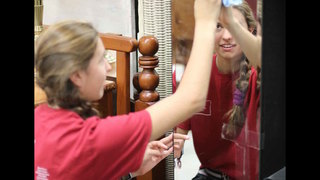 "It gives us the opportunity to come together and give back to our community as a group," said senior Amanda Gibson.
I CARE Atlanta was one of the sites that welcomed a group of HIES student-volunteers.
I Care helps Metro Atlanta residents to get "stabilized" through food, clothing, furniture and other donations.
HIES students helped in the I CARE Atlanta food pantry, unpacking food from donors like Kroger, Fresh Market and even Papa John's, which gives pizzas to families who are living in rooms where only microwaves are available.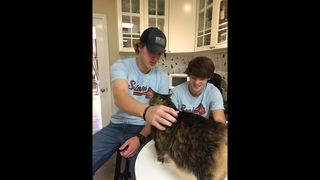 "This is helping me try to get my feet on the ground and my life back together," one recipient said as she picked up her donations Tuesday morning. "I moved back home to Atlanta last year. I've gotten a job. Now it's about saving up and getting better."
More than 575 HIES students, faculty and staff donated time and energy during the biannual Great Day of Service.
"It all added up to 19 sites this year, the most Holy Innocents' has ever had," said Terry Kelly, 12th-grade dean.