The Atlanta Braves open their new stadium Friday with an exhibition game against the New York Yankees, although getting to SunTrust Park became a lot more complicated with the fiery collapse of a bridge on I-85.
Thursday night's bridge collapse occurred closer to the team's old ballpark, Turner Field, than its new location in Cobb County. About 250,000 vehicles travel the portion of roadway each day headed into (southbound) and out of Atlanta (northbound). (Click here to see video of the collapse)
PHOTOS: Fire burning under Atlanta Interstate (story continues under the gallery)
PHOTOS: Fire burning under Atlanta Interstate
Traffic was already thought to be a major drawback to the Braves' new ballpark even before the bridge collapsed about 10 miles southeast of the stadium.
The Braves issued a statement Friday morning saying,
"We look forward to hosting our A-List Members tonight for the first exhibition game at SunTrust Park. Due to the bridge incident on I-85 in Atlanta, we encourage our fans to plan before they leave for the game. Traffic patterns in Atlanta will be adjusted for everyone, so please listen to local authorities as they direct you around the metro area. Also, we encourage all fans to purchase their parking before they leave today at braves.com/parking and trust Waze to get you directly to your parking lot."
Cobb County officials hadn't announced a specific traffic plan as of 9 a.m. ET Friday to deal with the 7:35 p.m. ET game, but they did say they will "proceed with its traffic management plan and will make adjustments as needed."
Atlanta Mayor Kasim Reed said city officials will look back to the 1996 Olympics' plans to help determine the best way to handle the traffic situation in the coming weeks.
"We actually handled the Olympics very nicely in Atlanta, and I really think that is the closest comparison from a traffic standpoint with what we're going to be going through over the next four to six weeks," Reed said.
GETTING TO THE PARK:
Even before the bridge collapse, the Braves had been encouraging fans who planned to drive to SunTrust Park to purchase a pre-paid parking pass. They can be purchased here (as of noon, there were still some available for Friday's exhibition game)
RELATED | These roads are closed due to I-85 collapse
Uber was named an official partner fo the Braves so fans will be able to have a designated drop off and pick up spot on Windy Ridge Parkway. They will also be able to split the cost of rides with other fans coming to the game.
The app WAZE has also partnered partnered with the Georgia Department of Transportation to give drivers the most up to the minute traffic information possible.
It can direct drivers to the specific lot they paid to park in -- cutting down on confusion on game day.
RELATED | 3 things to know about getting to SunTrust Park
WHERE TO PARK AT SUNTRUST:
The Atlanta Braves have a released a parking map showing the various lots that will be available to park in when fans head to SunTrust Park to see the team play:
Click here for more parking and shuttle information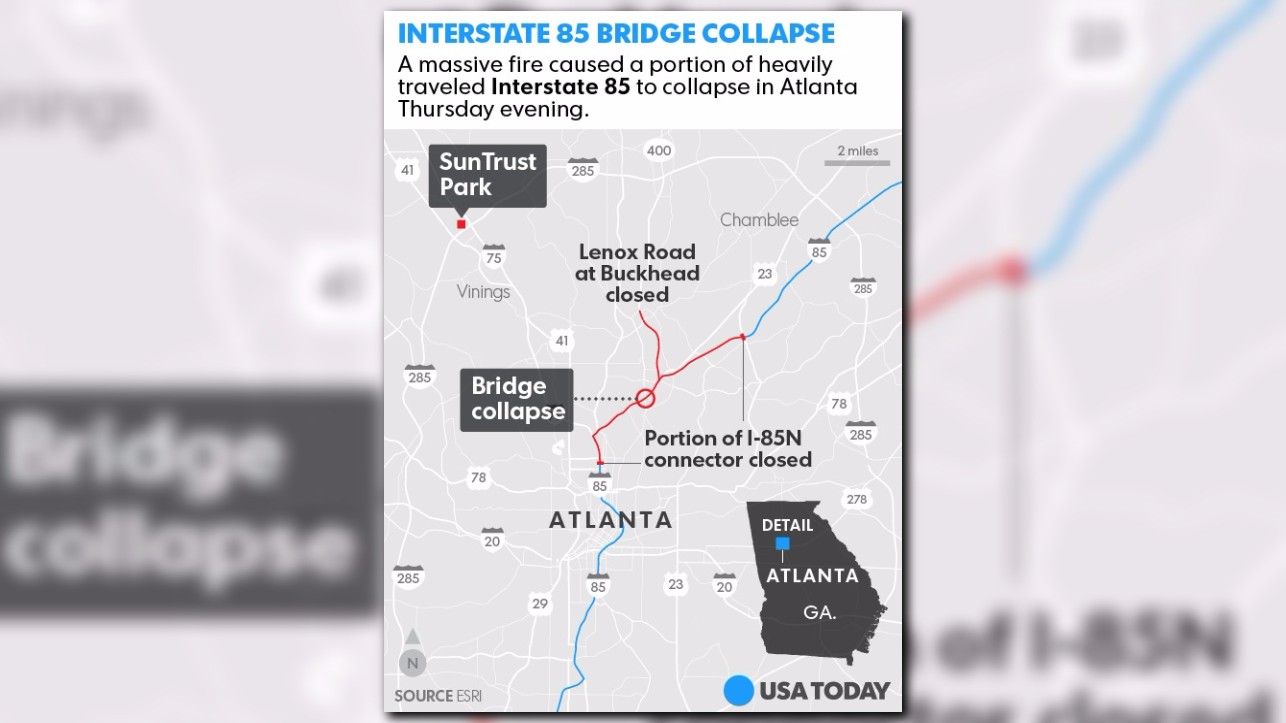 RELATED | The untold stories of SunTrust Park: The people most affected by the Braves move to Cobb County
PHOTOS | Sneak peek tour of SunTrust Park
Take a look at SunTrust Park before Opening Day
Take a look at SunTrust Park before Opening Day