It's been a fun ride, but now it's all over. Sort of.
Animal Adventure Park in Harpursville, N.Y. officially shut down the giraffe cam on Friday.
Over the last two months, millions of people from across the world came together to watch April, a very-pregnant giraffe.
Over time, online communities developed, bonds were made, memories were had.
But with April finally giving birth last Saturday, we knew it would end soon.
On Friday, it did.
For those watching the live cam, it went out with a whimper. One second, you were watching April, her baby's father Oliver and the as-yet-unnamed little calf prance around their pens. The next, this: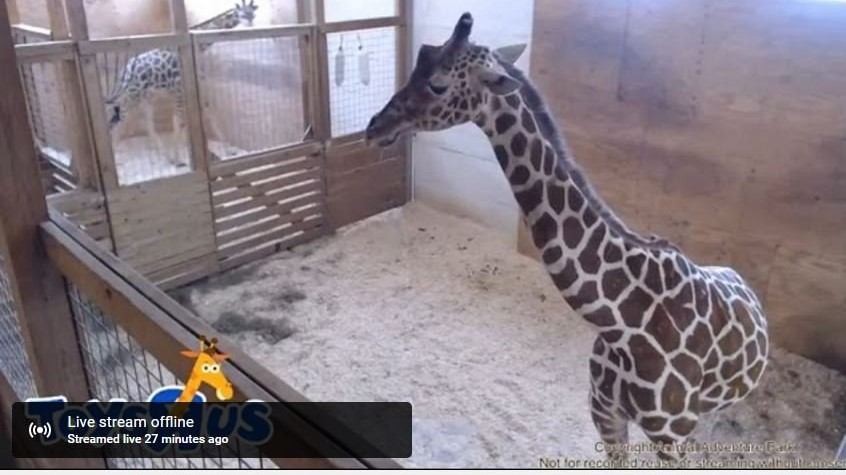 Over at Animal Adventure Park's Facebook page, keepers posted a video saying goodbye and offering hope for those still obsessed with the giraffes.
"This isn't the end," said Alyssa.
Keepers promised that sometime next week, an announcement would be made about when giraffe-lovers can check in on their favorite long-necked family.
So why'd they take the camera that made them famous down? Animal Adventure Park officials said that was the plan all along.
"This decision was made to allow us to focus on the park and our opening," Animal Adventure Park posted Monday on Facebook.
The attention has certainly helped the park. When we first started this adventure, the park's Facebook page had less than 100,000 followers. When the camera went down on Friday, they were approaching 1.5 million followers.
So while we may not be able to devote every waking moment to April and friends, we can still rest assured that we'll see plenty more of the young family.
Besides, we still don't even know the little guy's name yet!
Other baby giraffes:
PHOTOS: Houston Zoo welcomes baby giraffe
PHOTOS: Houston Zoo welcomes baby giraffe
A female Masai giraffe was born at the Houston Zoo on Monday morning. (Photo: The Houston Zoo)
A female Masai giraffe was born at the Houston Zoo on Monday morning. (Photo: The Houston Zoo)
And: Dobby | Denver Zoo's baby giraffe
Dobby | Denver Zoo's baby giraffe