Metro Atlanta school systems are cashing in on Georgia's growing film and tv production industry.
An 11Alive News analysis of figures from six counties shows Atlanta Public Schools were used the most for filming over the past two years.
The movie "Hidden Figures," which is due out on Christmas Day, paid APS $90,000 to use two buildings, including the old Marshall Middle School.
Ice Cube's "Fist Fight," coming out next year, paid $70,000.
"Spiderman: Homecoming" paid $17,000 to use Grady and Douglass High Schools.
Over the last two years, APS has made $204.800 on movies and films.
Production notes and figures from several counties show closed schools are the most appealing for film-makers.
"The production companies prefer to find a closed facility," said Craig Dominey, senior location specialist for the Georgia Film Office. "If they can't find that, they'll have work around a school's schedule."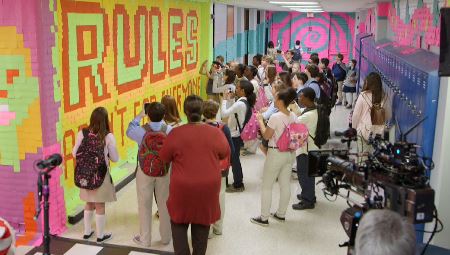 For the movie "Middle School," which is in theaters right now, producers wanted a set they could control for three months of filming.
They used the former Westlake High School campus for all the interior school scenes and paid Fulton County Schools a fee of 134,000.
Newton County Schools made $90,000 on productions over the past two years, including $50,000 for the movie "Taken 3."
In Henry County, the old Patrick Henry High School is featured in the hit Netflix show "Stranger Things."
The school system made a total of $75,000 from that series and a Cartoon Network project last year.
So where does the money go?
All or most of the money goes to the school system's general fund.
Since 2014, DeKalb County schools have made $26,000 on movie productions, including $8,000 for "The Leisure Seeker" and $8,000 for "Miracles from Heaven."
Fayette County Schools were paid $2,000 from "Spiderman: Homecoming" to use Sandy Creek High School for parking.
Two movie catering companies have paid Fayette schools more than $47,000 to rent building space.
Cobb and Gwinnett County schools could not provide figures to 11Alive News since they do not keep a specific accounting of production fees.
Clayton County Schools said that no schools or facilities have been used for productions over the past two years.
The Atlanta International School was used for the exterior shots in "Middle School," and they were filmed during school holidays last year.
Because it's private, their movie dollars are not subject to public review.
"There's some financials to it, but there's a bigger win for all of us," said Kendyl Moss, head of development for the Atlanta International School. "They can film a movie, and we can showcase our wonderful school here in Atlanta."