ROSWELL, Ga.-- A 67-year-old woman who was kidnapped by four masked men, forced at gunpoint into the back of a van and rescued by police, is now safe. Police are still searching for three suspects, and the one they have in custody is not cooperating.
Roswell Police say the victim is the owner of the Capetown Diamond store on Crossville Road. She was leaving thorough the back exit of the store Wednesday night at 10 p.m., when she was ambushed.
The suspects were waiting for her, according to police, and knew she would be using that exit after the store closed. They didn't steal anything from the store, but forced the woman at gunpoint into the back of a black van.
As officers were arriving on scene, they spotted a van speeding from the area. As police tried to stop the van, it collided with a tree on Holcomb Bridge Road. The driver and occupants of the van ran. Police were able to capture one man and take him into custody.
Police have identified that man as 26-year-old Juan Knight. He's charged with kidnapping, robbery and aggravated assault.
Initially, police said that Knight would not give his real name.
Police are continuing their search for the three other suspects.
The van used in the kidnapping was stolen out of Cobb County last week.
The victim was rescued from the back of the crashed van. She was transported to the hospital with non-life threatening injuries.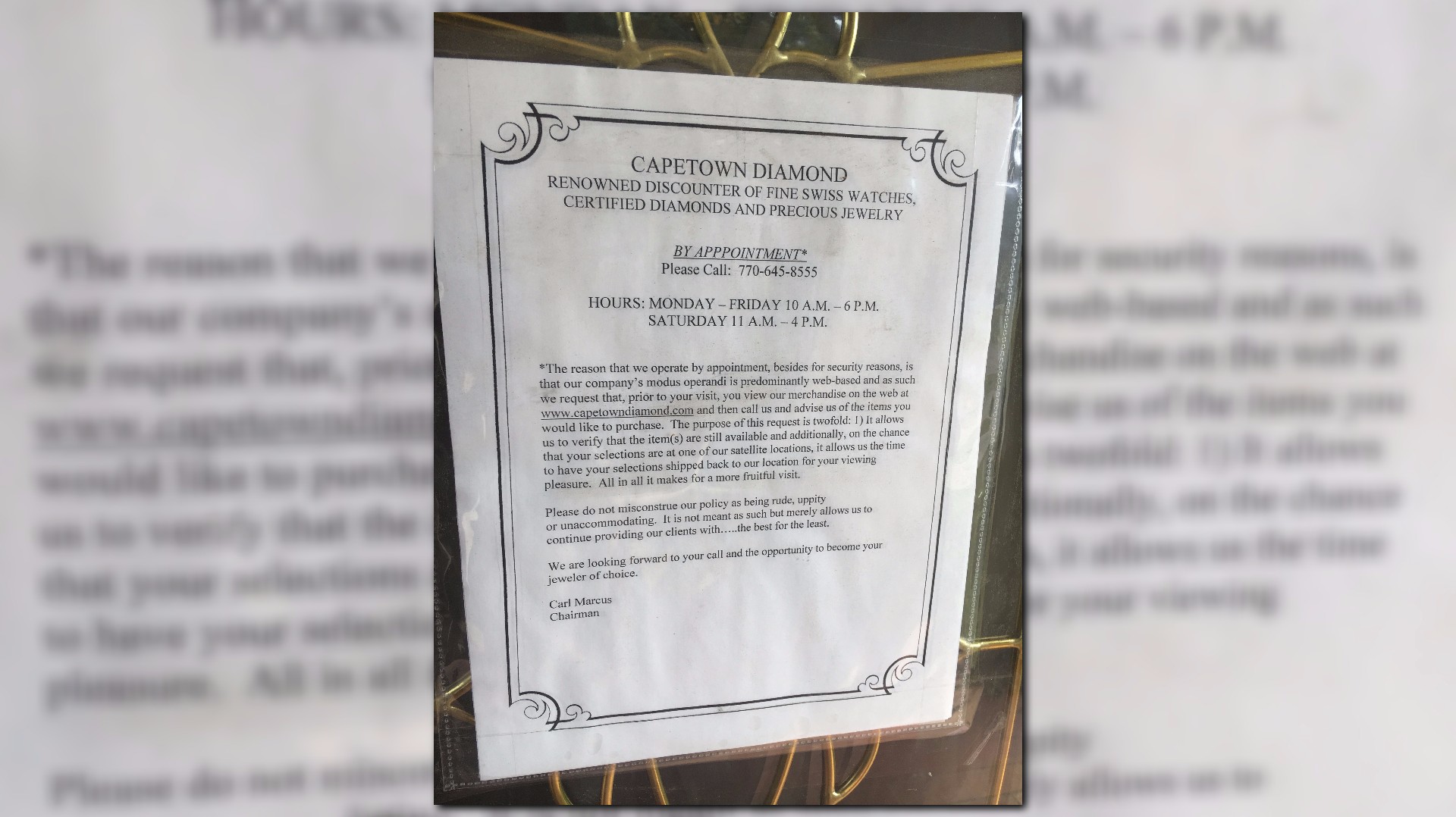 Capetown Diamond has a buzzer at the front door of their location, and only accepts customers by appointment. A sign displayed on their front door explains the policy:
The reason we operate by appointment, besides for security reasons, is that our company's modus operandi is predominantly web-based and as such we request that prior to your visit, your view our merchandise on the web. . . Please do not misconstrue our policy as being rude, uppity, or unaccommodating.