LAWRENCEVILLE, Ga – A Gwinnett County ethics board ruled on Tuesday that Tommy Hunter, the commissioner who called U.S. Rep. John Lewis "a racist pig" earlier this year, violated the county's ethics code and should be publicly reprimanded.
In a complaint brought by Nancie Turner, Hunter was accused of violating four sections of the Gwinnett ethics code. The board ruled that Hunter violated two of those sections.
Earlier this year, Hunter called Lewis "a racist pig" after the longtime Georgia congressman referred to Donald Trump as "an illegitimate president."
The ethics board ruled that Hunter violated a section of the ethics code that requires "all county commissioners shall … put loyalty to the highest moral principles and to the county above loyalty to persons, party or a county government department."
Hunter also violated an ethics code section that requires all county commissioners to "never engage which is unbecoming to a member or which constitutes a breach of public trust."
Hunter made the comments on his Facebook page in a now-deleted Jan. 14, 2017, post.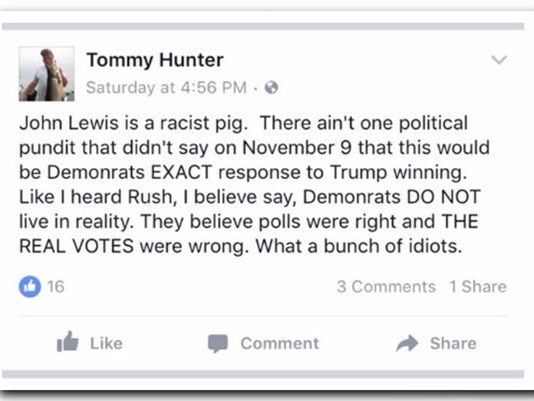 He later apologized for the comment but the fallout from the social media has continued, with repeated demonstrations at county commission meetings and calls for Hunter's resignation.
MORE: Commissioner who called Lewis 'a racist pig' attends NAACP meeting
Lewis made his observations regarding Trump on NBC's "Meet the Press," shortly before Trump's inauguration, which Lewis also boycotted.