FORSYTH COUNTY, Ga -- A SWAT situation has ended in Forsyth County after a suspect who allegedly shot a deputy, hours later, took his own life.
According to the Forsyth County Sheriff's Office, the suspect was inside a residence in the Hickory Hills subdivision. Deputies responded to what was deemed a domestic dispute. But upon arrival, officials said the suspect, who has not been identified, shot a responding deputy twice in the leg.
"There was the initial gunfight where the deputy was injured. Then another round of bullets a little later - I don't remember exactly how long afterwards - before the final flash-bomb," neighbor Michael Sussman said.
Another deputy pulled him to safety while others remained on the scene. The injured deputy was taken to the hospital and has since been released.
"I'm blessed to work with a bunch of superheros," Sheriff Ron Freeman said. "A deputy got shot and another deputy immediately pulled him out of the gunfire and and put a tourniquet on his leg."
He added that the county's deputies are very good at what they do.
Officials said that the bullets that struck the deputy were some of many that were fired by the suspect who police believed was armed with multiple weapons including a high-powered rifle and a handgun.
For hours, authorities worked to negotiate with the suspect as SWAT teams from Forsyth and Cherokee counties gathered at the scene. At one point as many as 60 officers were at the home - taking shifts while wearing the heavy SWAT gear in the summer heat.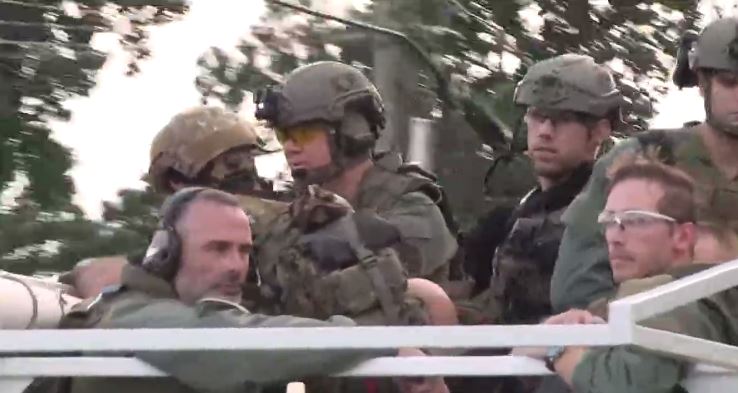 Neighbors were also warned to either stay down or leave the area as police attempted to negotiate with the suspect.
Despite having an open line of communication with the gunman, authorities eventually made entry to find the suspect dead - presumably by his own hand.
The Georgia Bureau of Investigation has been called in to assist.