A group of Georgians just completed a nine-day, 79-mile hike through the Georgia portion of the Appalachian Trail. While that may seem ordinary, it was the trip's guest of honor that made the trek extra special.
"We were like, 'Let's plan something, and let's…how 'bout we do the Appalachian Trail,'" Carden Wyckoff recalled.
The drive and hike for some Georgians through the scenic trail sounds simple enough for most, but it was something far more complicated for Team Carden.
"I was diagnosed with a form of muscular dystrophy at the age of eight," Wyckoff told 11Alive's Matt Pearl.
Ever since, her siblings Spencer and Virginia and her friends have arranged piggyback adventures. They carry Carden while she hangs on. In this case, it was on a journey planned for 79 miles.
PHOTOS | Carden and crew on their piggyback adventures
PHOTOS: Carden and crew on their piggyback adventures
Photo: Piggyback Adventures
Photo: Piggyback Adventures
"You're holding on for dear life, 'cus you're going over rocks and boulders and acorns," she said. "You'd see these people who were skinny and don't go to the gym every day, but could go up Tray Mountain for miles."
They'd go with Carden on Day 1 to Springer Mountain. On Day 4, it was Blood Mountain with a group of two dozen and whoever else chose to join.
"There were just random people who showed up," Wyckoff said. "We had no idea who they were! They just saw the post on Facebook."
"Were you OK with random strangers picking you up and carrying you," Pearl asked. "Yeah! Of course," Wyckoff replied.
On the ninth and final day, Wyckoff and her team reached the end, and celebrated in a very un-mountain-like way. "My mom had a big party waiting for us, and we had champagne and dinner, and yeah, it was a great time," she said.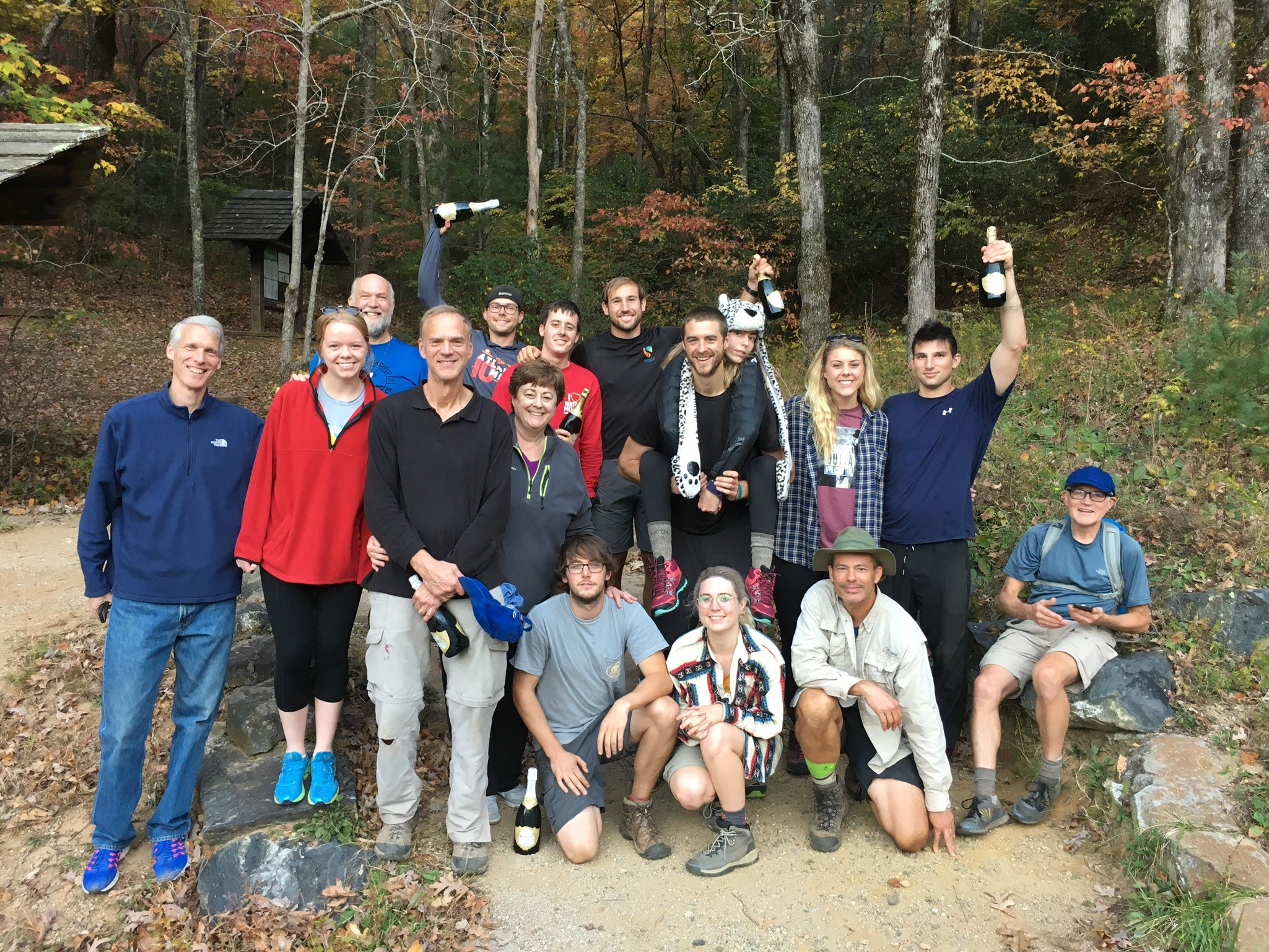 Now Wyckoff is back to work, with the sounds of civilization and work surrounding her; sounds far removed from where she sat two days earlier, bit still savoring the sounds of nature and triumph.
"Just being on the trail and being outdoors and experiencing life and seeing the overlooks was just an incredible experience," she said. "Life is so incredible."
And while it's back to the sounds of civilization, Wyckoff is already looking forward to her next piggyback journey. "The next adventure may be going skiing," she proclaimed.
To see more from their piggyback adventures, visit their website.
And for more about Vestigo, the Athens-based start-up who helped fundraise for and organize the hike, check out their web site at vestigo.co.