WASHINGTON -- It is an hour past dawn and the Klein Brothers stand in front of Howard University Hospital in Washington D.C. going over their plan. They have a lot of ground to cover in one day.
They enter the hospital and make a right into the first corridor and there it is, a home plate that sits flush with the shiny floor. It marks where home plate used to be at Griffith Stadium, home of the Washington Senators, one of the original baseball franchises. The stadium is where their father came of age, where his lifelong love of baseball was cemented.
The boys examine a huge photo on the wall of the original stadium, guessing where their father sat. They round another corner and enter a small museum to Griffith Stadium, all inside a hospital. They see photos of their father's childhood idols, knowing how much he'd love to be here with them, taking it all in.
A PROMISING BEGINNING
Leslie Klein says she knew she was going to marry Richard on their first date.
"He was kind, intelligent -- he didn't want to be in the forefront of anything."
Long before they met, Richard Klein was the son of a Lutheran minister. In those days, men of faith received free tickets to Washington Senators games, which is how Richard came of age, reveling in his bird's eye view of a game he loved deeply, growing into a young man who would follow his father into seminary.
Blessed with enormous intelligence, faith, and drive, it was after attending seminary that he wound up in law school, almost on a whim.
"He went into law as dare from a fraternity brother," his son Michael explained. "They were going to take the LSAT and they said 'You should take it too.' And he went and got a scholarship to Georgetown law."
Richard and Leslie had their three boys, Jeff, David, and Michael. He ascended through the ranks to become a federal judge and Atlanta was where they raised their boys on a steady diet of sports, especially baseball.
'The four boys' is how Leslie referred to her family. They were blessed with good health and friends and a happy life. But then the signs began that something was wrong. Not long after Richard's 60th birthday, he was diagnosed with Alzheimer's disease by Dr. Allan Levey of Emory Brain Health Center.
"We shared a love of baseball and stratamatic baseball," Levey said.
Levey said Klein had "a sense of humor and was always in great spirits. The emotional aspect of who he was, was very resilient."
But the disease progressed and the Klein brothers were forced to watch their father lose his memory, and his abilities.
"He would get up and make his own cereal. And six months later he would pour orange juice into it," one said.
The love remained. In family get-togethers. In trips with Leslie. In playing a game of catch with his grandson.
Earlier this year, 2017, Judge Klein died.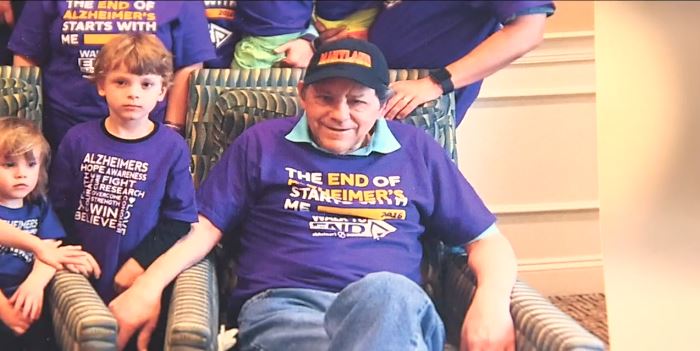 THE JOURNEY
There was never any doubt they would carry out his wishes. As newlyweds driving through Washington D.C., Richard drove past where Griffith Stadium had already been torn down.
"This is where I wanted my ashes to be scattered," he told his young bride.
In front of Howard University Hospital, they scatter some of his ashes where the field used to be. They also scatter them around an iconic oak tree that hung over the field. There is the wiping away of tears. There is silence. There is a discussion of where to head next.
Then it's a 20-minute drive to Bethesda, Maryland - to Walter Johnson High School where a plaque for the greatest Senators player - ever - hangs on the brick wall. It's the same plaque that was at Griffith Stadium. It's the last remaining piece - the final tie to their father's childhood long forgotten.
"He's going with us and part of him is staying in each place."
The Klein brothers end the day at a National's baseball game. To honor their father, they keep score, just like he did. The Nationals may not be their team, but baseball is their pastime - one with a history reminds them that love survives loss - and that when your dad asks, you take him home.