Peach County Sheriff's deputy Daryl Smallwood, 39, was laid to rest Saturday.
Hundreds of people filed into Southside Baptist Church in Warner Robins to say farewell to the deputy who died days after being shot responding to a call in Byron.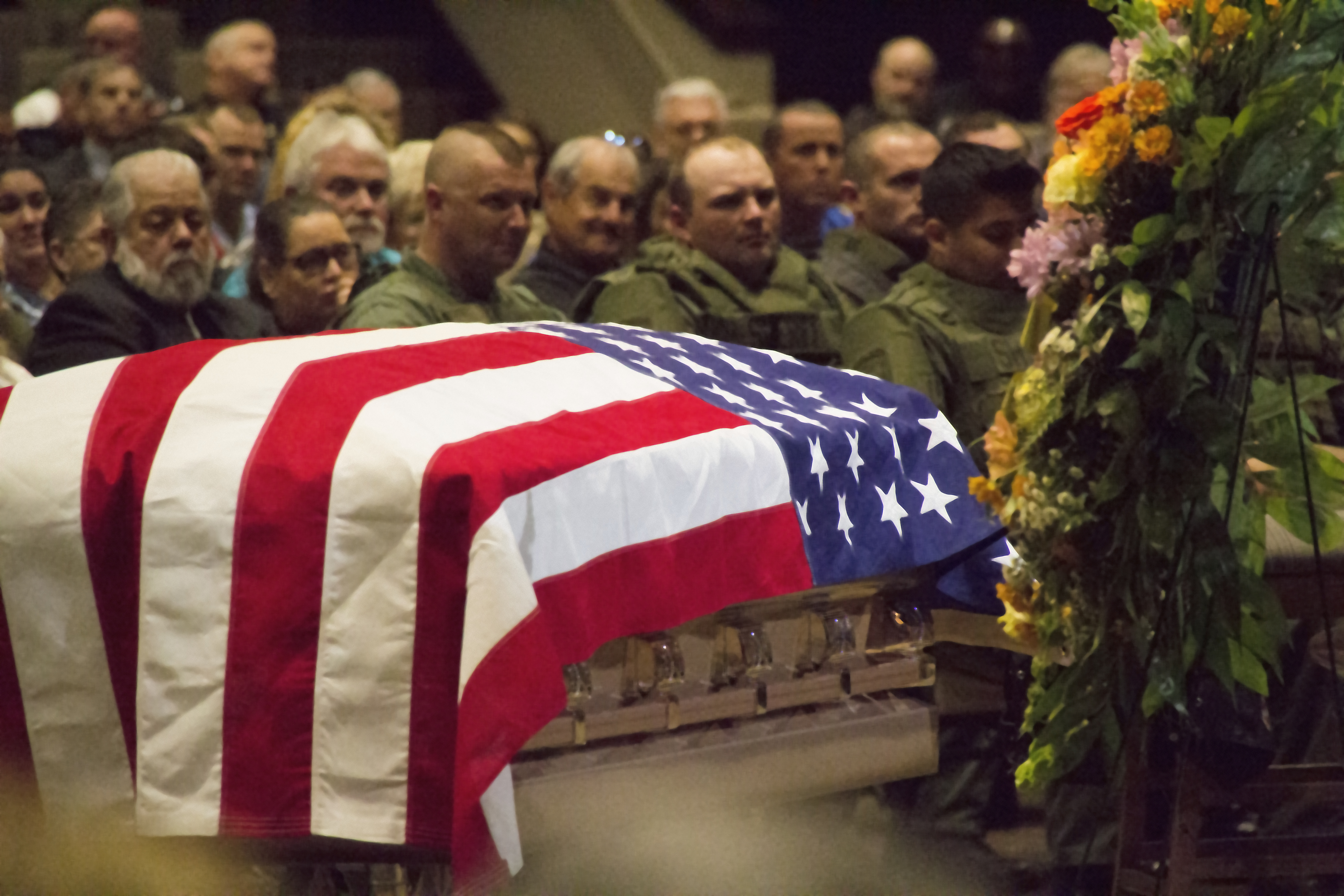 The service began with a prayer from the Peach Sheriff's Office chaplain Brian Stewart and the reading of a letter from Georgia Congressman Sanford Bishop.
Harris Blackwood from the Governor's Office of Highway Safety then read a letter from Gov. Nathan Deal reminding everyone that it was not just Peach County's loss, but the state's loss and the law enforcement community.
The pastor of Mt. Vernon Baptist Church read letters from Smallwood's family members.
In his mother's letter, she recalled how upset she was when he first became an officer, but she knew she had to let God take watch over him.
"God has decided it was time for you to come home...much too soon on Earth. Momma just don't know how to live without you, but I guess I'll have to," he read.
Following the letters, he shared a Bible verse -- Matthew 22:36-40 -- and the parable about the Good Samaritan before relating it to the life of Smallwood.
"Daryl looked at everyone like they were a friend...He was showing love the best way he knew how, and that was to take care of anyone in his way," he said.
Daryl's best friend, Benji Varnum, gave the eulogy.
He recalled how in the last week, many people have tried to ask him who Daryl was as a father and friend, and not a deputy, but he said it was one in the same.
The two met 26 years ago in Americus, and were inseparable since.
"We weren't related by blood, but we were brothers," said Varnum.
He said he understood God needed Daryl back right now, and that there weren't enough hours in the day to tell everyone who he truly was.
Daryl Smallwood funeral
He finished with a quote from Forrest Gump saying, "Daryl was my best good friend, and even I know that ain't something you can find just around the corner."
Stewart returned to the podium to speak on how officers are often misunderstood, but are deeply sacrificial by nature saying, "like others in public safety, it is a sacrifice to take that call."
Peach Sheriff Terry Deese spoke for a few minutes about how the last week was the worst tragedy that's hit the office since its founding. He then thanked all of the officers from surrounding counties that responded Sunday night.
"Within a matter of minutes...you couldn't see anything but the blue lights and the different colored uniforms. We see all this trash talk today, but without us there, America cannot exist," said Deese.
He continued on saying this has been the worst time of his life, and that contrary to comments he heard recently, all of his friends in law enforcement hurt when one of theirs is hurting.
"That is what this brotherhood is all about. This is about the profession we chose. We weren't drafted, we aren't in it for the money," said Deese.