ATLANTA -- Neighbors who told 11Alive they felt terrorized by teens who are allegedly cutting class and causing trouble are getting a response from the Atlanta Public Schools District.
Residents of a South Atlanta neighborhood next to Carver High School told 11Alive they were fed up with kids streaming off campus through an open gate, causing "chaos."
Some residents of Gammon Drive and surrounding streets said they've long complained about truancy issues and crime they said streams from the school. They told 11Alive they've emailed and met with Atlanta Police, the school system and city representatives, but haven't felt any relief.
RELATED | Residents accuse teens of terrorizing South Atlanta neighborhood
One day after 11Alive's Duffie Dixon first brought residents' concerns to light, 11Alive sat down with Atlanta Public Schools to continue to hold the powerful accountable.
APS Police Chief Ronald Applin told 11Alive that truancy doesn't fall under the police department, but that they work with the truancy officials, who do regular sweeps throughout the district.
Applin said his department's actions are "not reactive, they're proactive." As of last week, Applin said they've added a school officer who roams around the outside of the high school looking for truant students, and a dedicated officer at the gate.
"We decided -- based on some of the challenges we've been having, or some of the things that have been reported by the neighborhood -- that we wanted to have someone at that gate to screen people coming back and forth at that gate to make sure that, number one, if they're coming on campus, that they have business on campus," Applin said. "Of course, we want to make sure that the students, if they're leaving the property, that they have a legitimate reason to leave. What they do after they leave the property, we have no control over that."
The guard is supposed to be stationed at the school checking IDs from 8 a.m. until the end of school, yet not long after that interview, 11Alive reporters watched as an officer standing at the gate. They watched as a student walked and several cars passed by her without any questions. Neighbors also said the officer left at 9:15 a.m., contrary to the plan for the officer to be in place all day.
11Alive reached out again to APS to let them know what reporters and neighbors witnessed, and that part of the new security plan that involves officers checking students' comings and goings didn't seem to be happening.
APS spokesperson Kimberly Willis Green told 11Alive that in that specific case, the officer was "pulled from an assignment that required her to respond to calls for service within the school district."
Green also went on to say the district will work to enforce the new policies: "The expectation is that officers ID and check persons coming in and out of the gate," a statement said. "We will investigate and address discrepancies to ensure our expectations are met and carried out now through the end of school. If we find that officers are not meeting expectations, we will certainly take corrective action."
The next morning, two officers were at the gate as students headed to school and were engaging with those who entered.
Not all neighbors in South Atlanta feel threatened by the students at Carver High School. After 11Alive's story about the complaints, a group of neighbors decided to meet Carver students at that gate with donuts and fruit cups Wednesday morning.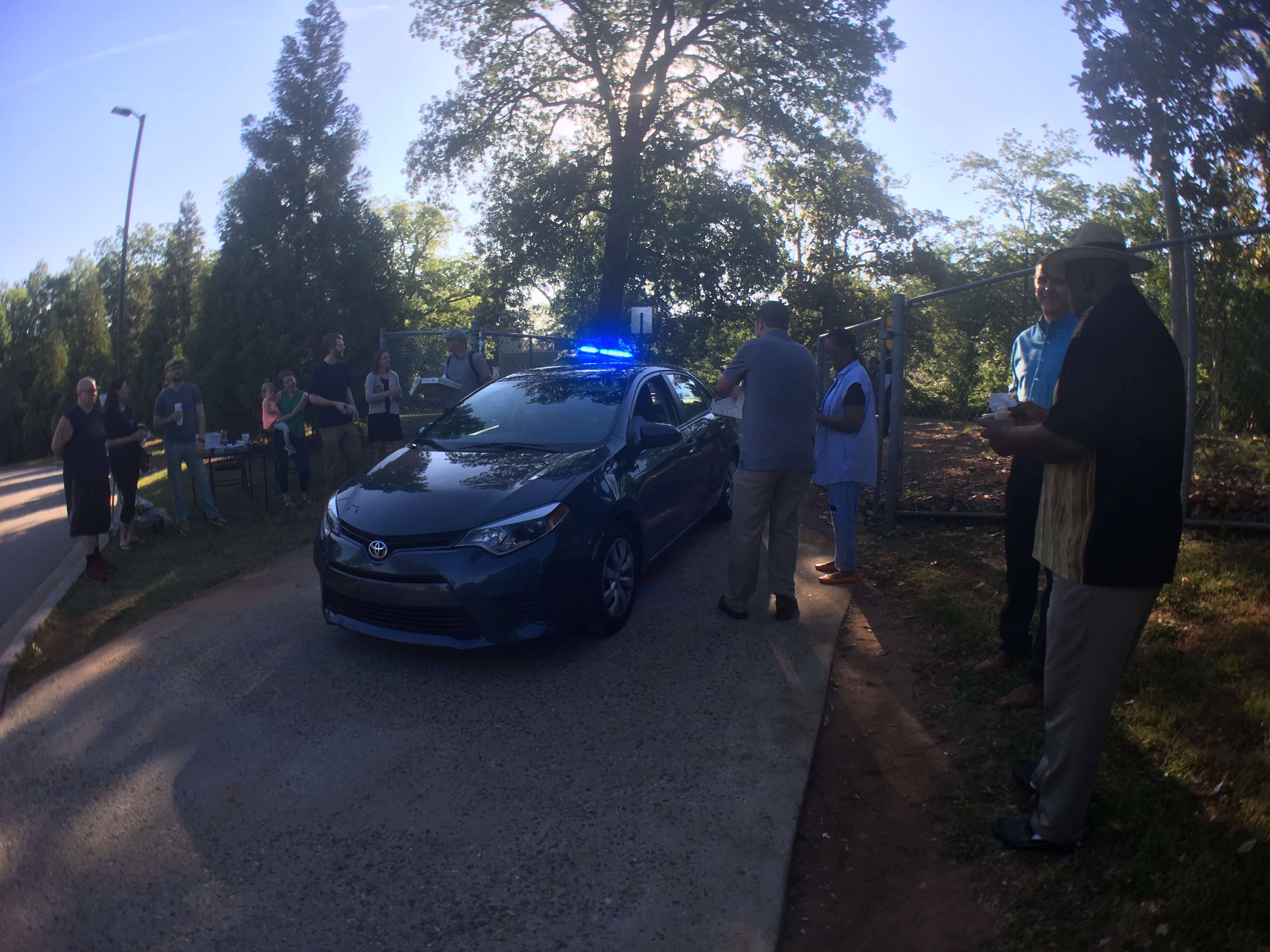 A dozen members of the community and leaders in Atlanta Public Schools crowded the gate and welcomed the students to campus. The president of the South Atlanta Civic League was on hand and said they wanted to do this to show another side of the neighborhood.
"Most of the neighbors want to be supportive and affirming to the students," he said. "We just want to be supportive and let them know that I don't personally think the students are terrorizing the neighborhood. That Is not my perspective and I don't think the majority of the neighbors feel that way."
He said more conversation between community stakeholders is what's needed to come to a middle ground. His goal is to "be a healthy neighborhood together," because "South Atlanta loves Carver students," Noblitt said.