CUMMING, Ga. – Heavy downpours of rain, constant lightning strikes and booming thunder rolled through Forsyth County Wednesday, causing fires, car crashes and a heavy workload for the fire department and rescue workers.
Four houses caught fire, including one on Gran Forest Drive in Cumming, Ga., that starting to blaze after a tall pine was hit by lightning.
The lightning ripped the bark off the tree; the electric current traveled to the house and, according to the homeowner's grandson who was there when it happened, "Boom!"
"Big crashes and stuff… I smelled some kind of smoke, but I didn't know where it was coming from and then I just looked out the window and, boom. I saw the fire all over the place. I saw fire, like, right next to the garage over there," Connor Webb, the homeowners' 7-year-old grandson said of the lightning strike. "We just ran out of the house."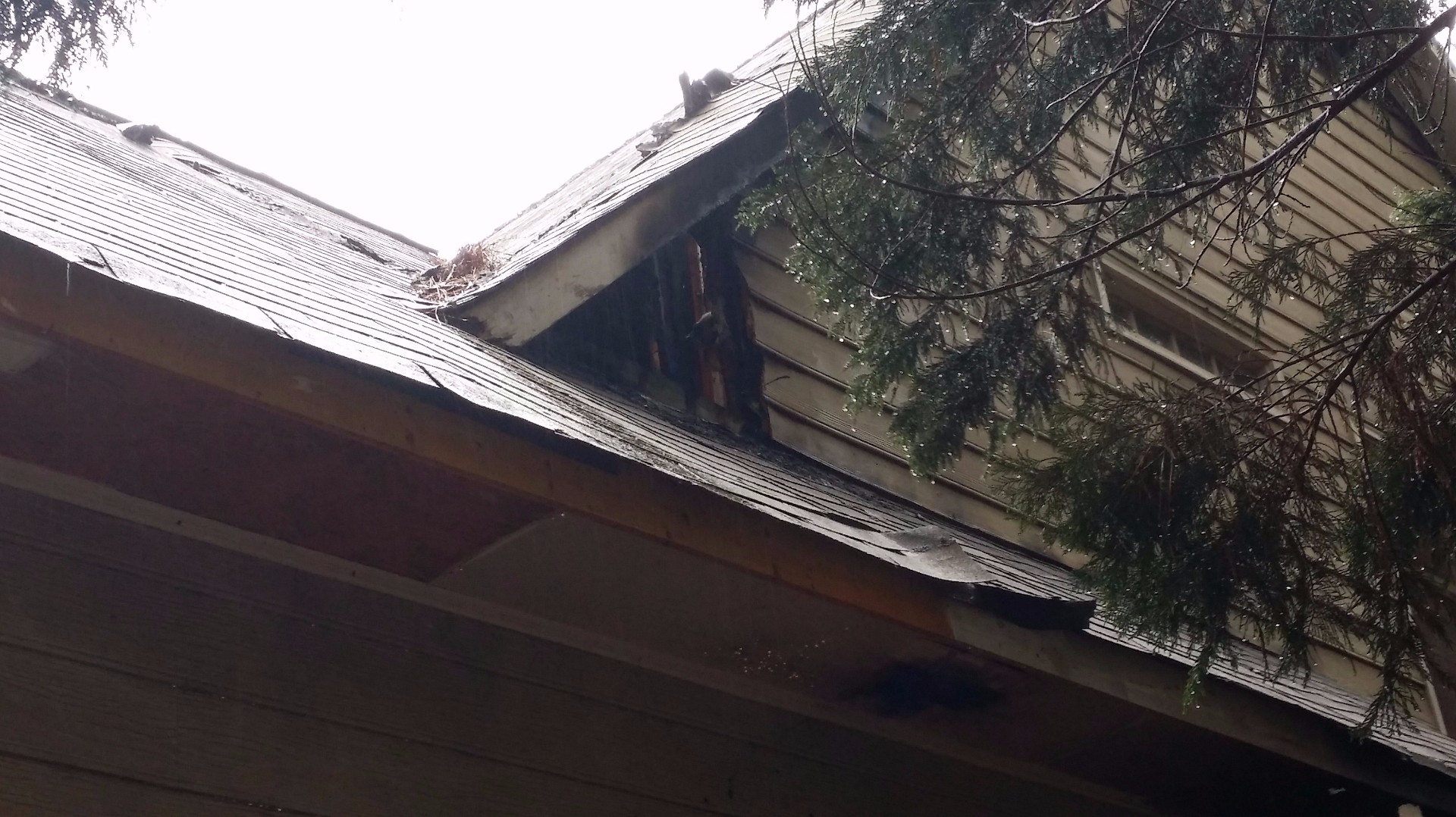 Jeff Evans, Webb's grandfather and the homeowner, said, "I was downstairs and I heard an explosion, a bolt of lightning and I went outside and smelled smoke and said, 'Somebody's house is on fire,' and it happened to be mine."
He tried to put the fire out himself.
"I was trying to put the fire out over on the right side, but it just got out of hand. It got to the insulation up in the attic… nothing I could do," Evans said. "It traveled down, all the way down; blew the bark off of the other side of the tree by the next-door neighbor—then traveled underneath, started over there, up in the eave."
"I got a fire extinguisher, but it traveled too far up," he said.
And the fire department was on its way.
"They got here quick, but it got up in the attic."
Jason Shivers, Forsyth County Fire Department's division chief, said it was very clear that the lightning ran down the pine tree and jumped to Evans' home.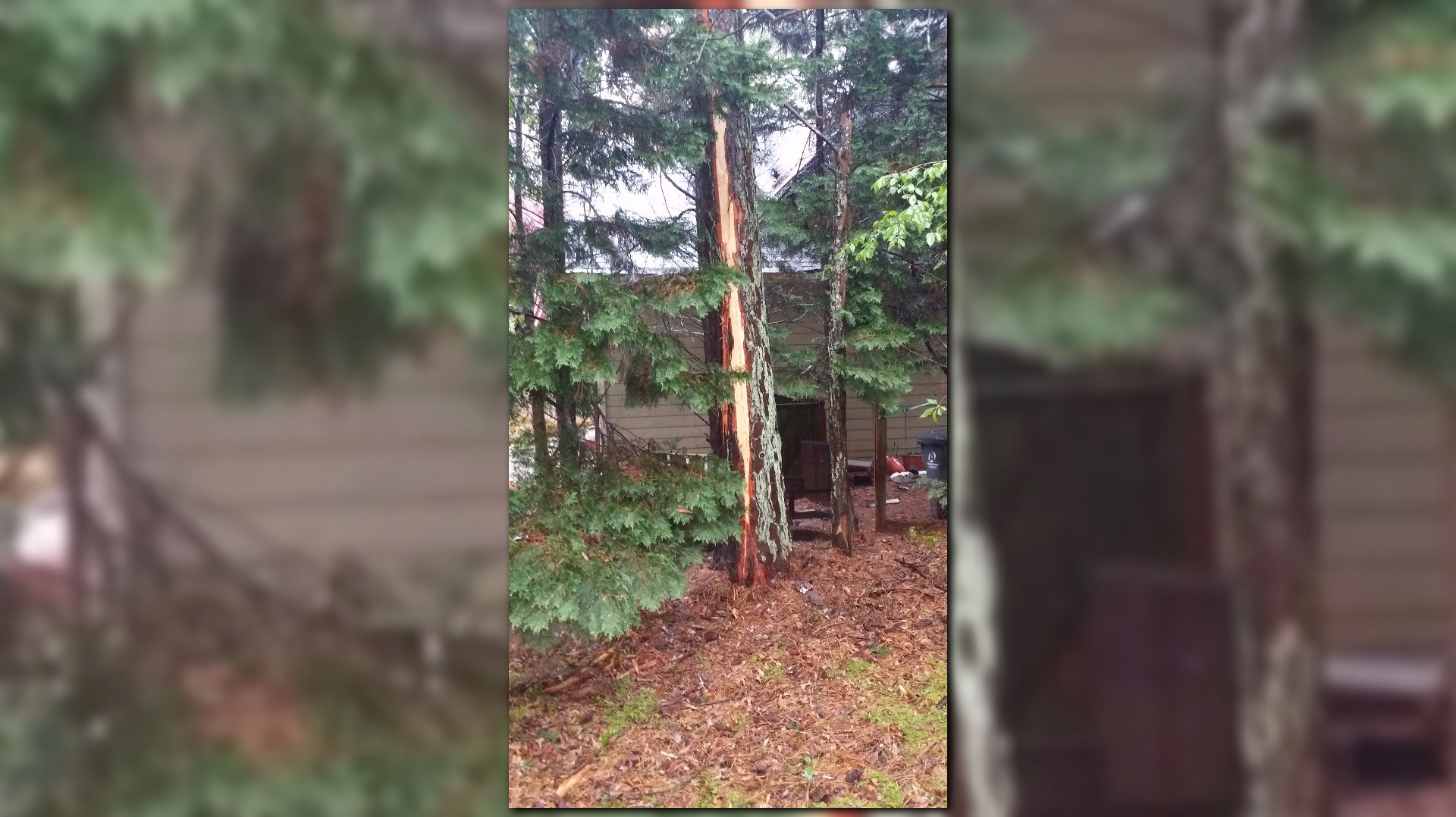 "The homeowner told us that as soon as the tree was hit, he knew that his home was involved. He could tell from the sound and the feel of it," Shivers said.
When the Forsyth County Fire Department arrived on the scene, they saw smoke and flames emanating from the home's eaves. The attic, the second floor and a bonus room all sustained significant fire damage, he said.
"We were able to get the fire controlled and contained in those areas very quickly, and we were able to salvage a lot of his valuables and his car that is very important to him—but most importantly, he and his family got out safe," the fire chief said. "They made it out safe and sound and the home is absolutely salvageable."
While they will need to rebuild some of the bedrooms, from water and smoke damage, the family should be back in their home in a few months, Shivers said.
PHOTOS | 4 Forsyth County homes struck by lightning
PHOTOS | 4 Forsyth County homes struck by lightning
It's been a busy morning for Shivers' crew.
Beginning around 9 a.m., Shivers said, his department started responding to lightning strikes and fire calls. No injuries were reported from any of the fires his team responded to, he said.
There have also been several car crashes attributed to the severe weather and slick roads.
"It's nothing we weren't expecting… and we're at full staffing today," Shivers said.
He anticipated that several more waves of weather and fire calls would follow, as the weather system continues to roll through the area. Lightning strikes are not uncommon in his county, he said.
"We're not immune to that. Our troops knew to expect it and quite frankly, that's our job."
Working in adverse conditions throughout the morning, including heavy rain and lightning popping around them, is the challenge of their job.
"The public doesn't care whether it's a pretty sunny day or if it's storming on us. Our job is to get on scene and stop that fire, to make sure the family is safe. That's our job and we work through it," Shivers said.
He encouraged anyone who believes that their home has been hit by lightning to, "Get out. Get out. Don't try to investigate it. Don't try to find it by yourself. If you smell something or you know your home's been hit, get out, call 911 from a cell phone or from a neighbor's house or call from your home and then immediately evacuate."
The Evans family is left cleaning up a mess and restoring their home.
The lightning hit on the eaves of the house, creating significant water damage throughout the house.
"From what I've seen, from I've assessed inside with all the pictures… it doesn't look too good," Shannon Webb, the homeowners' daughter, said.
Evans assessed the damage to his home, as well as one of his most-prized possessions in the garage Wednesday afternoon—an '81 convertible Fiat, that he finally got up and running last year after working on it for 14 years. Regardless of that or any of the damage, he said, he is just grateful his family is OK.
"Luckily nobody was inside; nobody got hurt," Evans said about his wife, grandson and dog escaping the blaze.
#Storm11: Your photos of today's severe weather
PHOTOS | #Storm11: Your severe weather pics