The Atlanta Public School system has more than 4,000 cameras watching over their students and staff.
They are meant to be the eyes to catch abuse in school, or thieves stealing school equipment and on-campus fighting.
But what happens when those cameras meant to protect don't work?
11Alive Investigator Andy Pierrotti spent months reviewing school camera repair logs and is holding school officials accountable.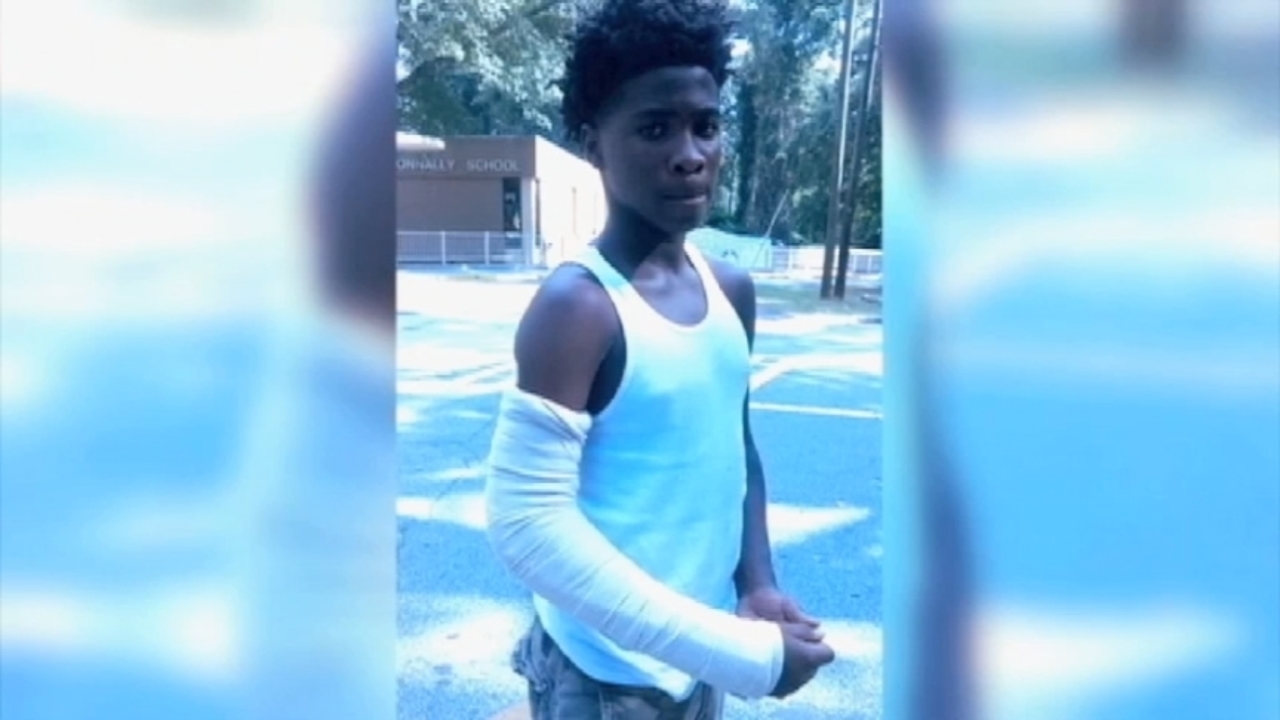 In 2015, Rickey Ford said a hall monitor at Washington High School broke his 14-year-old son Raqaun's arm in an incident at the school. He asked the Atlanta School District to show him the security camera video but was told by the school's principal that the cameras were "skipping."
The camera was broken that day.
But it's not the only time it's happened. In a follow-up investigation, 11Alive uncovered how several broken security cameras inside metro-Atlanta schools went un-repaired for months.
PREVIOUS | No one was watching
11Alive reviewed thousands of security camera repair logs from the six largest school districts since 2013 and found the average time it takes to fix broken security cameras varies widely -- from as little as 10 days in the Clayton County School District to as many as 61 days for the Atlanta Public School District.
"Somebody is not doing their security job right, somebody not monitoring right, and really, somebody not really concerned for the kids," Ford said.
11Alive shared those findings with former FBI agent Garrett McKenzie, who is now head of Pinkerton Security in Atlanta.
"There's no real excuse for times that drag out that long," he told 11Alive.
Ralph Valez is the new director of security for Atlanta Public Schools. 11Alive asked him whether he thought those long delays for fixing security cameras was acceptable: "No, I would not say that is acceptable, but I would need to learn more about what those circumstances were," he said. "When you have that many cameras, and one camera is down, chances are that you're being captured on another."
Valez said delays in fixing broken cameras has improved over the past year -- from an average response time of 61 days to 21 days in 2016. He also said 93 percent of APS' cameras are now fully operational and the district has plans to replace hundreds of old cameras across the district.
While the Atlanta Public Schools District said it responds to repair requests as soon as possible, the 11Alive Investigators uncovered the district does not have a written policy or rule mandating how quickly cameras are fixed.
Some districts do have policies in writing -- like in Austin, Texas where the district requires urgent repairs to be completed within 10 days. Atlanta's superintendent should know this too -- because she was Austin's superintendent when the district implemented the rule following 11Alive Investigator Andy Pierrotti's reporting nearly four years ago.
So 11Alive asked, if it's good enough for those districts, why not here in the metro area? "I'm not saying it's not something that we shouldn't look at," Valez said. "I think we can go ahead and look at it."
Three weeks after Ford's so incident at school, records show someone at the district requested someone "repair all cameras." But for Ford, the lack of policy is still a concern.
Pierrotti: "Do you think they were taking safety seriously before your son's incident?"
Ford: "No. No I don't think so."
Atlanta Public Schools isn't the only district 11Alive found in the metro area which have significant delays, but it did average the longest days. All of those districts also did not have any written policy or rule mandating how quickly cameras must be fixed.
BY THE NUMBERS:
Atlanta Public School
Average Days to Fix Cameras: 61
Date Range: 2013 – 2017
Written rule/policy mandating response time to repair camera: No

Clayton County School District
Average Days to Fix Cameras: 10
Date Range: 2013 – 2016
Written rule/policy mandating response time to repair camera: No

Cobb County School District
Average Days to Fix Cameras: 22
Date Range: 2013 – 2017
Written rule/policy mandating response time to repair cameras: No

DeKalb County School District
Average Days to Fix Cameras: 37
Date Range: 2015 – 2017
Written rule/policy mandating response time to repair cameras: No

Fulton County School District
Average Days to Fix Cameras: 33
Date Range: 2013 – 2016
Written rule/policy mandating response time to repair cameras: No response from district

Gwinnett County School District
Did not provide any information
Written rule/policy mandating response time to repair cameras: No