Nov. 19, 2001
Sandeep "Sonny" Bharadia once made a living working in a chop shop, but in 2001, he filed a police report for his own stolen vehicle.
Sterling Flint, Bharadia's friend, was behind the wheel of his Chevy Tahoe on a late-night drive back to Atlanta.
The pair was caravanning back from Savannah, Ga., after Sterling agreed to help Bharadia bring his car back to the city. Bharadia was driving his girlfriend's Ford Expedition while Sterling trailed in the Tahoe. It was dark and Bharadia lost sight of Sterling somewhere along the way on Interstate 675.
After two phone calls and still no Tahoe, Bharadia filed a stolen vehicle report.
Nov. 28, 2001
A week later, Bharadia meets with a detective in Cobb County who said the Tahoe was linked to recent burglaries in the area. Bharadia's stolen vehicle report pointed to Flint as the suspect in the local crimes, but Bharadia also told the detective that he believed Flint was keeping a stolen motorcycle at his girlfriend's house in Savannah.
That tip changed Bharadia's life forever.
Nov. 30, 2001
Bharadia was arrested for the assault and burglary in Thunderbolt, a small town just outside Savannah in Chatham County—population 2,613.
The day before Bharadia and Flint's drive from Savannah to Atlanta. Another man, who was also arrested in connection to the crime, fingered Bharadia as the suspect in the assault.
That man was Flint.
Bharadia has been behind bars since his arrest in 2001.
His codefendant, Flint, was able to strike a deal with the state, pleading guilty to a charge of receiving stolen property in exchange for his testimony.
In 2003, the case went to trial.
Two witnesses and Bharadia testified that he was in metro Atlanta—more than 250 miles away from Thunderbolt, on the day of the crime. There was no physical evidence—no DNA, no fingerprints—connecting Bharadia to the scene.
One of those witnesses was Sonny's friend, Kisha Pitts.
According to court transcripts, Pitts testified Sonny was at her house in Atlanta borrowing a set of tools on the day of the attack. Pitts was adamant she saw Sonny on Sunday, Nov. 18, 2001 because it was the same weekend as her best friend's wedding.
Pitts also remembers the date specifically because Sonny and is then-girlfriend took Pitts' kids to see "Harry Potter and the Sorcerer's Stone" that Saturday night.
Pitts' confidence in her testimony appeared to be a win for the defense.
That victory was short-lived when the second witness—Alicia Colbert—took the stand.
Colbert is Sonny's former girlfriend. She vouched for Sonny's whereabouts in Atlanta and confirmed that she accompanied Sonny and the kids to the Harry Potter movie. The problem is Colbert told the court this all transpired on Nov. 11, the weekend before the attack.
But Colbert's recollection could not be correct because of one easily verifiable fact: "Harry Potter and the Sorcerer's Stone" didn't premiere until Nov. 14, 2001.
That fact was never brought up in court. Instead court transcripts show attorneys engaging in a confusing back-and-forth cross-examination. Alicia Colbert doubled-down and insisted that she went with Sonny to the movies on Nov. 11.
The mix-up was never resolved. The jury was forced to decide for themselves.
The Verdict
Nevertheless, it took a jury just over an hour to convict Bharadia of aggravated sexual battery, aggravated sodomy and burglary. The linchpin of the case came from the victim who identified Bharadia as her attacker in a photo lineup and pointed him out to the jury in open court.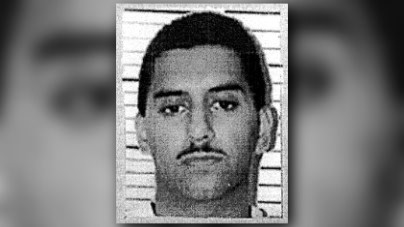 Bharadia had pleaded guilty to three felony charges related to car theft and operating a chop shop prior to the incident in Thunderbolt, making his latest felony conviction a mandatory sentence—putting him behind bars for the rest of his life.
Eight years after the verdict, Bharadia's new lawyer uncovered that a pair of gloves worn by the attacker was never tested for DNA. That test came back with a positive match.
The DNA didn't implicate Bharadia. It pointed the finger at Flint, the man who testified against Bharadia.