LAGRANGE, Ga. -- A Middle Georgia family who says they were saved by smoke detectors installed by the Red Cross and the LaGrange Fire Department got the chance to reunite with their heroes.
On Tuesday, Nakia Bell and her family were hosted by the LaGrange Fire Department for a "celebration of the lives saved."
Back on March 27, Nakia and her husband Luther Bell woke up in the middle of the night to the beeping of the smoke detector that first responders had just installed in October 2016. Thanks to it, she said, she was able to get herself and her six other family members out of their home alive before the electrical fire completely consumed their home.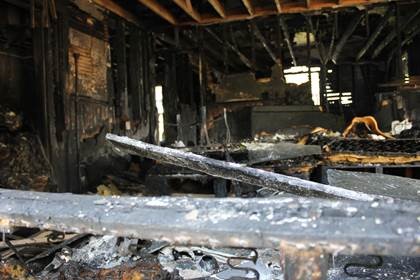 Among those who was able to escape was Nakia's grandson 5-year-old Truth, who, after the fire, told first responders that he wanted to be a firefighter.
"That really moved me," said fire educator Chris Taylor. "Because despite all that their family experienced, he still saw something positive out of it."
Because of that, the LaGrange Fire Department decided to name Truth an honorary junior firefighter. They presented him with an honorary certificate, his own junior gear and designated the day as junior fire fighter day.
Nakia, along with her daughter and granddaughter, said it was a blessing to even be there at the reunion. After the fire, Nakia told fire officials that she almost didn't let fire staff into her home to install the detectors because it was early in the morning. But thankfully she did.
"This day would not have been possible if it were not for God and for you guys coming out and doing what you do -- saving lives," she said during the reunion. "Just keep doing what you're doing, because it's truly a blessing for me to be standing here today."
According to the Red Cross, 1554 Georgians died in house fires last year. Since the Red Cross Home Fire Campaign began in October 2014, the group has installed more than 13,000 smoke alarms throughout the state.
PHOTOS | Family meets first responders who installed life-saving smoke detectors
PHOTOS: Family meets first responders who installed life-saving smoke detectors
Members of Red Cross of Georgia Central Midwest Georgia chapter pose with the Truth and his family to celebrate the lives saved by home smoke alarms installed last October. (Photo: Red Cross)
Members of Red Cross of Georgia Central Midwest Georgia chapter pose with the Truth and his family to celebrate the lives saved by home smoke alarms installed last October. (Photo: Red Cross)