STONECREST, Ga. – The Stonecrest mayoral race mud-slinging hit a new low when a controversial campaign flyer was sent out, touting his opponent was diagnosed with multiple mental illnesses, while simultaneously attacking a veteran who was shot and killed by a police officer last year.
Jason Lary, who is running against Charles S. Hill Jr., for mayor in the newly incorporated city of Stonecrest, Ga., was made to look like the alleged mouthpiece on a weekend flyer sent out to the community.
"Charles S. Hill has been declared mentally ill by a Licensed Psychiatrist (MD). He is, among other things, manic-depressive and Bipolar with Cyclothymic Disorder," the flyer stated.
Hill said, his rival's supporters took the political smear campaigning too far.
"My first reaction was my heart dropped. I couldn't believe someone would put something like this out—something that's totally inaccurate that would slander my name, slander my father's name, as well as slander the name of a deceased veteran, who died tragically."
The flyer, that was sent out to the community last week, displayed a photo of Hill with the large block letters over his face: "BIPOLAR MANIC DEPRESSIVE" and above his photo, the words: "Should this guy be seeking to run our Stonecrest City Hall… Or should he be seeking help for his previously diagnosed mental illness?"
The photo on the right showed a photo of a blurred, but naked Anthony Hill, a veteran who was shot and killed by a police officer last year after a 911 call about a man running around naked in the apartment complex he lived in, in Decatur, Ga.
The text read:
"Hill was confronted by Police as he walked around naked in his apartment complex.
"Hill suffered from Bipolar Disorder."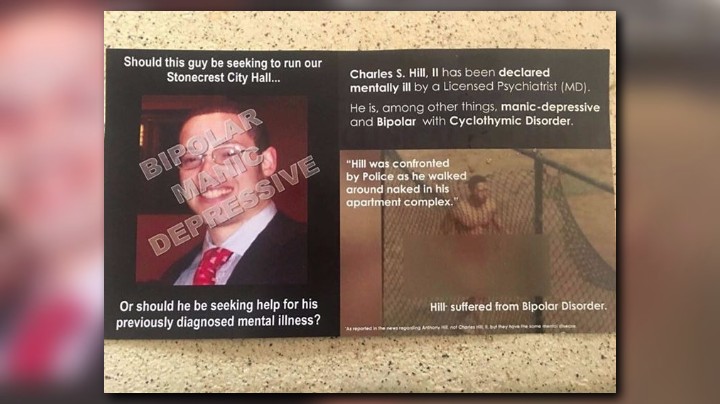 In March of 2015, then-DeKalb County Police Officer Robert Olsen shot and killed Anthony, a 27-year-old Air Force veteran, who was unarmed, wandering the neighborhood without clothes.
His family members said he was having a mental illness crisis and had stopped taking his medication.
Police said Anthony lunged at Olsen in a "threatening manner."
In June, Olsen pleaded not guilty to the charges.
RELATED | Former cop pleads not guilty to murder charges in Anthony Hill shooting
Hill's mother and sister were in the courtroom and said if they had the chance to say anything to Olsen, it would be to ask him why he pulled the trigger.
"Why did he do what he did," Carolyn Giummo, Hill's mother, said. "[It's] very difficult every day. It's like it just happened. Being in court and seeing the officer—there's not a day that goes by that I don't think about my son."
MORE ON HILL | Anthony Hill shooting time could be crucial in whether case moves forward
Anthony's family and friends took to Twitter to blast the flyer.
It gets worst. Here is the back of the mailer. pic.twitter.com/N6ecKcUEp2

— mockingjay. (@bridgie_xoxo) March 19, 2017
Anthony's family & I are incredibly upset and disheartened over this flyer that has been sent out to the people of Stonecrest. pic.twitter.com/ZP3Chcg73e

— mockingjay. (@bridgie_xoxo) March 18, 2017
The other side of the flyer had a variety of other slanderous accusations about Charles and his father Dr. Charles S. Hill Sr.
"His father, Dr. Charles S. Hill is in denial. He had pushed his son into running for office TWICE – a very stressful and exhaustive endeavor for a mentally well-adjusted normal person, but disastrous for a mentally unbalanced person like his son."
While the National Alliance on Mental Illness (NAMI) Georgia is non-partisan and does not get involved in political campaigns, said Kim Jones, NAMI Georgia's executive director, the organization does find this flyer to be "unacceptable and shameful."
"Stigma-slinging is one of the most outrageous practices in American politics," she said. "It represents ignorance and prejudice."
Many leaders, she continued, have experienced mental illness, including two American presidents, Abraham Lincoln and Theodore Roosevelt. In fact, she said, one out of five people are living with a mental condition, including military veterans who may experience PTSD but look forward to continuing to serve in their communities.
"Stigmatizing stereotypes and disparagement discourages people from seeking help when they need it—let alone stepping forward as candidates for public service. This kind of stigma is also a slap in the face," Jones said.
More from the flyer:
"A CANDIDATE FOR STONECREST MAYOR IS MENTALLY-ILL!
"Charles Hill, II needs our sympathy, BUT NOT YOUR VOTE.
"Because of his mental illness, YOU NEVER KNOW WHAT CHARLES IS GOING TO SAY OR DO!! (which is as scary as a Donald J. Trump Presidency)
"Please pray that Dr. Charles S. hill begins protecting his child instead of causing him more disgrace and public humiliation.
"But at all costs, DO NOT VOTE FOR A MENTALLY ILL PERSON to run our new city."
The campaign flyer also listed "expected symptoms" from the candidate.
Lary said this flyer did go too far and that it's not something he condones, and furthermore, he said, he denounces it.
"Over the weekend, a mailer was released regarding one of the candidates running for Mayor of the City of Stonecrest. Yes, we may disagree on city issues, neighborhood problems and the way in which to go about getting the job done. Even so, with this recent development, I COULD NOT remain silent. Healthy competition & political debate are one thing. But this disgusting mailer crosses the line," he said in a press release Monday.
Lary was also appalled by the mental illness attack on his opponent, he said.
"Mental illness is NOT a laughing matter. On the contrary, it is a very SERIOUS matter - one that affects over 42 million Americans, EVERY year. I spent 25 years in the healthcare industry so I know first hand how serious this matter is. These are fine people who (it's a good chance) may reside right in our very own neighborhoods. They wear many different faces – Moms, Dads, Husbands, Wives, young adults, our family members. If any one of our neighbors are attacked or ridiculed, we ALL are attacked and ridiculed. We won't stand for that!"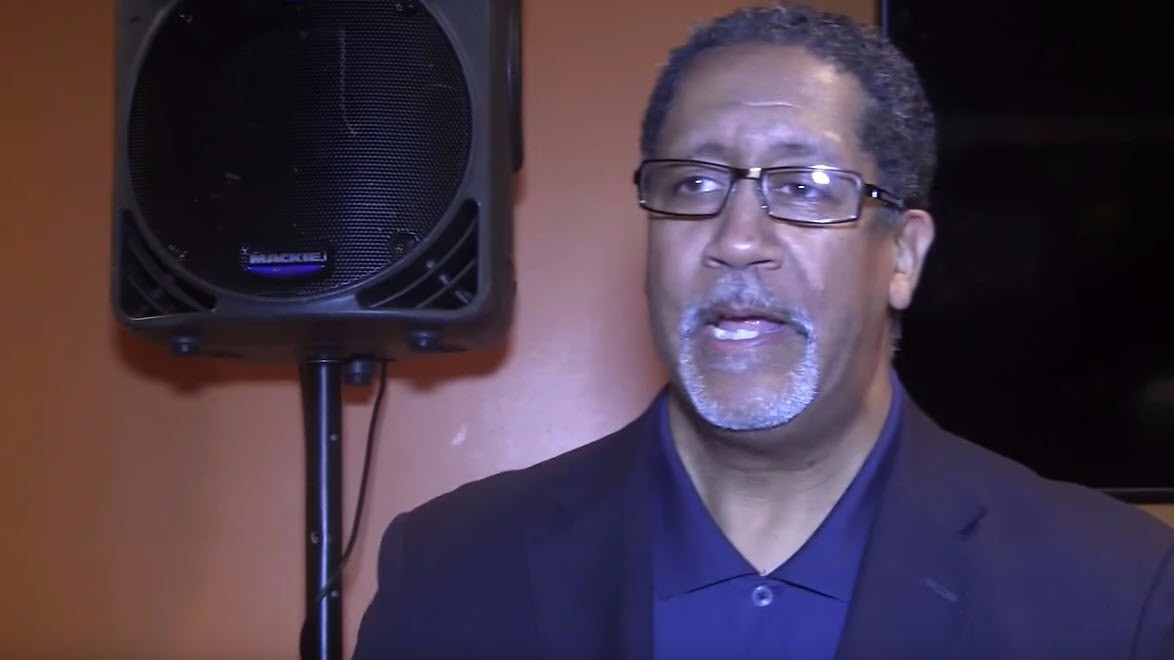 "My campaign will continue to stand in truth and stand for transparency. This type of propaganda has NO place in Stonecrest and NO place… anywhere… period," Lary said.
However, he does not indicate who may have sent the mailer to residents.
Charles said it won't keep him down, rather it has given him the drive to push harder for his city and the mayoral race.
"It also motivated me because this is the type of behavior that my campaign is fighting against and I want something different for the community that I grew up in."