ATLANTA -- Starting next week, drivers will see more than a dozen new billboards around Atlanta. The message: you can file a complaint against police. And you can do so anonymously.
The Atlanta Citizens Review Board (ACRB) is sponsoring the signs to alert the public to a recent ordinance change. Earlier this year, Atlanta City Council passed a measure that will allow citizens to make anonymous complaints against Atlanta Police through the ACRB. Previously, one would have had to attach their name to the report.
A spokesperson for the police watchdog group says once word spreads about the new procedure, complaints are expected to increase significantly in the coming months.
In addition to the billboards, the ACRB has worked with actress Jasmine Guy to produce a PSA. Filmed on a college campus, Guy addresses the camera saying, "It used to be easy to tell the good guys from the bad guys. But now, it's 'A Different World'," a nod to the popular 90s television show in which she played a starring role. She then goes on to encourage citizens to file an anonymous complaint if they felt they had been wronged, with the ACRB's email and telephone number displayed on screen.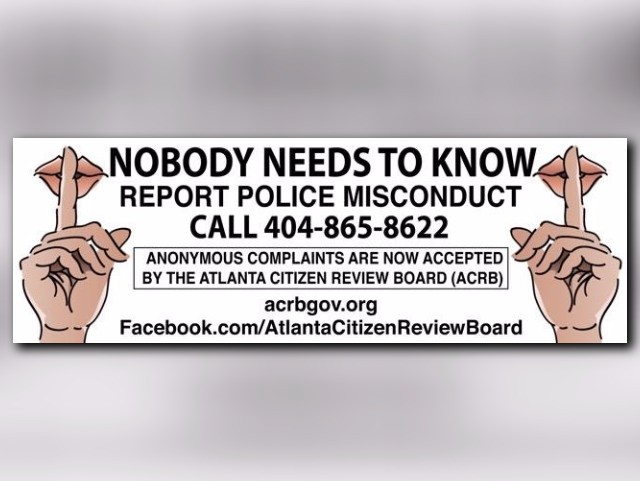 The Atlanta Citizens Review Board was established in 2010 to provide "citizen oversight" of Atlanta's police and public safety departments.
In the past, the Atlanta Police Department has said it takes the work and recommendations of the Citizen Review Board "very seriously," adding that Chief Turner has always communicated openly with the group. A spokesperson for the department responded to the plan late Thursday saying:
The Atlanta Police Department is an advocate for all citizens having the right to have their grievances addressed as it relates to police conduct and inappropriate behavior. We understand, more so than other agencies, the importance of handling citizens' complaints with the upmost integrity because the essence of public trust is rooted in the manner in which law enforcement governs its own behavior.
The idea of taking anonymous complaints needs to be examined further. As always, we appreciate the service the Atlanta Citizen Review Board provides and we look forward to continuing to work with them on improving trust between our officers and the communities we serve.