ATLANTA, Ga – U.S. Sen. David Perdue spoke to a joint meeting of the DeKalb and Brookhaven chambers of commerce on Tuesday.
Perdue has been a high-profile supporter of Donald Trump ever since before the election. And Trump's critics in Georgia have been trying to confront Perdue about that ever since the inauguration. While he was the center of friendly attention at the luncheon, he was also the center of attention about a quarter mile away – the closest this crowd of protesters could get to Perdue as the event started.
The crowd wants nothing more than to have Perdue in their presence while expressing their disdain for him and for President Donald Trump.
"Our intent is not to shame anyone," said protestor Wanda Mosley. "But if in the process of exercising our right as citizens, we step on a few toes, then so be it."
PHOTOS: Protests outside David Perdue's speech
PHOTOS: Protests outside U.S. Sen. David Perdue's speech
Protestors gathered outside a speech given by U.S. Sen. David Perdue in Brookhaven on Monday. WXIA
Protestors gathered outside a speech given by U.S. Sen. David Perdue in Brookhaven on Monday. WXIA
Perdue made a different choice, flanked by plainclothes security, and speaking to a room that stayed respectful and gave him a couple of standing ovations.
Perdue said he's getting all the input he needs from Georgians who agree and who disagree with his and President Trump's policies.
In the sold-out event, Perdue told the audience that he wants to compromise with Democrats in order to replace Obamacare.
"If you look at Obamacare, for example, something will be done but it hasn't passed yet," he said. "We need to do it now or we'll be forced to do it later. In Georgia alone, we have 96 counties out of 159 that only have one health care provider."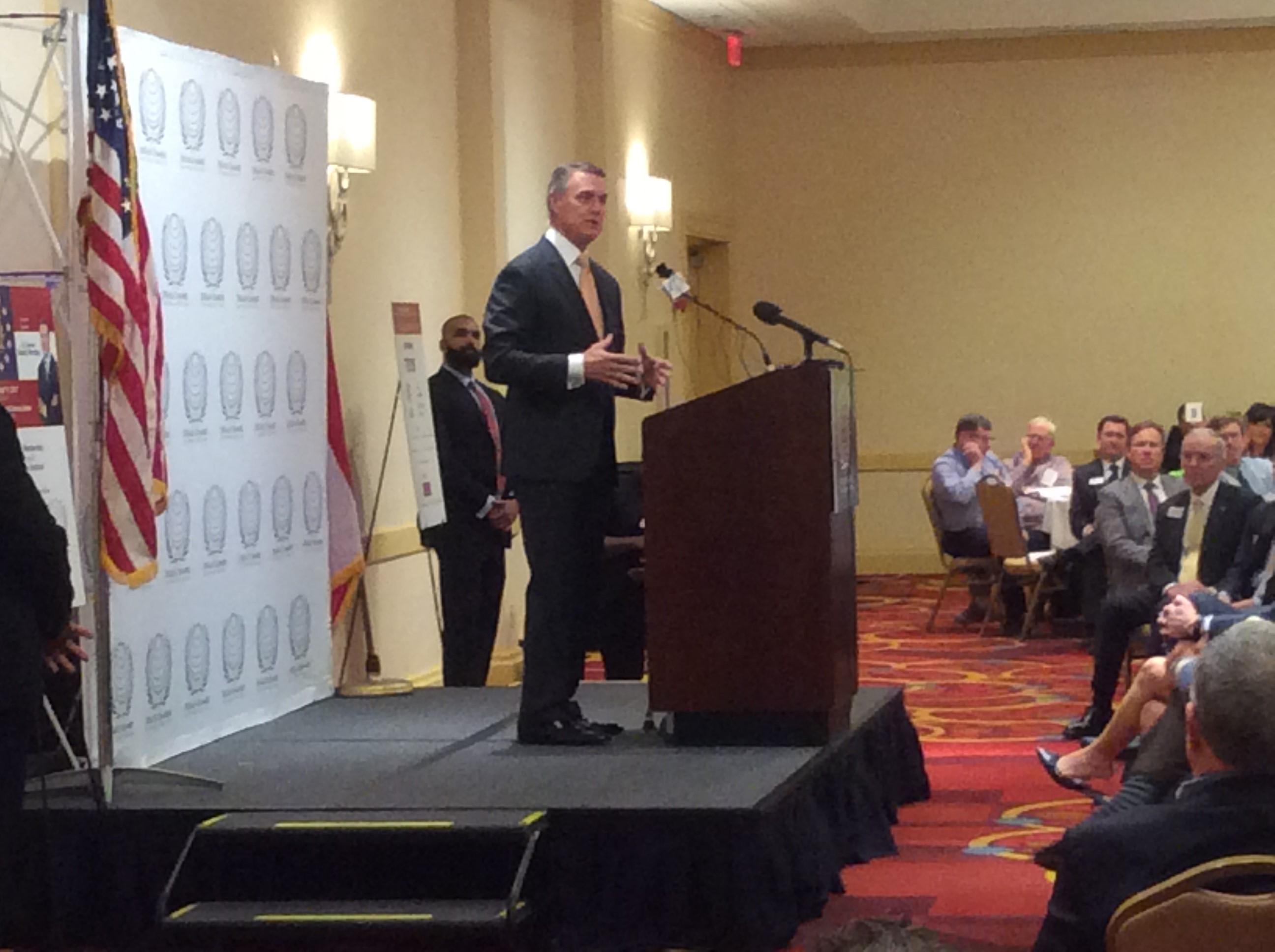 Here are some other quotes from his speech:
"Consumer confidence is bubbling up... it's the highest it's been since 2000. Small business owners are more optimistic than any time since 2007. CEO confidence has never been higher in 13 years. Manufacturer confidence is higher than anytime in the past 20 years. These are clear signs that people are anticipating something to get done in Washington ...
"I submit to you that it's time to put political interests aside. It's time to put partisan interests aside. I didn't run for the United States Senate to be part of a broken system for a few years. I went up there to try to fix it from the inside ...
"In business, if you don't deliver results, you don't survive. That's not the way it is in Washington, and we've got to change that. With an outsider business guy in the White House, I think we've got somebody who's not a choir boy – and he doesn't claim to be – but what he wants is results. I believe he's strong enough to force Congress to break through this nonsense ...
"We've embarked on the boldest rollback of federal regulations since Ronald Reagan was in office, possibly in our history. This president reversed onerous rules with the help of Congress such as Waters of the U.S., Clean Power Plant, and actually cleared the way for the Keystone Pipeline."