Testimony in trial of a man charged in the hot car death of his son turned to sexually-explicit chat messages Wednesday.
Ross Harris is facing numerous charges, including malice murder and felony murder, in the June 2014 death of his young son, Cooper. The boy was found in the backseat of Harris' SUV. Harris maintains it was a tragic accident.
Caitlin Hickey Floyd took the stand after the lunch recess to discuss her use of the chat app Whisper and her messages with Harris. When Floyd took the stand, defense attorneys renewed their ongoing objection to the admission of Floyd's testimony, while the judge said she was going to allow the testimony, overruling the objections.
The late afternoon sessions moved back to more technical information, with Cobb County Det. R.B. Smith of the High Tech Crime Unit taking the stand to deliver testimony.
Smith was shown some of the chat logs from the Whisper app, which tied to some of Harris' controversial comments, including the statement, "I hate being married with kids. The novelty has worn off and I have nothing to show for it."
In addition, Harris had posted the statement, "I love my son and all but we both need escapes."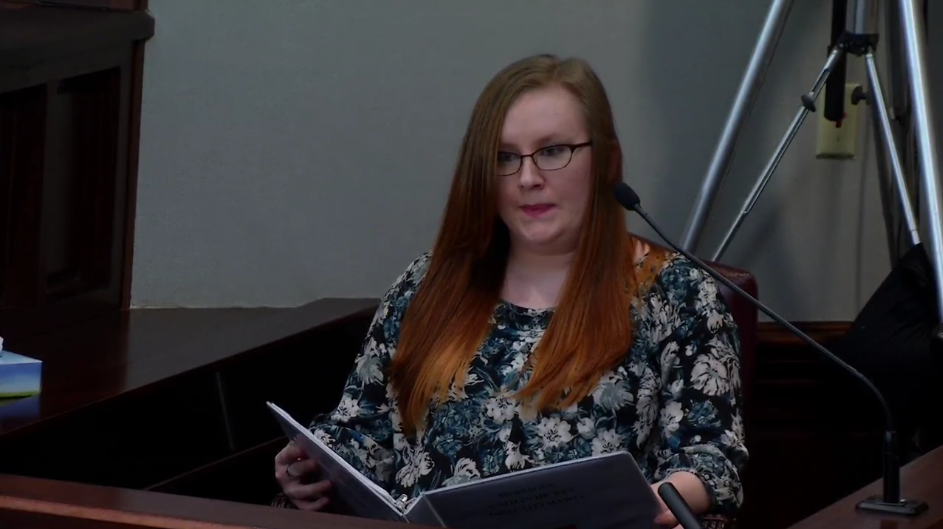 Additionally, video from the Chick-fil-A location was mentioned, with discussion of the variance in the timestamp in particular being mentioned as part of the testimony.
Earlier testimony Wednesday afternoon centered around explicit mentions of the type of language Floyd and Harris used, as well as specific descriptions of explicit sexual photographs that each person sent to each other via Whisper as well as the app Kik.
Floyd testified that she initially was not aware that Harris had a child, and indicated that she thought it was "risky" for him to send those types of photos while he was with his family.
Despite sharing explicit photos on line, Floyd and Harris never met in person.
Earlier in the day, just before lunch, more technical discussions were presented on the stand, as Lauren Jamar from Los Angeles-based app company Whisper took the stand to discuss how the app works, and how users are able to utilize the service.
Wednesday morning's testimony began with a technical discussion of the temperature inside Ross Harris' car at the time that Cooper Harris died. Dr. David Michael Brani of Marietta-based Applied Technical Services provided detail regarding the thermal testing involved regarding conditions inside Harris' vehicle.
According to Brani, temperatures inside Ross Harris' SUV at the noon hour may have been between 98 and 125 degrees.
On Tuesday the jury heard heartbreaking testimony that went further into detail about Cooper Harris' death. Click here for that recap.
Photos | Day 9 of Ross Harris hot car death murder trial
PHOTOS | Ross Harris Trial Day 9