ROSWELL, Ga. -- A school bus driver charged in the fatal crash that killed two high school students is out of jail on bond.
Charles Talmadge Pitts, 69, was booked into the Fulton Co. Jail on Monday afternoon, Roswell Police said.
He has been charged with failure to yield and two counts of vehicular homicide -- both misdemeanors.
In a brief court hearing on Tuesday, Pitts' attorney said that circumstances behind the crash still need to be investigated. The attorney noted that Pitts has lived his entire life in the area.
Bond was set at $21,000. Pitts and his attorneys waived a probable cause hearing, which means the case will next appear before a State Court judge.
Authorities said Pitts was driving the bus that crashed into a car. Lassiter High School students James and Joe Pratt were inside the car. The brothers were on the way to the dentist on April 24, when the bus pulled out of a neighborhood and into their path, police said.
The accident report, obtained by 11Alive, shows the bus making a left-hand turn from West Road onto Woodstock Road. That section of the street has turn lanes in both directions, plus four lanes of traffic. The report states the bus failed to yield after stopping. "There is little evidence of braking" from the teen's car, according to the report.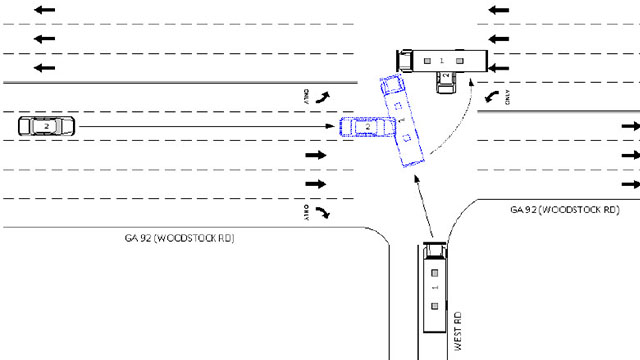 They were described as kind, motivated, compassionate young men. The boys leave behind two sisters, Lilly and Stella, and parents Jamie and Tom.
PHOTOS | Pratt Brothers killed in deadly bus crash
They were laid to rest on April 30 in a military funeral to honor the brothers' time in the high school Junior ROTC and one brother's commitment to the U.S. Marine Corps.
Initially, the bus driver was taken off all bus routes during the investigation. The school system said Pitts is devastated over the fatal accident. In a statement released on the day of his court appearance, the school continued to express condolences to the Pratt family:
Our heartfelt sympathies are expressed to the Pratt family for their unimaginable loss. This is a tragedy for all involved. It's important for all of us to know exactly what happened that day, and the school system is working closely with the Roswell Police Department and other parties to collect information that will help uncover the facts of what occurred.