ROCKMART, Ga. – Veteran's Day holds a special place in Christina Garrett and her son Timothy's hearts. Her husband, and his dad, was an Army veteran. First Sergeant William Garrett died soon after returning from Iraq.
Christina said her husband picked-up an unknown illness in Iraq, which led to his passing.
The memory of his father though is the reason the American flag is important to Timothy.
"When I look at the American flag, I think of my dad," the fifth grader said. "I think that I love him, I really do. And I really miss him."
Since Timothy never met his dad, Christina, a paraprofessional at Van Wert Elementary School, came up with an idea for a memorial to make sure her son and also her daughter would never forget their veteran. Especially on Veterans Day.
This week, as part of Polk County School District's Friday, Nov. 11, celebration, Christina, along with students and other teachers, planted 10,000 miniature American flags in the school's front yard.
"It started last year, we had 7,500 flags," Christina said. "And I had a vision last year to do 10,000 flags, but we didn't make it."
Several of the school's students said they're proud they could be part of the memorial.
"I thought it was going to be difficult because when I looked at how many flags we were going to put up I thought it would be really, really hard," fifth-grader Emma Scott said. She added that once everyone started working together though it became easy.
Some students are now finding meaning behind the flag.
"It means freedom and the men that sacrificed their lives," fifth-grader Cason Woods said.
While others are thankful.
"The honor and everything and all those that sacrificed their lives for us to be safe," fifth-grader Enna Barber said.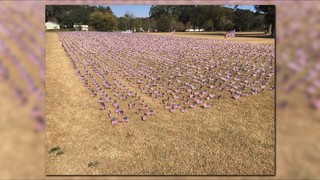 For Timothy, the thousands of flags on display shows not only respect for all veterans, but they also are honoring his own dad. He said he is proud of his dad, for a very simple reason.
"He fought for me," Timothy said while sitting next to the memorial.
Between the rows of red, white and blue, Van Wert's principal hopes all of her students can learn an important lesson from the memorial on display.
"Without our veterans and the job our soldiers do everyday, they wouldn't have the many opportunities that they have," principal Shannon Hulsey said.
The flags will be on display through Veteran's Day weekend.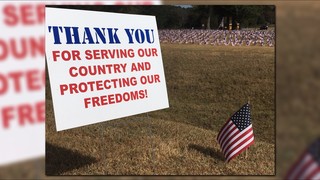 %INLINE%