For the first time close relatives of a Georgia family that was killed in a small crash in Florida Sunday are speaking about their loved ones.
The pilot, his wife, and their two young boys all died tragically.
PREVIOUS | Georgia family of four killed in Florida plane crash
Nate Enders' sisters said they were a flying family.
Nate was the pilot, his wife Laura was there by his side, their boys 7-year-old Jaden and 5-year-old Eli couldn't get enough of it. Their family said they died doing what they lived for, and their pain is so deep.
"His dream was to own his own airplane, live in a hangar home, have a runway right out of his back door and every time the sun shines he'd take that airplane up," said Megan Sabol, Nate's sister. "(He) worked so he could fly."
The Enders' lived on the ground in Williamson, Ga. but family said they thrived in the sky amongst the clouds.
"They called our brother pops, and they'd go flying with pops and they loved it a lot, and Laura was Nate's number one fan," said Emily Forbes, Nate's sister.
The Enders had just moved to Georgia last summer and the 37-year-old air traffic controller and experienced pilot was working to start his own business as a flight instructor. The family decided to take a ride on Sunday afternoon in Williston, Fla. But on that afternoon, their dream life came to a tragic end. Their small plane crashed shortly after takeoff.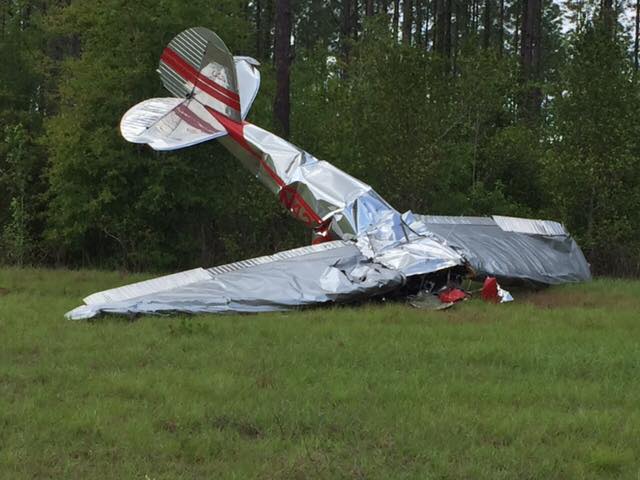 "There's good people out there and they were some of the best," Sabol told 11Alive's Chris Hopper. "It's just tough, it's a tough time. We're going to have a long, long road."
Forbes agreed: "They just made life better for everybody."
His sisters said it's hard to believe they died this way, in a place where they felt most alive. Their sudden deaths are leaving a gaping hole in the lives of so many.
"(It) just couldn't have happened to a better family," Sabol said. "They are going to be missed by a lot of people."
The cause of the crash is still under investigation. A GoFundMe page has been setup to help pay for funeral expenses. Some of that money will go to help Laura's teenage son, Nate's stepson, who wasn't on the plane.
Photos: Georgia family killed in Fla. plane crash
Photos: Georgia family killed in Fla. plane crash
Photo from Williston Police Department.
Photo from Williston Police Department.