ATLANTA. -- Finally, after four straight years of pure frustration, St. Patrick's Day lands on the end of the week. And now you can (safely) drink your face off (but not drive during or after).
Check out some of the hottest activities you and your friends can participate in. Don't be the person to go out alone. It's weird. Also, keep in mind 99% of these events are 21 and over, so leave the kids at home. Just don't let them drink any green paint.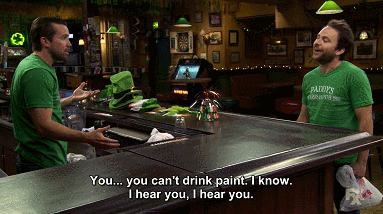 When: March 11
What Time: 2 PM to 3 AM
Where: Park Tavern on Piedmont Park
Park Tavern on Piedmont Park is holding their 8th annual St. Patrick's Day festival. You can expect at least 4,000 others to join in on the fun as DJs, live bands, and several undefined contests take up center stage. The Breakfast Club, DJ DK, and others are set to show up to the great occasion.
St. Patrick's Parade 5K Run/Walk
When: March 11
What Time: 10 AM (for running); 12 PM (for parade)
Where: Colony Square Midtown (14th and Peachtree St.)
Runners and walkers be alert: this weekend is the third annual parade 5K run and walk. Sign ups ended on March 9th but you're totally allowed to sit alongside the street to watch. Plus, there's going to be a lot of post race events. The parade, for instance, will head down the same route as the runners/walkers but most likely at a slower pace. And there's going to be face painting so you can be a tiger or something. To add to that, an event called Luck of the Square aims to keep you following the parade. After, The Square will transform into a St. Patrick's Day "party zone." Here, live musical performances, beer and other party funs will be had.
St. Patrick's Day at Fado Irish Pub
When: March 11 and March 17
What Time: 12 PM to ???
Where: Fado Irish Pub
Okay, day drinkers, this one's for you. Fado's plans for the day stem across a week. March 11, all of the streets surround the Buckhead Shops are getting shut down then shut up with stages for live bands, a beer garden, and several beer and cocktail tents filled with beer and cocktails. Then, on the actual day of St. Patrick's, the party will rage on with the same party from the previous week. Both events are ticketed so purchase beforehand for a fun time.
When: March 17
What Time: 6 PM to 9 PM
Where: Georgia Aquarium
Head where the seaweed's greener. Look at the world around you. What more is you lookin' for? How about a fun time at the Georgia Aquarium? Even they have a St. Patrick's Day event planned. Down where it's wetter; down where all the fish is happy, have sips under the sea where signature cocktails, small plates and local bands will be readily available. Best of all: all of your aquatic buddies will be there to join in! They won't be drinking, sure, but they'll be there on the other side of the glass watching you. Always watching. Floating and watching. Under the sea. Under. The. Sea.
When: March 17
What Time: 2 PM to 11 PM
Where: Olde Blind Dog Brookhaven
Want to drink outdoors with strangers? The 5th annual outdoor festival from the Olde Blind Dog aims to be the party you attend for that specific reason. Live music thanks to several bands from a multitude of genres are set to rock you all day long.
Sober St. Patrick's Day Standup Comedy
When: March 17
What Time: 6:30 PM
Where: Georgia Public Broadcasting Building
Those who would rather fill their night with laughs and not booze can journey down to GPB for a comedy show from ex-GEICO caveman John Lehr. While his headlining showcase begins at 8:15, there's going to be food, beverages, and a band playing at 6:30; a speaker at 7:15 PM; and warm up comedians at 7:35 PM. Tickets are only $8.
Cherish the Atlanta Symphony Orchestra's Ladies
When: March 17 and 18
What Time: 8 PM
Where: Atlanta Symphony Hall at Woodruff Arts Center
Classical music lovers should check out this event. The Atlanta Symphony Orchestra and Grammy nominated Irish-American group Cherish the Ladies will take the stage for a two night engagement.
When: March 18
What Time: 10 AM to 2 PM
Where: Hand In Hand Pub
Those who love mimosas or bloody Mary's with their Sunday brunch are in the wrong state for that kind of fun. However, a St. Patrick's Day event is here to alleviate that pain (remember: alcohol is only a temporary bandage for whatever's wrong with you). The Boozy Brunch is a pub crawl that takes over the Highlands. From Hand In Hand to J & J Bourbon Bar, expect to hit all the best bars for special foods and drinks. Green waffles, green eggs, green mimosas and other green items will be available for munching and sipping.