LAWRENCEVILLE, Ga. – Police found Wendy and Randall Bjorge dead in their home Saturday night and immediately started investigating their teenage granddaughter and her 19-year-old boyfriend after learning, that the same day, they had allegedly beaten his sister and her boyfriend with a baseball bat.
On Monday, the two teen suspects are hospitalized with serious but non-life-threatening, self-inflicted injuries—one has been charged with battery—the assaulted family members are recovering and police are investigating the grandparents' homicides.
Here's how the violent rampage began and came to, what police call, a "brutal" and deadly end.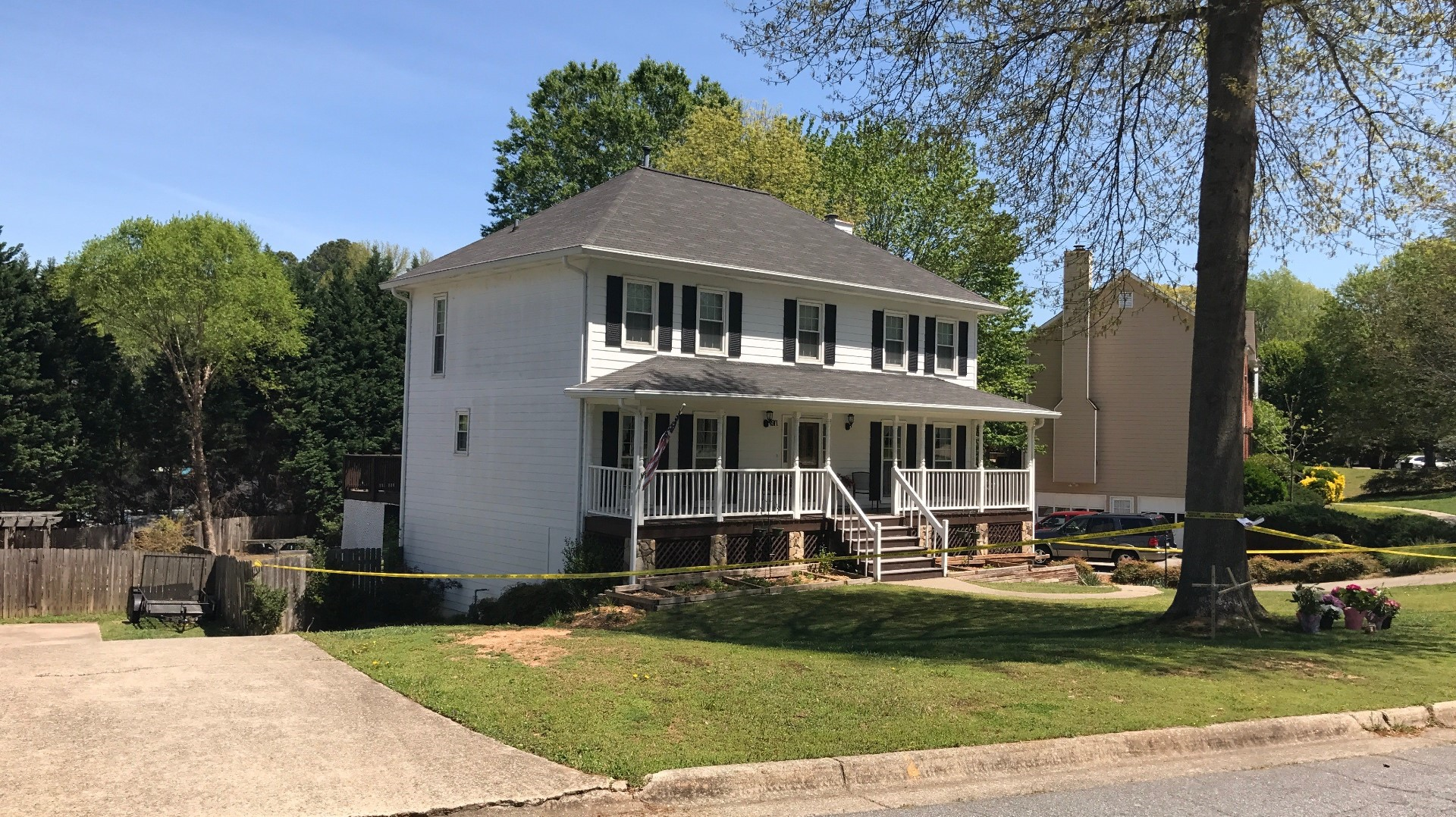 Gwinnett County Police Department responded to a 911 call at 8:30 p.m., to Rambling Woods Drive in Lawrenceville, Ga., where Tomoko Rider said her son, Johnny Rider, 19, beat her daughter with a baseball bat.
Tomoko called 911 and advised police that she was driving her daughter, Mindy Rider, and her boyfriend, to the hospital for their injuries. She also told dispatch that her son had made threats to kill her and her daughter.
Once they arrived on the scene, police peered inside the lower level of the house from the front porch, and reported seeing items strewn about inside. They spotted blood smeared on the wall and door frame in the bathroom.
They rang the doorbell and announced themselves as law enforcement, Officer R.M. Litwin said in the police report.
"I then leaned in the door slightly to look around because it was unknown if there may be an injured party still on scene. As I leaned toward the door I immediately began to cough. After a moment Officer Leigh realized that someone had sprayed pepper spray in the residence," Litwin said.
Once back outside, Tomoko arrived back at her home and approached the officers to tell them in person what had happened.
Mindy, Tomoko told police, was hit in the head with a baseball bat after an argument with her brother and his girlfriend—a girl that Tomoko said she had never seen before. Johnny had not been home for about two weeks prior to the incident.
Tomoko told Litwin that she received a call from Mindy that Johnny was there and trying to steal from them. According to her, when Mindy threatened to call the police Johnny attacked her.
Mindy told police that when Johnny arrived home, she confronted him about her room being ransacked and items missing, including a watch. At first, she said, he seemed to agree, but then headed back to her room with a can of bear pepper spray, spraying Mindy and her boyfriend.
He grabbed her boyfriend and began striking him while yelling for his girlfriend to get a baseball bat, she said. The 17-year-old girl returned with a bat and that's when Mindy said she intervened.
Johnny's girlfriend struck Mindy in the back and head with the bat and Johnny struck her several more times with his fist and with the bat, according to what Mindy told police.
Johnny and his girlfriend continued to beat Mindy and her boyfriend until they could break free, per the police report.
While on the scene, officers found the bear spray on the couch, as well as two air rifles and a machete on a dog cage, which were all removed from the house for safety.
Mindy was released from the hospital, but suffered multiple bruises and received seven staples in her head.
"I'm totally flabbergasted that this was going on," Beth Lenz, who lives next door, said.
"[There were] lots of people going back and forth. I've seen a couple of arguments," she recalled Monday afternoon about her neighbors.
While on the scene, police located the Bjorges' car, a Mazda Tribute SUV, in the garage. They found the driver's side door open and the interior lights on, but unoccupied.
Officers had been to the Bjorges' residence earlier in the week for family-requested welfare checks, but were unable to make contact. Because of the assault to Johnny's family, police decided to check on his girlfriend's grandparents again.
Just a mile and a half away, police entered the Bjorges' home, where the 17-year-old lived with and was home-schooled by her grandparents.
Officer J.A. Sanders and Sgt. Brewster found Wendy and Randall, both 63, dead upstairs in their Furlong Run home Saturday night, just after 11 p.m. They believe the married couple may have been deceased for days. Their Lawrenceville, Ga., home had been ransacked.
"Their deaths were apparent homicides," Det. D.C. Smith said.
According to the police report, the primary weapon used was a "blunt object," possibly a hand, fist or another object.
Detectives and Crime Scene officials worked throughout the night looking for Johnny and his girlfriend.
On Sunday morning, with his family's assistance, police located them at the Residences at McGinnis Ferry on McGinnis Ferry Road, in Suwanee, Ga., inside a friend's apartment.
Police attempted to make contact with them, however, the suspects refused to come outside.
The Gwinnett County SWAT team entered the home and located the suspects who were suffering from self-inflicted stab wounds.
PHOTOS: Gwinnett SWAT team surrounds apartment complex
PHOTOS: Gwinnett SWAT teams surround apartment complex
Johnny and his girlfriend, who we are not naming because she is a minor and not charged with a crime at this time, were hospitalized at Gwinnett Medical Center-Lawrenceville for self-inflicted knife wounds, Gwinnett Police Cpl. Deon Washington said.
According to police, the teenage girl, who is still recovering, has habitually run away from home. In fact, on April 1, Wendy posted on her Facebook page a plea to find her granddaughter.
"please spread the word… PLEASE BE ON THE LOOKOUT FOR [granddaughter]"
Wendy also posted a "Missing and Endangered" poster which stated the last time she was seen was on Dec. 18, 2016, when she was still 16.
On Monday afternoon, a makeshift memorial adorns the couple's large white, two-story home's front yard. Purple and white flowers, lit candles and two wooden crosses are lined up next to a large tree. Their names are marked on the crosses, along with the words: "Rest in Peace"--a simple, thoughtful sign to show that the community cared for them and mourn their unexpected loss.
"They were very sweet," neighbor Cailey Smith said. "It's awful. It's tragic. It's senseless. I feel so awful for the families. They will definitely be in our prayers."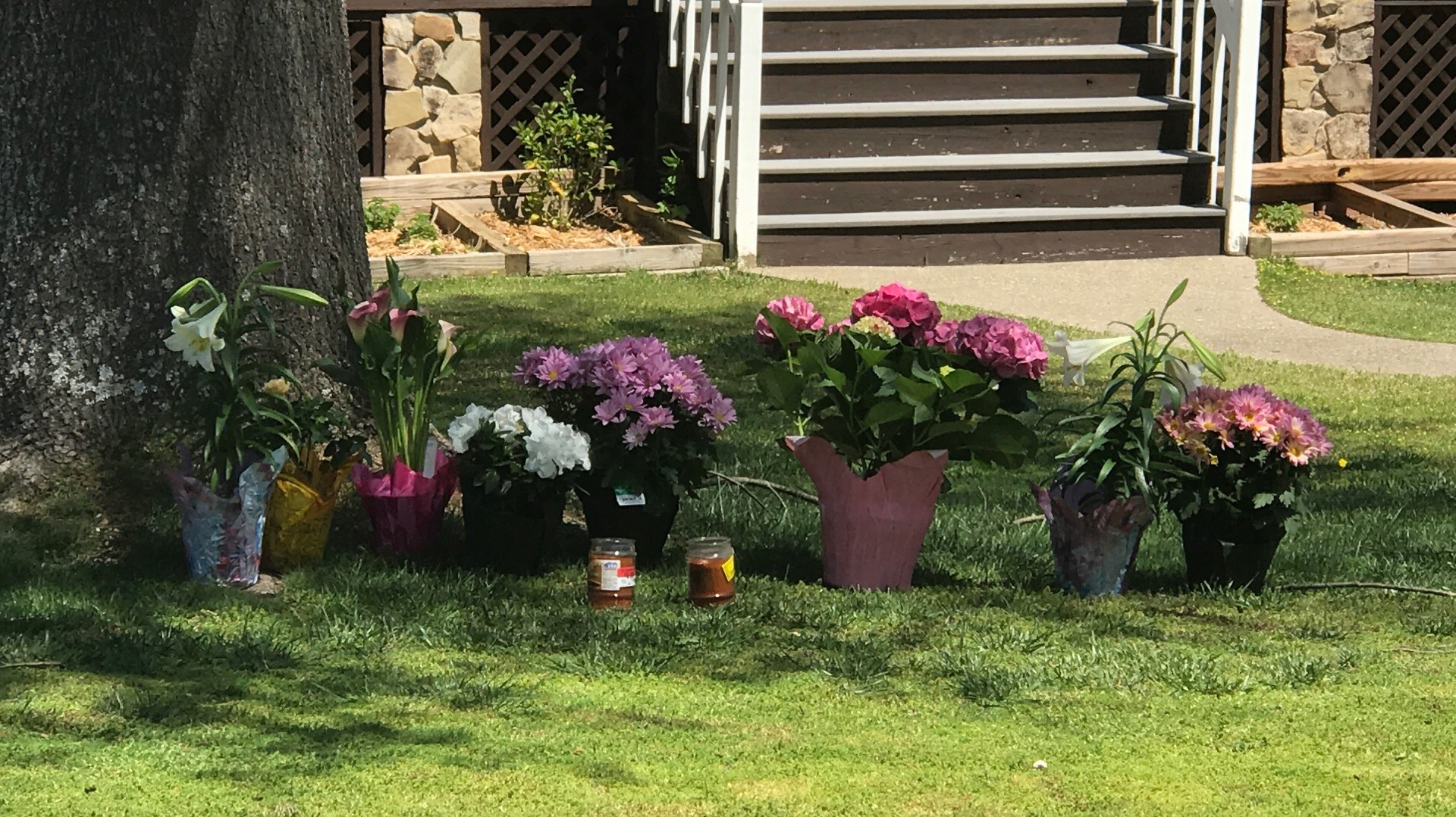 Johnny, who has now been booked into the Gwinnett County Jail after being released from the hospital for self-inflicted knife wounds, was charged with battery for the assault on his sister. His girlfriend has not been charged, however, they are both being investigated in the double homicide.
The motives are still unknown, pending further investigation.
If anyone has any information to share in this case, contact the Gwinnett County Police Department's Homicide Unit at (770) 513-5300. To remain anonymous, tipsters should contact Crime Stoppers at (404) 577-TIPS (8477) or visit www.crimestoppersatlanta.org. Crime Stoppers tipsters can receive up to $2,000 for information leading to an arrest and indictment in this case.