ATLANTA -- Police are looking for a man wanted in connection with a March 11 sexual assault in Buckhead.
The victim was leaving Fado, a popular Irish pub on Buckhead Avenue, around 11 p.m. The woman got into a car with a driver she mistakenly thought was an Uber driver.
Police said the woman gave the driver her phone with directions to her home. The suspect drove her around for some time, eventually assaulting her in the back seat.
Police said the man then forced the victim to drive to a SunTrust ATM on Roswell Road and had her withdraw money. The suspect then released the woman near her E. Paces Ferry Road home.
The ATM's camera captured a picture of the front of his car, which police say is a dark Ford Fusion or Focus.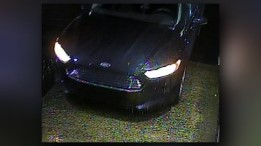 Police believe the suspect has committed crimes such as this before, and have several other cases with a similar MO.
For women who frequent the Buckhead area and use ride-share apps like Uber, the news has been unnerving.
"I think people just get caught up sometimes," said Gabriella WIlliams. "They don't really pay attention as much as they should."
For Alyssa Cheeyoung, she said she always double checks she has the right driver before hopping in to get to her destination.
"When I get into the car, like, I always check the picture," she told 11Alive's Duffie Dixon. "And usually when I get in they ask my name to make sure I'm the one who ordered the Uber."
Police are still trying to solve other similar crimes to the one that happened in March.
Last August, a woman told police she was waiting outside the Park Bench bar in Buckhead when a man pulled up and claimed to be her Uber driver. The man ended up taking her to Chastain Park where investigators said the man raped her. A security camera caught a shot of his silver 4-door sedan, but so far, police have not made any arrests in the case.
For now, Atlanta Police are asking any other victims of crimes like these to come forward.
"If this has happened before, people should speak up and say something because we don't want this to be recurring," said Atlanta Police Sgt. Warren Pickard.