CHARLTON COUNTY, Ga. -- Parts of a south Georgia county are under a mandatory evacuation due to the West Mims Fire that has scorched more than 118,000 acres.
As of 1 p.m., 60 homes have been evacuated in St. George, Ga. in Charlton County on the west side of Highway 121 from Jim Crawford Loop Road to St. George, the West Mims Fire Management Team told 11Alive news partner First Coast News.
Nassau County Emergency Management said the West Mims Fire is moving east toward the St. Mary's River. They said firefighters are working to keep the fire from the city of St. George, which is under a mandatory evacuation order.
The team said a temporary shelter has been set up at the gymnasium at Folkston Elementary School, 34754 Okefenokee Drive.
#WestMims #wildfire has come out of the refuge, evacuations underway in St. George. Shelter available at Folkston Elementary. @USFWSFireSE

— GAForestryCommission (@GaTrees) May 6, 2017
The fire is only 12 percent contained and grew over 3,000 acres Friday as dry, windy conditions pushed the fire over areas that were once contained. Currently, there are 519 responders trying to put the fire out.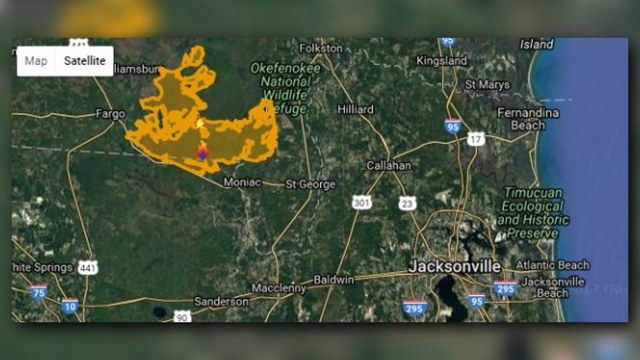 Smoke from the fire can be seen all over the First Coast, ranging from Nassau County, Duval and Clay County. First Coast News viewers say they also see ash falling in these areas. Residents are urged to not breathe in the smoke or ash and to stay in doors if possible.
You can't see wind but you can see it's effects... like smoke from the West Mims fire! This is going over the @BuckmanBridge looking south pic.twitter.com/6CzP7dFLcL

— Lindsey Boetsch (@FCNLindsey) May 6, 2017
PHOTOS | West Mims Fire smoke seen from the First Coast
St. George, Georgia. (PHOTO: Patrick Lloyd)
St. George, Georgia. (PHOTO: Patrick Lloyd)
The National Weather Service in Jacksonville issued a Dense Smoke Advisory that's in effect until 8 p.m. this evening.
Nassau County Emergency Management tweeted that there is heavy smoke in the area because of the fire. If you see flames in the area, they ask that you call 911.
Smoke from the West Mins Fire is heavy in many parts of Nassau. Use caution. Call 911 if you see flames! pic.twitter.com/nD1gj9eBbI

— NassauEM (@NassauEM) May 6, 2017
Firefighters are working hard to keep #WestMimsfire from spreading into Nassau. St George is being evacuated https://t.co/vGp2vz8KBm

— NassauEM (@NassauEM) May 6, 2017
First Coast News viewers say they also see ash in the air from all of the smoke. Folks are advised not to breathe it in, especially those with breathing conditions.
Radar going crazy! That is not rain but smoke. Northwest flow blows smoke in from #WestMims fire pic.twitter.com/p4QW9JgD9u

— Mike Prangley (@fcnmike) May 6, 2017
Nassau County Emergency Operations Center is open. If you have questions, please call 904-548-0900, option 1.