Voter intimidation has been a huge problem this year on both sides of the ticket. In Virginia, some polling locations are employing workers to just be on the lookout for intimidators.
But this takes voter intimidation to a new level. It's more than just trolling; this is voter suppression.
Outside the early voting location in Silver Spring, voters took selfies to document the moment, proudly wearing their "I voted" stickers.
"I felt very excited," said voter Deborah Weiner.
"It's our civic duty," said another, Shayne Stafford. "Plus with this current election, it's crazy. So voting is a must."
But some "Twitter trolls" are trying to prevent your vote from counting, by keeping you out of the voting booth with fake ads. The ads feature pictures of Hillary Clinton, with words encouraging people to "text their vote" to a number, instead of waiting in line at the polls.
One user even tweeted this only applies to Hillary Clinton supporters. Trump supporters, the tweeter said, must go to the polls.
"I realized immediately that that smacks of voter intimidation," Weiner said.
Some of the ads are even in Spanish.
"Unfortunately it's just taking advantage of people who are not as familiar with our voting process," Stafford said.
RELATED: Woman waits 96 years to vote for woman for president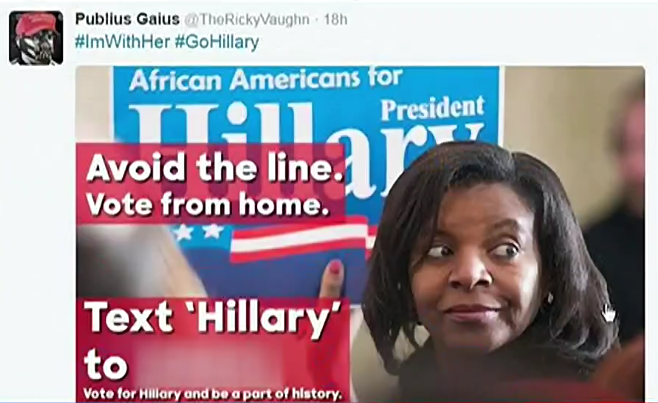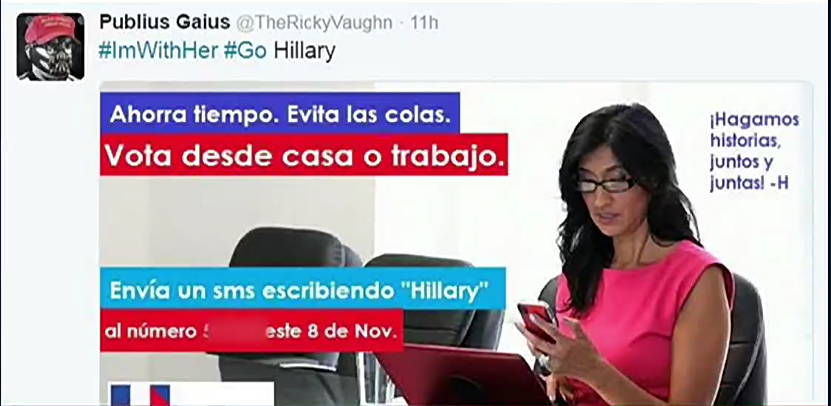 Not everyone is sympathetic for the would-be victims."If you fall for that, you shouldn't be voting in the first place," one Twitter user said.To be clear: You cannot vote online. You cannot vote via text message. This isn't like casting your vote for the next "American Idol."To vote, you must go to your polling location or submit an absentee ballot."You have to come vote, you have to be a voice," said another Montgomery County voter, Mimi Dinkins.Twitter creator @Jack posted a tweet that the issue has been fixed and the accounts have been suspended. But some are still circulating as of Thursday.Twitter can be a valuable resource for this election. For example, send a direct message to @Gov and you'll get a message back with your polling location and other important voter information. What Twitter is not good for, is actually casting your ballot.If you would like to vote for the next president, you have to do so IRL (which is Twitter-speak for "in real life").WUSA9 tested out the ad, by texting "Hillary" to the number provided. The response was quick."The ad you saw was not approved by iVisionMobile OR Hillary for America in any way."PHOTOS | Donald Trump, Hillary Clinton face off in final presidential debate