CINCINNATI – Wearing the beige suit jacket his son, Otto, wore in a North Korean court while reading his confession, Fred Warmbier said, with tears in his eyes, that his family is "thrilled that our son is on American soil."
Otto, a 22-year-old college student was imprisoned in North Korea for more than a year, is in a coma, and was transported to the University of Cincinnati Medical Center in Cincinnati, Ohio Tuesday night.
"Otto has left North Korea. He is on Medivac flight on his way home," Fred and Cindy Warmbier said in a statement earlier this week. "Sadly, he is in a coma and we have been told he has been in that condition since March of 2016. We learned of this only one week ago."
When his family found out about his condition, his father said they were in "disbelief."
"[I] couldn't sit down," Fred recalled.
MORE | Otto Warmbier's parents: Our son has 'been brutalized' by North Korea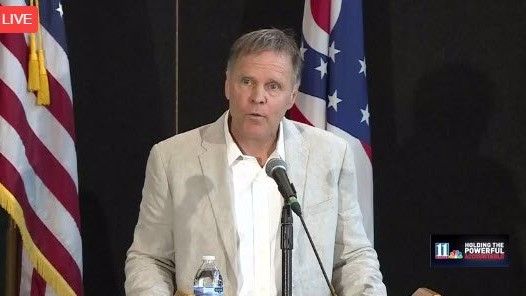 But on Thursday, he spoke out for his son who cannot talk about what happened to him.
"We want the world to know how we and our son have been brutalized and terrorized by the pariah regime in North Korea. We are so grateful that he will finally be with people who love him."
While his mother, Cindy remained by her son's hospital bed, Fred spoke Thursday morning at a press conference at his son's alma mater, Wyoming High School, in Wyoming, Ohio, about his son's condition and what he thought about the country that held his son captive for 18 months without allowing any contact with his family.
His father shared that his family has bittersweet feelings; one of relief that he's home and another of anger that he was "so brutally treated for so long."
But, he said, Otto is a fighter and "survived through the worst that North Korea put him through… North Korea has proven that they are not nature's noblemen," Fred said.
When Otto arrived home to Cincinnati Tuesday, Fred said he knelt by his son and told him that he was glad that he made it home.
"I am so tremendously proud of Otto. His spirit is with us," his father said, continuing that his family is "rock-solid, happy and positive."
A representative from UC Health confirmed at the press conference, that Otto was in stable condition, however, that he does have a "severe neurological condition."
Former United Nations Ambassador Bill Richardson, who efforted Otto's release, said North Korea's healthcare is "primitive," and the circumstances surrounding Otto's condition are unclear.
"This is a matter of grave concern," he said. "How did he fall into a coma? And why was this not disclosed?"
There is no reason, Fred said, why any civilization should keep a person's condition a secret or deny him medical care, as he said North Korea did to his son.
"We have few answers—there's no excuse for how North Korea has treated our son," Fred said. "What he endured, the brutality, the terror that he went through… that doesn't speak to who Otto really is… He's a sweet, loving, kind person," citing that he's never been in trouble in his life.
Sens. Rob Portman, R-Ohio, and Sherrod Brown, D-Ohio, applauded Otto's release even as they expressed concern about the situation Otto and his family have been through.
"The Secretary of State has confirmed to me that Otto has been released by North Korea, and is being returned to his family," Portman said in a statement. "Fred, Cindy and the Warmbier family have been remarkably strong throughout this ordeal. Over the last 18 months, they have had to endure more than any family should have to bear."
"We have been extremely concerned about his situation all along as we are about any American who has been detained in North Korea or anywhere in the world," Heather Nauert, a spokeswoman for the State Department, said. "We strongly suggest that Americans do not go to North Korea."
"North Koreans lure Americans… [as] a 'safe place to go," Fred said about his son, a University of Virginia student, who was with a tour group.
He was detained as tour group prepared to leave North Korea, and was charged with engaging in "anti-state activity."
He was subsequently sentenced in March 2016 after a televised trial in North Korea, when he publicly confessed to stealing a propaganda banner.
"North Korea is a pariah regime," Fred said about the country who deemed his son as a "war criminal."
Contributing: USA TODAY reporters Deirdre Shesgreen, Oren Durell and the Associated Press.