A young step team from DeKalb County called Boys II Bow Ties will enjoy the national spotlight on Sunday night when they star in NBC's "Little Big Shots."
"They don't even understand the magnitude of how big this is," said Daryll Blakely, a teacher at Columbia Elementary School and director of the Boys II Bow Ties Academy. "To see the boys names in lights on a Steve Harvey show, that's all I needed to see. I knew then it was real. They did it."
Blakely started Boyz II Bow Ties at Columbia Elementary three years ago and applied to be part of NBC's "Little Big Shots" last summer.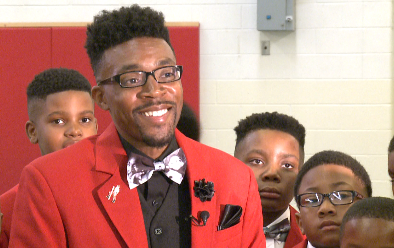 Sitting on the couch with Steve Harvey was the highlight for the boys.
"When we met Steve Harvey, he was tall to me," said Davonte Smith, a fourth-grader. "When I shook his hand, I was happy."
"The best part when I was there is I got to joke with Steve Harvey," said Dan Lamar, a fifth-grader.
Seven members of the team were in the show and spent two weeks in Los Angeles for filming during an all-expenses-paid trip last July.
Blakely said most of the team members had never been on a plane or stepped on a beach before the trip, which included a stop in Las Vegas and visits to Universal Studios in Hollywood.
Back home, Boyz II Bow Ties has 45 members who practice after school three times a week, learning precision, discipline and showmanship.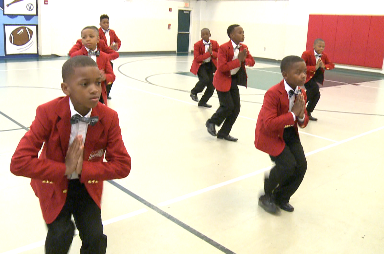 "A lot of kids want to be part of the group," said Michael Wilson, a fifth-grader. "They really love it."
"It helped me build my confidence around people," said fifth-grader Marrionto Perry. "I'm not in my shy egg anymore."
The team has worked hard to earn national attention and look forward to what's next.
"They worked hard and earned it. This is going to open doors for them," added Blakely. "It's amazing."
Members of Boys II Bow Ties, their director, families and school leaders will gather at the King Center on Sunday night to watch "Little Big Shots" together.
The show starts 8 p.m. on NBC and 11Alive.
A preview clip shows Harvey joking with the boys about getting paid.
NBC confirms they were paid a small stipend as required for all TV performances. Blakely said some of the money went directly into savings.