GWINNETT COUNTY, Ga. -- Georgia's Black Caucus is calling for the immediate resignation of a county commissioner more than 40 days after he called civil right icon and U.S. Congressman John Lewis a "racist pig".
Gwinnett County Commissioner Tommy Hunter posted the comments on Facebook following a Meet the Press Interview. In that interview, Rep. Lewis said, "I think the Russians participated in helping this man get elected. And they helped destroy the candidacy of Hillary Clinton."
Lewis boycotted the Trump inauguration saying, "You cannot be at home with something that you feel that is wrong, is not right."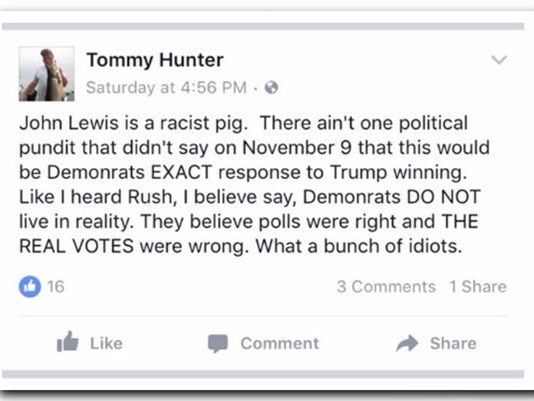 On January 14, Hunter published a Facebook post saying, "John Lewis is a racist pig. There ain't one political pundit that didn't say on November 9 that this would be Demonrats EXACT response to Trump winning." Two days later, he took to Facebook, saying Lewis' election wins were "all illegitimate".
Reaction to Hunter's post was swift and severe. Protestors have been attending Gwinnett County Commissioner meetings, calling for his resignation. An ethics complaint was filed in February. At the time, Seth Weathers, a consultant for Hunter said, "There is zero chance that Hunter will be removed," Weathers said. "Nothing that he said could possibly be viewed as a criminal complaint. The complaint is going to be thrown out as the joke that it is."
Mayor Reed sent a letter to Hunter's firm, United Consulting, saying Hunter's remark was toxic and insulting. Now, the Georgia Legislative Black Caucus is saying Hunter "must resign".
Hunter apologized for the "racist pig" comment, calling it "a poor choice of words".
"I have learned a lot from this and will continue to work hard to serve all of District 3 and the people of Gwinnett County," Hunter said at a Commission meeting last month.
The apology wasn't enough for the Black Caucus. The group released a statement ahead of a Thursday press conference.
"We cannot allow the commissioner to set precedent for unethical behavior without repercussion, so we are calling for Tommy Hunter to immediately vacate the office of Gwinnett County Commissioner," Rep. Erica Thomas (D-Austell) said in a statement.