LAWRENCEVILLE, Ga – An online fundraising campaign has begun for an open records request regarding the emails from the Gwinnett County commissioner who called U.S. Rep. John Lewis "a racist pig."
The GoFundMe campaign has been launched by Indivisible GA-7, a group that says its focus is on good government. The group said it needs to raise $4,400 to request an open records request for Hunter's work emails from November 2016 to present.
The group does not say why they are interested in the emails, only that it has taken an interest in them and "where there's smoke, there's fire."
So far, a little more than $1,700 has been raised.
Hunter called Lewis "a racist pig" on a now-deleted Facebook shortly before President Donald Trump's inauguration. Hunter was responding to Lewis' comments that Trump was not "a legitimate president" due to allegations of Russian interference in this past November's elections.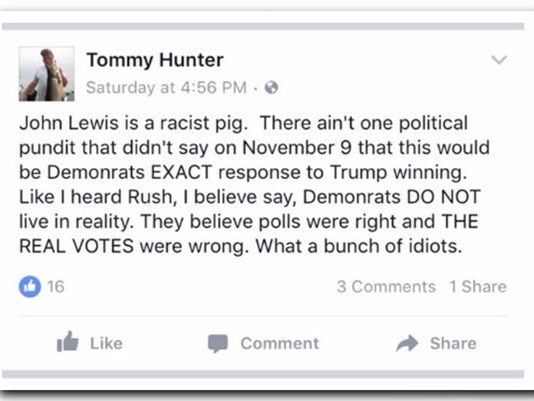 Within a week, Hunter apologized for the "racist pig" comment, calling it "a poor choice of words." However, demonstrators have attended every Gwinnett commission meeting since the incident, strongly criticizing Hunter and calling for him to resign.
RELATED: Commissioner apologizes for 'racist pig' comment
An ethics complaint has also been filed against Hunter, claiming that he violated county ethics policies with his statement. Last week, the Gwinnett commission appointed a member to a panel that will investigate the matter further, after two additional panel members have been named.
Georgia's Black Caucus has also called for Hunter's resignation.
RELATED: Black caucus calls for Hunter to resign
Atlanta Mayor Kasim Reed recently sent a letter to Hunter's firm, United Consulting, saying Hunter's remark was toxic and insulting.
RELATED: Company employing embattled Gwinnett commissioner responds to Kasim Reed
Protestors are also calling for the commission to remove Hunter from the board, even though state law does not allow the commission to take that action.
PHOTOS: Gwinnett commissioner urged to resign after 'racist pig' comment
PHOTOS: Gwinnett commissioner urged to resign after "racist pig" comment
Dozens of people attended Tuesday night's Gwinnett County commission meeting, once again urging Tommy Hunter to resign. WXIA
Dozens of people attended Tuesday night's Gwinnett County commission meeting, once again urging Tommy Hunter to resign. WXIA