The U.S. Senate race between Republican incumbent Johnny Isakson and Democratic political newcomer Jim Barksdale is not close, according to a new poll conducted by Survey USA for 11Alive.
Isakson had 50 percent of support while Barksdale only has 38 percent. Libertarian Allen Buckley had five percent of support and eight percent of those polled were undecided. The margin of error for this question in the larger poll was +/- 4.1 percent.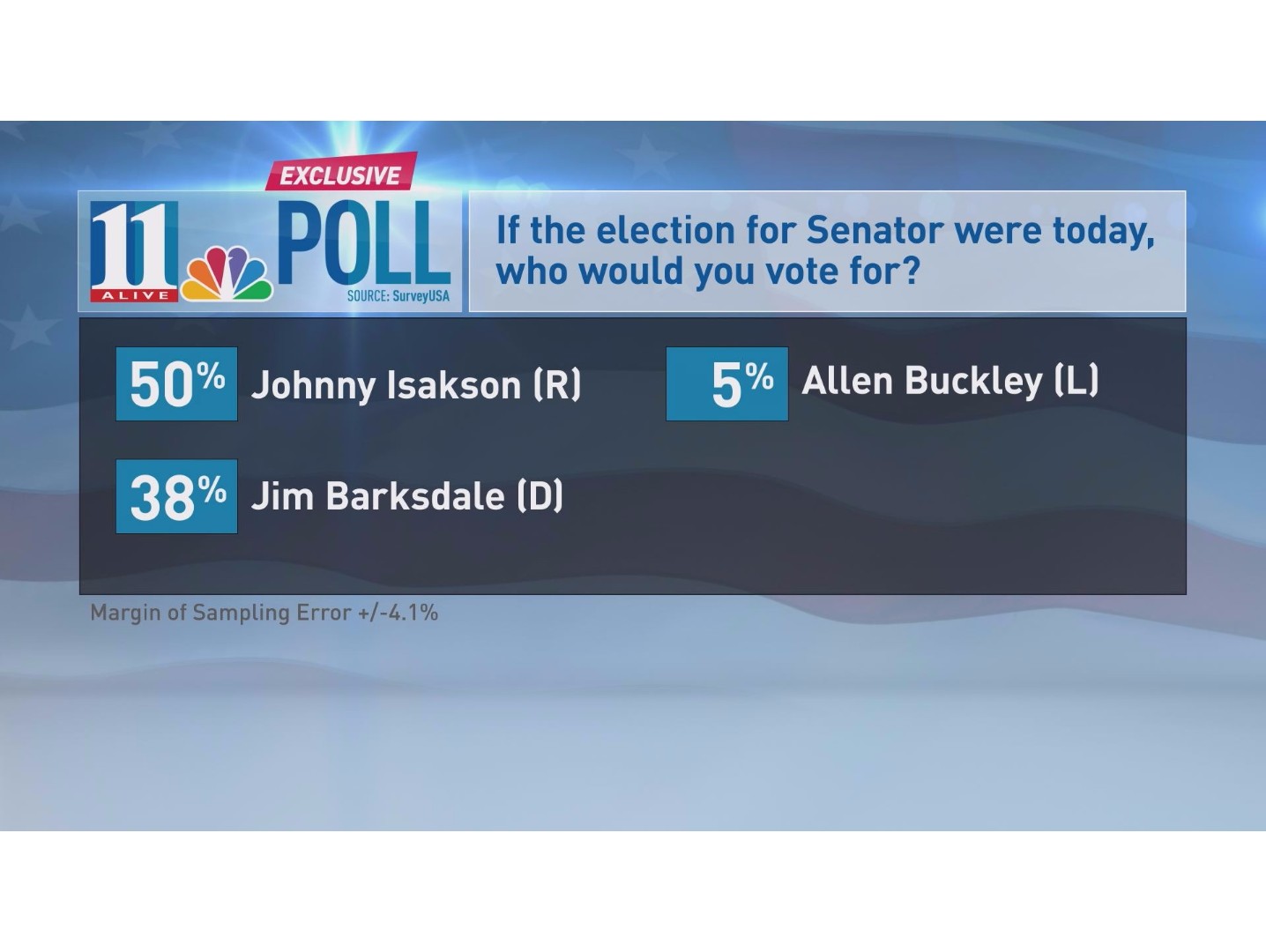 Here is the question:
If the election for United States Senator from Georgia were today, and you were filling out your ballot right now, who would you vote for? Republican Johnny Isakson? Democrat Jim Barksdale? Or Libertarian Allen Buckley?

RELATED | Sen. Isakson targeted in sole Senate race debate
The same pool of Georgia voters said they are more likely to vote for Republican Presidential nominee Donald Trump than they would Democratic Presidential Candidate Hillary Clinton.
MORE | EXCLUSIVE POLL: Trump lead grows in Georgia
The survey shows Trump with 49 percent of the vote in the state; Clinton has 42 percent and Libertarian Gary Johnson has three percent. Six percent of voters surveyed are undecided.
Watch 11Alive at 11 for poll results from the ballot questions about the failing schools amendment and judicial qualifications commission.
Survey notes:
SurveyUSA interviewed 800 state of GA adults 10/25/16 through 10/27/16. Of the adults interviewed, 683 were registered to vote in Georgia. Of the registered voters, 5% say they "almost always" vote in Presidential elections but will not vote in 2016 because they do not like any of the candidates on the ballot. An offsetting 5% say they "almost never" vote in Presidential elections but will vote in 2016 because they are uniquely drawn to one of the candidates. These so-called "new" voters split; they do not disproportionately favor Trump. Of the registered voters, 593 were determined by SurveyUSA to have already returned a ballot or to be likely to do so before polls close on 11/08/16.

This research was conducted using blended sample, mixed mode. Respondents reachable on a home telephone (64% of likely voters) were interviewed on their home telephone in the recorded voice of a professional announcer. Respondents not reachable on a home telephone (36% of likely voters) were shown a questionnaire on the display of their smartphone, tablet or other electronic device. Georgia last voted for a Democrat for President in 1992, when Bill Clinton captured the state's then 13 electoral votes by 1 percentage point over George H. W. Bush. In 2012, Mitt Romney carried Georgia by 8 points. In 2008, John McCain carried Georgia by 7 points. George W. Bush carried Georgia by 17 points in 2004 and by 12 points in 2000.