ATLANTA – Some voters around the country have been turned away from the polls or report not having a pleasant experience because of a few simple things they overlooked.
So 11Alive sat down with Georgia's Director of Elections, Chris Harvey and also spoke with Secretary of State Brian Kemp.
This election has more than 6.6 million registered voters in the state of Georgia. And the polls will open early this Saturday for all 159 counties so that voters can cast their votes early through Election Day on Nov. 8.
To date, more than a million ballots have been cast, including 116,764 mailed-in absentee ballots and 938,195 advance in-person ballots.
"Georgia voters are highly enthusiastic and taking full advantage of unprecedented access to the ballot box," Secretary of State Brian Kemp said. "As Georgia's chief elections official, I want to ensure every Georgian has the opportunity to allow their voice to be heard at the polls."
But with a large number of voters comes some complications - many that can be solved by voters themselves. Here are a few things to remember when heading to the polls.
Your guide to voting do's and don'ts:
Take note from JT's epic voting fail. No selfies inside the booth. Kemp said photography is prohibited in a polling place when voting is underway. It is illegal to take pictures of a ballot or voting equipment. In previous elections, voters have posted "ballot selfies" on social media in violation of statutory law.
Photos | Your Election Day selfies OUTSIDE the booth.
PHOTOS | Your Election Day selfies
"If you are going to post about your voting experience on social media, I encourage you to post your peach voting sticker, not your ballot," Kemp said. "Georgia law intends to preserve secrecy of the ballot for all voters."
Voters can bring in notes to help get them through the amendments and special issues. But those notes will likely have to be on paper since no cell phones or electronic devices allowed inside the polling locations.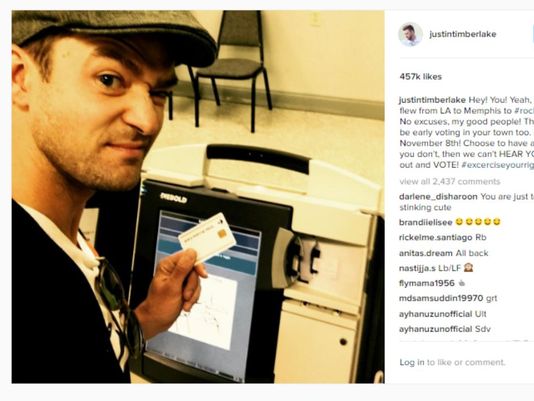 Show up to the right polling place. Harvey said that showing up to the wrong location - something particularly a problem on election day - is the number one thing he sees.
"So if they're talking with a family member and someone says I voted at the library today during advanced voting and they're waiting to vote on election day ... they're probably going to be going to a different location," he said.
Be your own fashion police. What to wear and what not to wear to vote is just as important as the candidate you choose. Well, maybe not that important. However, in the wrong get-up, you might be turned away from the polls.
That means no Hilary Clinton ponytail holders, Donald Trump earrings or Gary Johnson t-shirts.
Harvey explained that the intention is to remove any undue influence.
"The polling place is a special place," he said. "It's where we go to exercise one of our most basic rights and I think it's good that the law recognizes that and I think that it's good that the laws provide that type of snctity and security."
On the other hand, fake candidates - or those not on the ballot - can appear on clothing. So feel free to pull out that "Vote for Minnie Mouse" shirt since she's not on the ballot - at least not this year.
Check your vote… and check it twice. The final screen you will see before you cast your ballot is a summary of your choices. Be sure to review them before you cast your ballot. If you do see an error, alert a poll worker and they will assist you in addressing any issue.
Don't underestimate the time it takes to go through the ballot. You may be going to the polls to vote for one thing, but chances are overwhelming that there are several positions, amendments and other items that are also vying for your attention. So make sure to make time to avoid the frustration.
"They think, 'Hey, I'm voting for president.' They don't realize that you've got a lot of other people on the ballot and a lot of other issues on the ballot and they need to be prepared for that," Harvey said.
Keep it real. Report any voting complaints involving elections online or call (877) 725-9797.
Also, keep in mind that if you have questions at the polls, you are free to ask for help.
"And if at any point you have a problem with the machine or you're confused, you can raise your hand," Harvey said. "You can get the attention of a poll worker as long as you have not cast your ballot."
He cautioned, however, that as soon as you hit that cast ballot button and your card ejects, the voting process has been completed.
Kemp's office has been working with county officials and state partners at the Kennesaw State University Center for Elections System to prepare, test and deploy the state's elections system and voting equipment.
"Confidence in a voting system is not earned overnight. It is built vote by vote, election by election," Kemp said. "With over 45 million votes accurately cast, captured and tabulated, Georgia's battle-tested voting equipment and the election officials who manage the system have earned voters' confidence."
"Voter fraud is a real and serious issue. However, elections administrators, including myself, are working hard to make sure we have secure, accessible, and fair elections in our state," said Kemp.
More questions? Visit: My Voter Page.
Hours of operation vary by county for Saturday voting this upcoming weekend. On Election Day, the polls will be open from 7 a.m. to 7 p.m.