LAWRENCEVILLE, Ga – The Gwinnett County Commission appointed a member to a panel that will determine whether one of its members violated the county's ethics ordinances.
On Tuesday, Herman Pennamon Jr. was appointed to an ethics board to investigate Tommy Hunter, the commissioner who called U.S. Rep. John Lewis "a racist pig" earlier this year.
Two more appointments need to be made to the five-person board, including a representative for Hunter himself, before the investigation begins.
Terri R. Duncan has been appointed to the ethics panel by the Gwinnett County district attorney, and the Gwinnett Bar Association has appointed David C. Will. The Association of County Commissioners also is charged with appointing someone to the panel.
A hearing officer has told the Gwinnett County attorney that the ethics complaint Turner meets the technical requirements for the issue to move before an ethics board.
Hunter was not at the meeting on Tuesday.
Hunter called Lewis "a racist pig" on a now-deleted Facebook shortly before President Donald Trump's inauguration. Hunter was responding to Lewis' comments that Trump was not "a legitimate president" due to allegations of Russian interference in this past November's elections.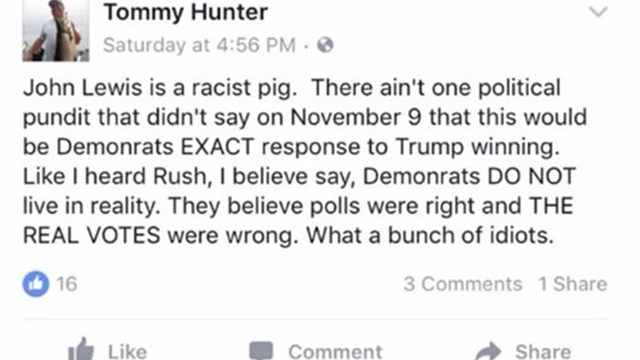 More than two dozen people urged the commission to remove Hunter from the commission, even though County Attorney Bill Linkous said state law does not permit the commission to either temporarily or permanently remove one of its members.
Also on Tuesday, Georgia's Black Caucus called for Hunter's resignation.
RELATED: Black caucus calls for Hunter to resign
Atlanta Mayor Kasim Reed recently sent a letter to Hunter's firm, United Consulting, saying Hunter's remark was toxic and insulting.
RELATED: Company employing embattled Gwinnett commissioner responds to Kasim Reed
Reaction to Hunter's post was swift and severe. Protestors have been attending Gwinnett County Commissioner meetings, calling for his resignation. An ethics complaint was filed last month.
Hunter has apologized for the "racist pig" comment, calling it "a poor choice of words".
PHOTOS: Gwinnett commissioner urged to resign after 'racist pig' comment
PHOTOS: Gwinnett commissioner urged to resign after "racist pig" comment
Dozens of people attended Tuesday night's Gwinnett County commission meeting, once again urging Tommy Hunter to resign. WXIA
Dozens of people attended Tuesday night's Gwinnett County commission meeting, once again urging Tommy Hunter to resign. WXIA