Former Georgia Bulldogs linebacker Tim Kimbrough went on a Twitter rant on Monday morning about defensive coordinator Mel Tucker.
The rant was in response to Tucker being a candidate for the head coaching job at Georgia State, which 11Alive news partner USA TODAY reported on Saturday. Georgia State fired head coach Trent Miles two weeks ago. Tucker was hired by Georgia in January.
Kimbrough left the program in August, and head coach Kirby Smart called his decision to leave "a mutual decision" in a statement released by the university at the time. Kimbrough, through Twitter, said it was a family decision and that he did not want to do it, but sometimes you have to make decisions you don't want to.
Kimbrough had struggled with academics during the spring, forcing him to miss practices. Before that, he was suspended for the TaxSlayer bowl last season for an undisclosed reason.
Here is the rant (They are screen shots because of the possibility of the Tweets getting deleted. They were taken from his Twitter page, which you can find here):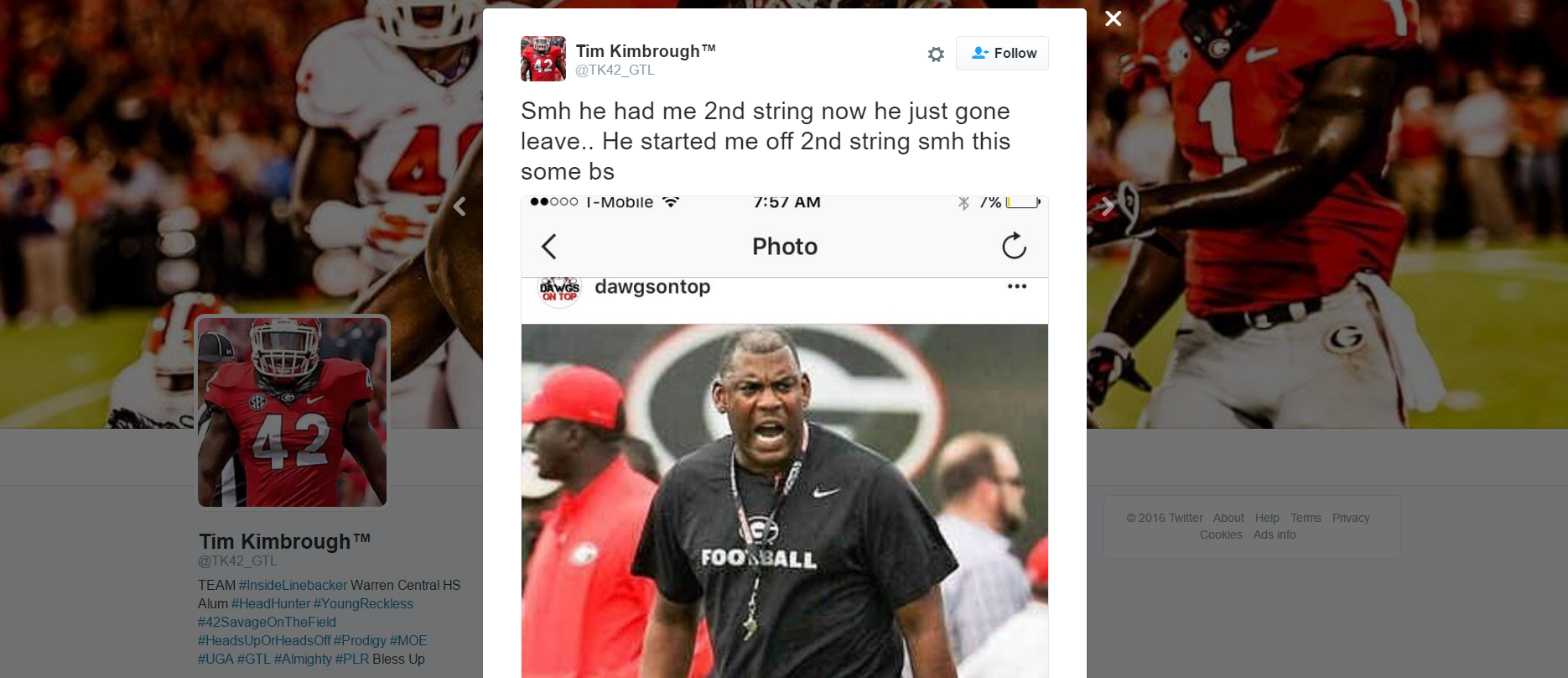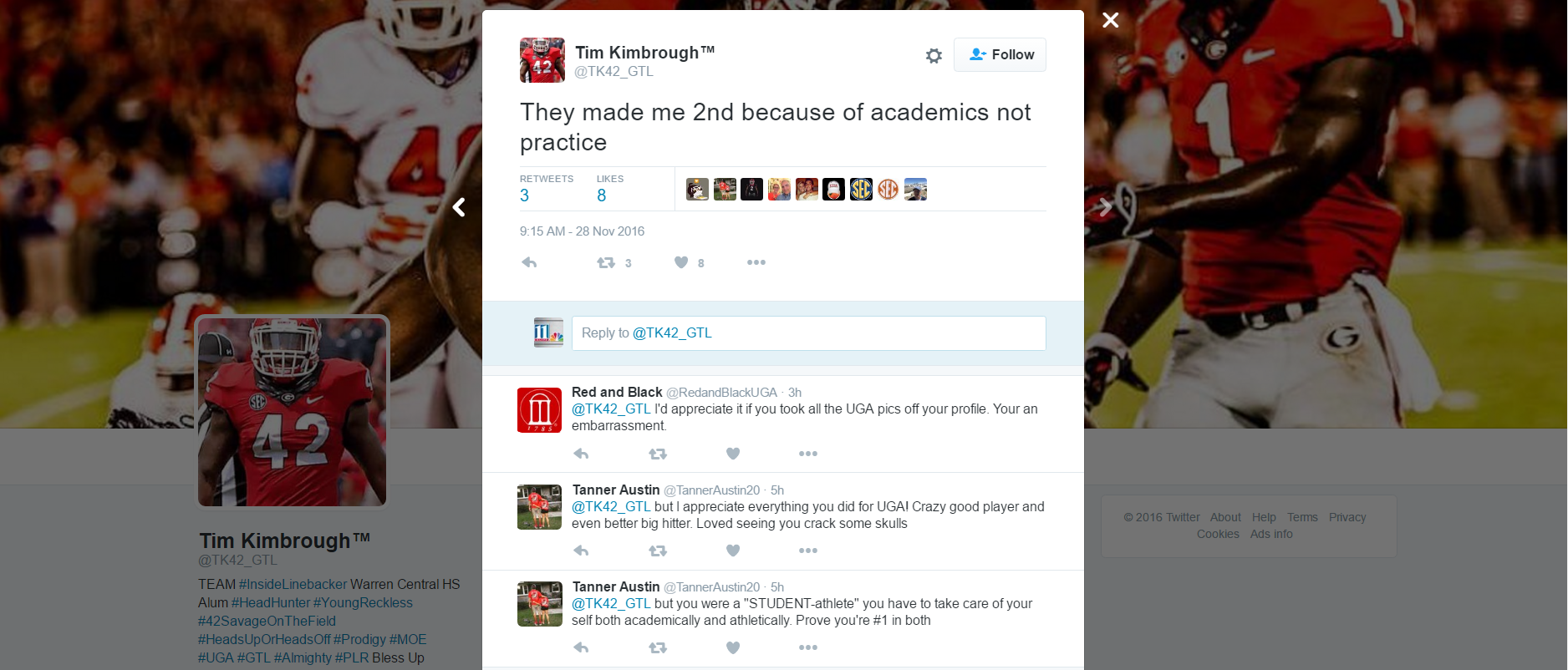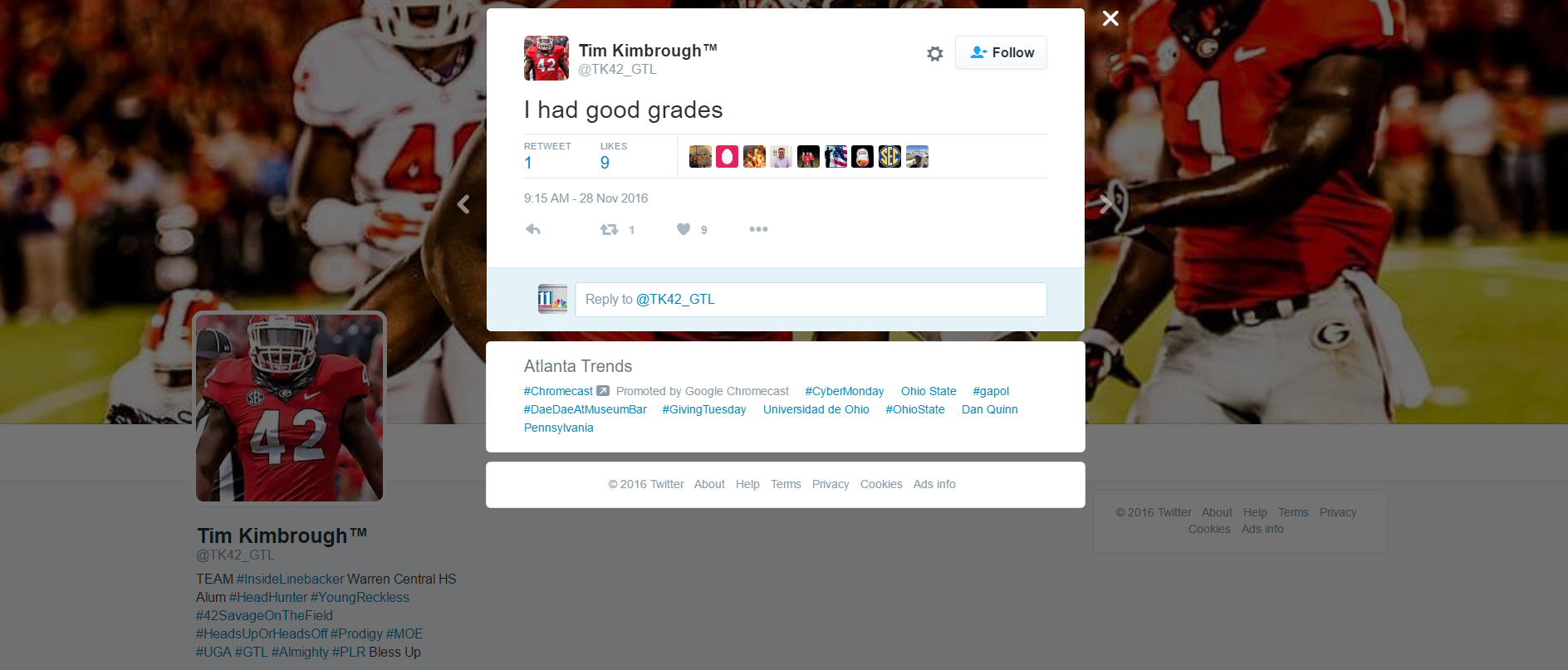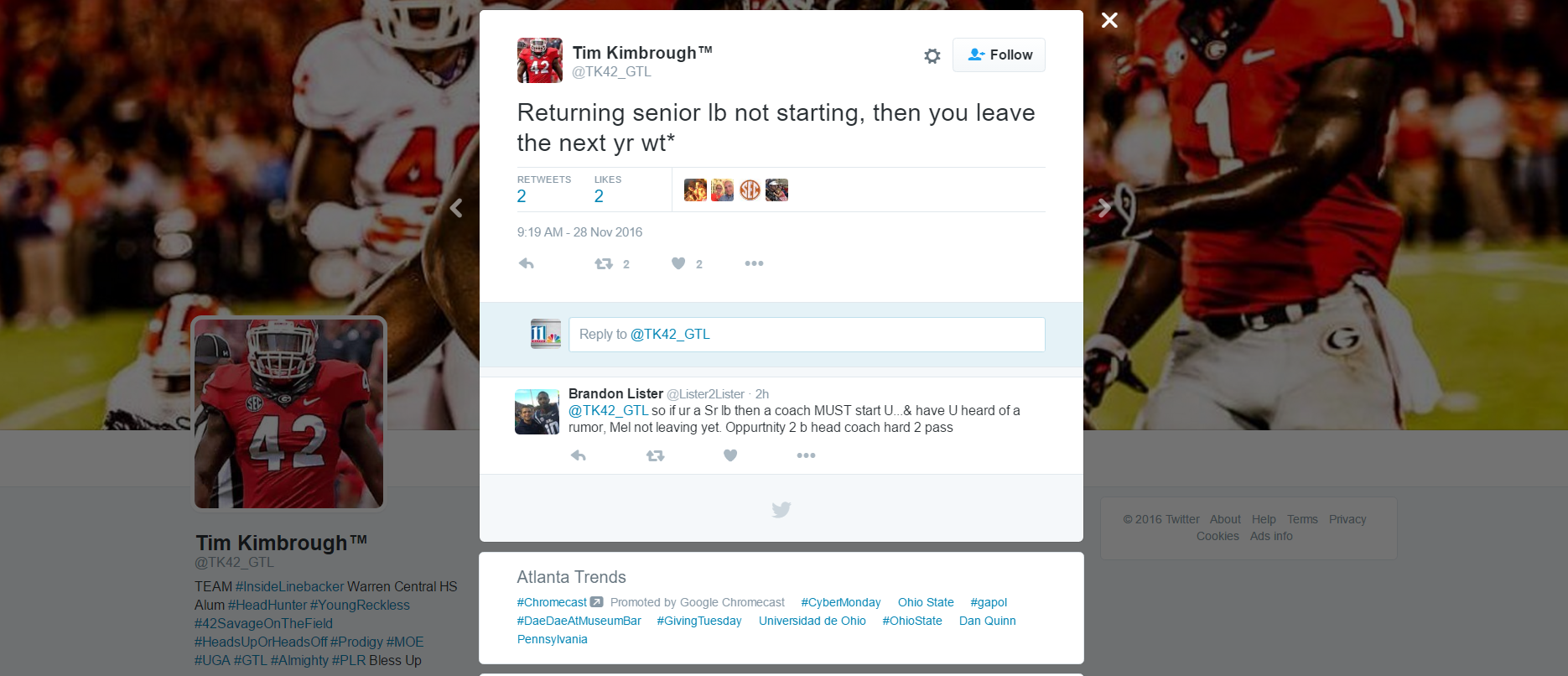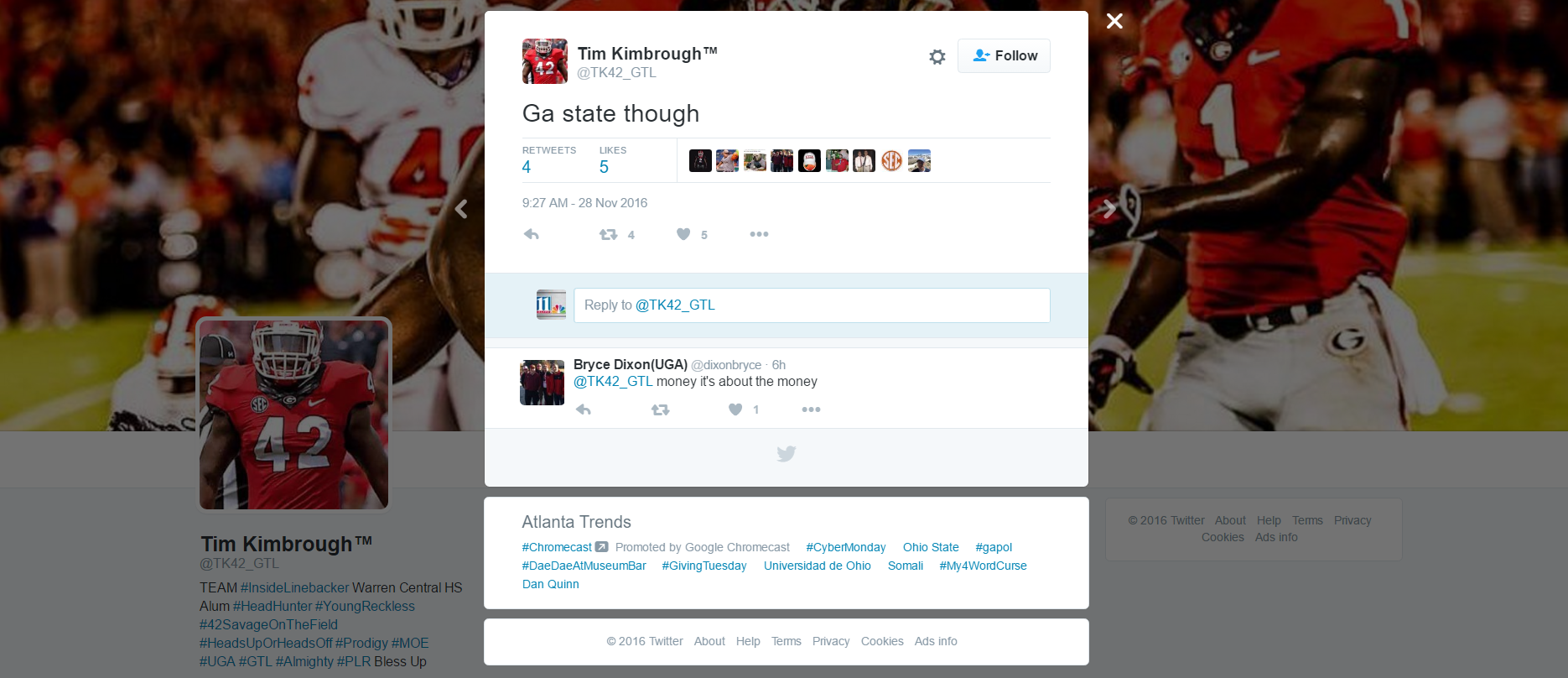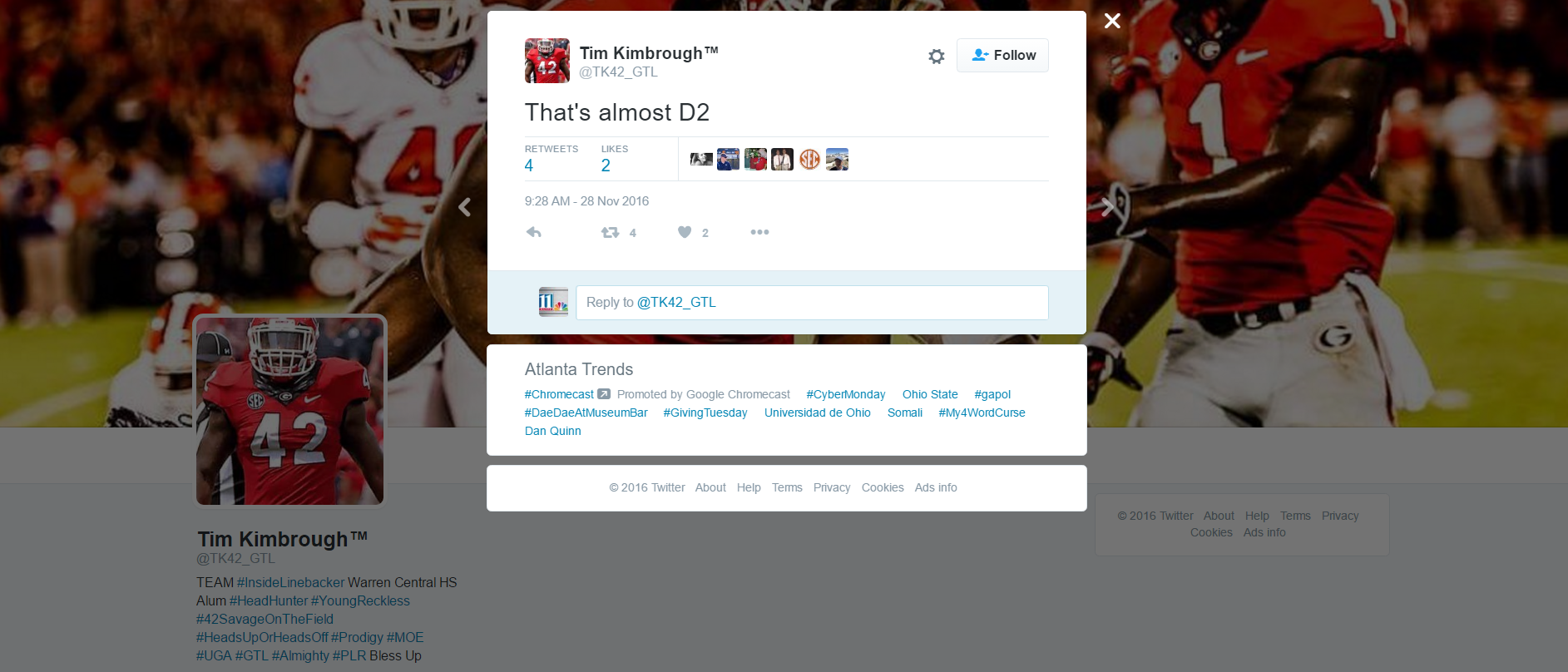 Kimbrough suggests Tucker made him a 2nd-string linebacker because of his grades. Kimbrough started seven games in 2015.The last Tweet is a slight against Georgia State, a D-I football program in the Sun Belt conference.Kimbrough declared for the upcoming NFL draft, and scouts will take notice of this kind of stunt.
PHOTOS | GT vs. UGA
PHOTOS | GT vs. UGA
Nov 26, 2016; Athens, GA, USA; An official separates Georgia Bulldogs wide receiver Isaiah McKenzie (16) and Georgia Tech Yellow Jackets defensive back Lawrence Austin (20) after a Georgia touchdown during the second quarter at Sanford Stadium. Mandatory Credit: Dale Zanine-USA TODAY Sports
Nov 26, 2016; Athens, GA, USA; An official separates Georgia Bulldogs wide receiver Isaiah McKenzie (16) and Georgia Tech Yellow Jackets defensive back Lawrence Austin (20) after a Georgia touchdown during the second quarter at Sanford Stadium. Mandatory Credit: Dale Zanine-USA TODAY Sports