ATLANTA – The Atlanta Hawks Basketball Club and the city of Atlanta have reached an agreement on key terms for a $192.5 million renovation of Philips Arena.
The announcement came just one day after the Hawks' second home game for the 2016-17 season.
On Tuesday, Atlanta Mayor Kasim Reed committed to provide $142.5 million in funds, with the Hawks funding the remainder of the $192.5 million.
In a press release, the Hawks stated that the renovation will improve the city-owned facility in order to revitalize the arena as a basketball-first, world-class venue that hosts approximately 170 events annually. The Hawks committed to an 18-year lease extension to remain in downtown Atlanta through 2046.
"This is the first stake in the ground in transforming the critical corridor from the new Mercedes-Benz Stadium to Centennial Olympic Park and across to Five Points and Underground Atlanta," said Mayor Reed.
According to a release, the Hawks will begin renovations of Philips Arena during the summer of 2017, and the transformation will be completed by the start of 2018-2019 season, coinciding with the Hawks' 50th Anniversary in Atlanta. The Hawks will play the 2017-2018 season at Philips.
The Hawks' organization stated, that their vision is to have a building that is "True to Atlanta" by taking the excitement and inclusiveness of the Beltline and connecting that spirit to the re-imagined Philips Arena.
The new arena will include new amenities on every level of the building, 360-degree connected concourses at all levels, improved sightlines and state-of-the-art video throughout the building.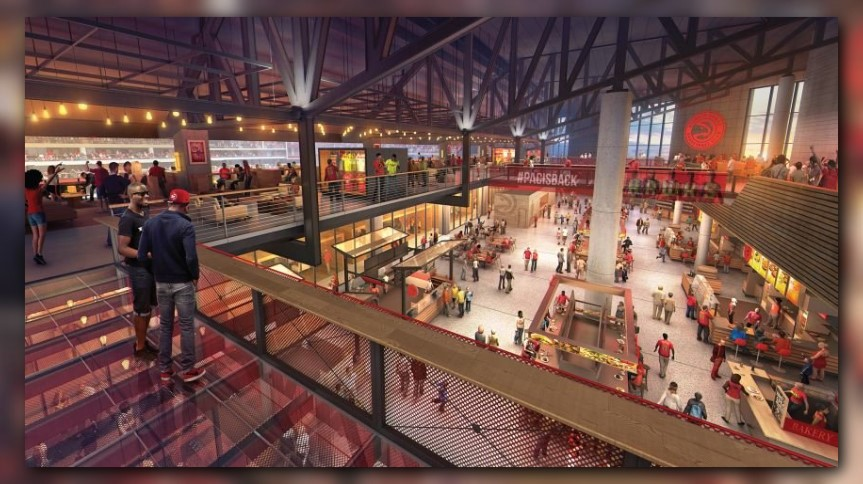 Originally constructed as a multi-purpose facility and opened in 1999, Philips Arena annually ranks among the most-programmed venues in the country, after Madison Square Garden and Barclays Center in New York City and Staples Center in Los Angeles, according to Pollstar's rankings.
Philips Arena hosts approximately 170 events per year, including most of the biggest musical acts, family shows including the circus and ice shows, and Hawks home games.
Philips employs approximately 1,500 staff per event, including 300 full-time employees and 1,200 part-time employees. More than 1.6 million fans and customers attend events at Philips Arena every year, with those numbers expected to increase significantly in the next two to five years.
PHOTOS | Atlanta Hawks season opener
PHOTOS | Atlanta Hawks 2016 season opener
Oct 27, 2016; Atlanta, GA, USA; Washington Wizards center Marcin Gortat (13) and forward Otto Porter Jr. (22) and Atlanta Hawks guard Kyle Korver (26) compete for a loose ball during the first half at Philips Arena. Mandatory Credit: Dale Zanine-USA TODAY Sports
Oct 27, 2016; Atlanta, GA, USA; Washington Wizards center Marcin Gortat (13) and forward Otto Porter Jr. (22) and Atlanta Hawks guard Kyle Korver (26) compete for a loose ball during the first half at Philips Arena. Mandatory Credit: Dale Zanine-USA TODAY Sports