ATLANTA, Ga -- Live, Work and play ball!
SunTrust Park is not only home to the Atlanta Braves, but also a wide variety of restaurants, shops, apartments and other venues.
Crews have worked to wrap up those finishing touches before Live! at the Battery Atlanta opens to guests for the home opener.
"The entertainment and they energy that we bring also, is pretty close to the ballpark...a lot of fun," said Director of Operations Ben Brengle.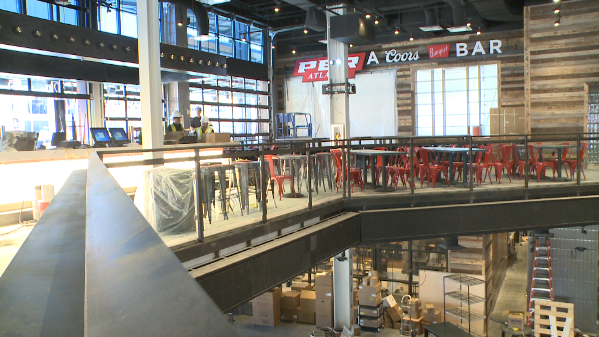 He describes Live! at the Battery Atlanta as a two story, year-round, sports and entertainment destination serving up food and games in different concepts, including a restaurant from Atlanta-raised, celebrity chef Todd English.
Live! at the Battery Atlanta also features a mechanical bull and 30 foot television and several bars all inside one location that allows you to move throughout the different concepts with your drinks.
"We're excited for opening day, we're excited for braves baseball," said Brengle.
I know you're excited about the @Braves home opener tonight at @SunTrustPark, but can we talk about all @BatteryATL has to offer? #GoBraves pic.twitter.com/BDUZqRfWUj

— Jennifer Bellamy (@JBellamyTV) April 14, 2017
Here's a listing of the restaurants coming soon and currently open at The Battery Atlanta
If shopping is more your thing, Dress Up will make up part of the more than 400,000 square feet of retail and office space offered at the Battery.
"We're designing some exclusive baseball tees and some baseball hats," said owner Danielle Case.
The store has already 17 locations across the southeast, but owners Derrick and Danielle Case jumped at the chance to claim a spot around the ball park that will soon be filled with excited and curious fans.
"I always say in retail, you want chaos. Especially in women's retail, chaos, plus a good deal equals people buying things," said Derrick Case. The Dress Up SunTrust Park location will open in May.
Check out some of the places you can shop at The Battery Atlanta
Guests in the area, can stay the night at the new Omni Hotel at the Battery Atlanta, or if you would like to stay longer, you are sure to feel at home in one of the more than 550 residences available at three newly developed apartment communities.
Click here for more information about the residences at The Battery Atlanta
Photos | Sneak peek at SunTrust Park
PHOTOS | Sneak peek tour of SunTrust Park
Take a look at SunTrust Park before Opening Day
Take a look at SunTrust Park before Opening Day