ATLANTA – How many bridges are safe that you drive across every day in Georgia?
Nationally, there are about 185 million people traveling on approximately 56,000 structurally deficient bridges. Almost 2,000 of those bridges are on interstate highways that intertwine throughout all 50 states. With a total of 14,835 bridges, Georgia ranks No. 27, with 700 bridges in need of attention.
Check your state, click here.
Those 700 bridges were deemed structurally deficient, according to American Road and Transportation Builders Association (ARTBA), because at least one, if not more, key elements have been regarded as being in poor condition.
READ | Full list of 56,000 bridges in study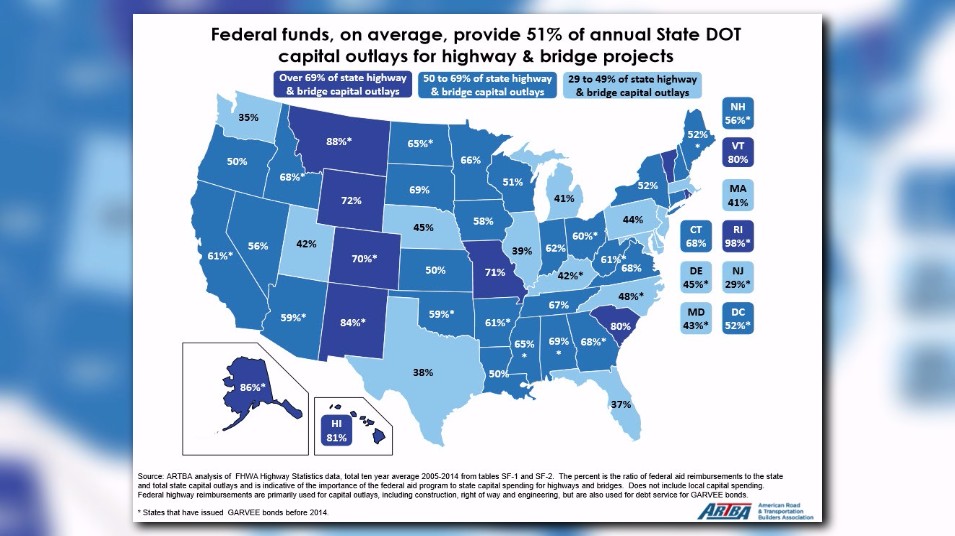 Georgia bridges by the numbers:
1,604 bridges are functionally obsolete and do not meet standards.
$2 billion of federal money was invested on 1,117 Georgia bridges between 2005 and 2014.
890 new bridges built over last decade.
128 bridges have had reconstruction over last decade.
13,541 bridges need repairs; which the state estimates will cost approximately $27 billion.
Top traveled, deficient bridges in Georgia-
Fulton County:
Interstate 285 over South Utoy Creek | Built in 1966 | 137,730 cars daily
Cobb County:
I-285 over Rmp I-285 Ccbl to I-75S |
Bibb County:
US 41 SBL SR 49 over Rocky Creek | Built in 1924 | 34,880 cars daily
DeKalb County:
Ponce De Leon over Lullwater Creek | Built in 1922 | 31,650 cars daily
Muscogee County:
Buena Vista Road over Bull Creek | Built in 1924 | 27,180 cars daily
US 80 over Flatrock Creek | Built in 1988 | 26,920 cars daily
US 280 SR 520 Cor over M-87- Chatt. River- RR | Built in 1962 | 31,400 cars daily
Houston County:
US 129 over Sandy Run Creek | Built in 1981 | 26,910 cars daily
Floyd County:
SR 1 - US 27 over Big Dry Creek | Built in 1947 | 23,080 cars daily
***
This year, a $1.2 million project is slated to take off in Cobb County, rehabilitating a bridge.
According to GDOT, the work will include deck rehabilitation, anchor bolt repair, painting the steel superstructure and spall repairs on the substructure, at both SR 5 (US 78/US 278) over Sweetwater Creek, and at SR 8 (US 78) over Chattahoochee River. The funding is federal, as is a bridge rehabilitation project on I-285 ramps to I-75 in Cobb County.
In the $1.4 million federally funded project, it will correct erosion, polymer on bridge decks and replace expansion joints.
In 2018, the state has proposed to fund a $16.2 million widening project.
The nearly three-mile long project would widen SR 92/Lake Acworth Drive from US 41/SR 3/Cobb Parkway to Glade Road to a divided four-lane road.
Likewise, in Fulton County, two projects over $1 million are set for 2017.
A $4.2 million replacement bridge for an existing structurally deficient bridge over the Little River is slated for this year in Fulton County. The existing bridge will be maintained while the proposed bridge is constructed.
Another project comes in at a price tag of $1.8 million with federal money, will include a replacement guard rail with a new concrete median barrier, as well as some repair work like, bearings and edge beams, bridge joint replacement, application of a co-polymer overlay on the bridge deck and painting of the steel superstructure.
Two more bridge projects are slated for 2019, totaling $12 million in federal funding; and one in 2018, for $2.8 million.
See all projects, click here.
RELATED | Nearly 56,000 bridges called structurally deficient
Nationally, more than 173,919 bridges are at least 50 years old and have never had major reconstruction, according to ARTBA's analysis.
"America's highway network is woefully underperforming," Alison Premo Black, the group's chief economics who conducted the analysis, said. "It is outdated, overused, underfunded and in desperate need of modernization."
Most deficient bridges:
Iowa- 4,968
Pennsylvania- 4,506
Oklahoma- 3,460
Missouri- 3,195
Nebraska- 2,361
New highway funding is scarce and is where many states are left in the lurch when it comes to upgrading old, decrepit bridges. However, President Trump has proposed spending $1 trillion for the nation's infrastructure projects over the next decade.
USA TODAY contributed to the story.