ATLANTA – The Georgia Department of Transportation is reconfiguring several I-85 northbound lanes near the Peachtree Road overpass to handle weekday rush hour traffic in the wake of the bridge collapse.
GDOT also said it is following "an aggressive schedule" to replace the bridge while also adding that other work is being done to alleviate traffic along surface streets.
► More: GDOT provides tips for travel ahead of Atlanta's Monday traffic
"Demolition work has begun and will continue through early next week," GDOT officials said. "Once demolition is completed, a more exact timeline for expected completion can be estimated."
But until that happens, those living in apartments near the collapse say the demolition noise is beginning to cause real headaches. As crews work with backhoes, trucks and sledge hammers to clean up the leftover mess, even residents on the other side of the complex are having a tough time acclimating.
Unfortunately, that noise will continue through the demolition process - and likely through construction.
► More: Noise from I-85 bridge repair jarring neighbors
The northbound lanes of I-85 beginning near the Peachtree Road overpass have been reconfigured to allow for two travel lanes to continue northbound up to the Buford-Spring Connector for local traffic only.
At that point, all local traffic is being routed to the Buford-Spring Connector where vehicles travel through and return to I-85 north near Sidney Marcus Boulevard.
"This reconfiguration work includes the placement of concrete barrier as well as re-striping of the lanes," the DOT said. "Vehicles passing through metro Atlanta should still plan to utilize I-285 as the most efficient route of travel."
GDOT officials said the new configurations will be ready for the Monday morning commute, and will remain in place for the near future. It has also published the below map as a guide for commuters whose travel plans are impacted by the bridge's collapse.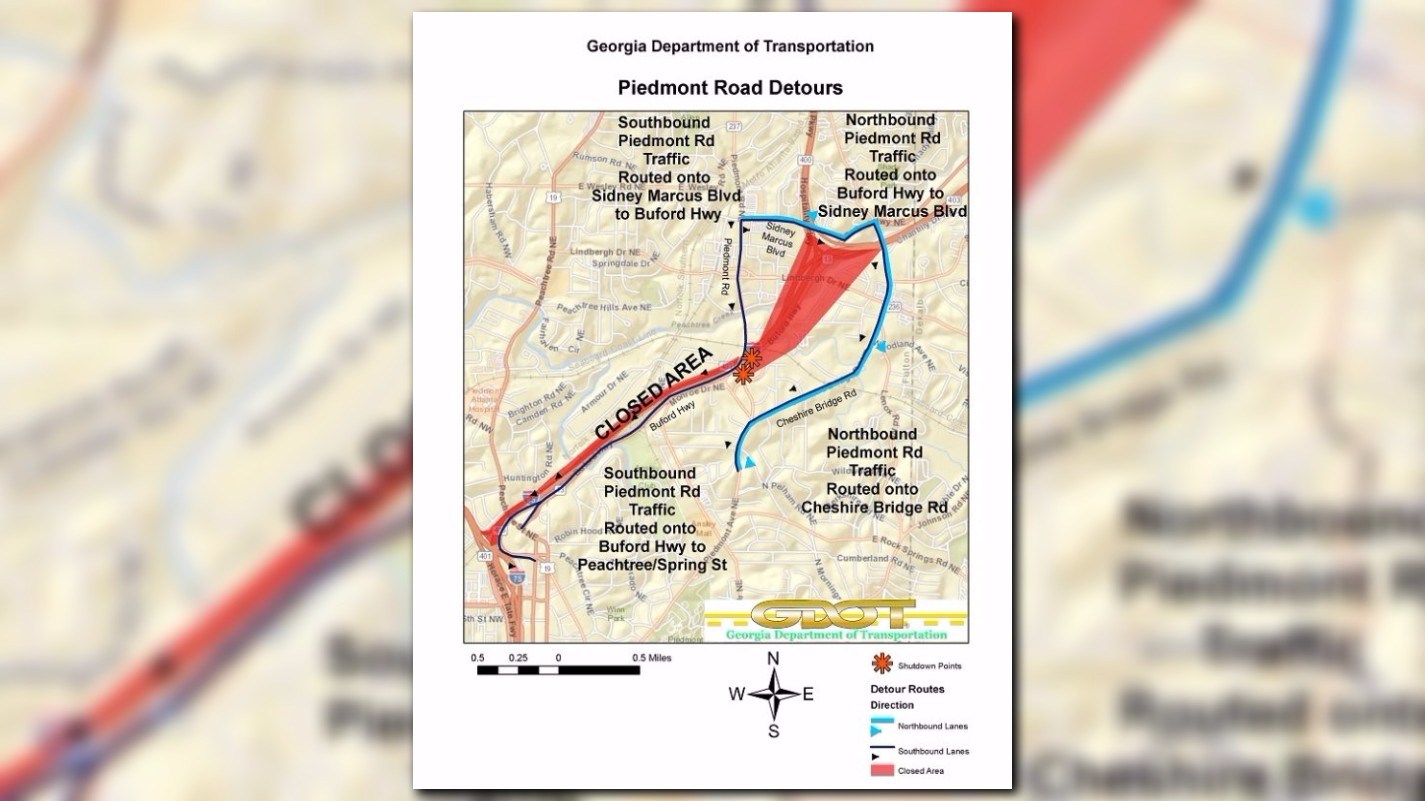 It turns out, however, that motorists aren't the only ones feeling the strain of blocked roads. 11Alive spoke with those who decided to take to the streets on foot. Some were doing it to avoid the traffic and others were just following their normal routines.
But many found themselves out of luck and having to walk much further without any marked detours for those on foot.
► More: I-85 collapse leading to road blocks for pedestrians, too