ATLANTA -- Hurricane season may be almost half over, but the National Oceanic and Atmospheric Administration (NOAA) is predicting it will go out with a bang.
NOAA issued an update to the 2017 hurricane season outlook on Wednesday. The agency now predicts a 60 percent chance of an above-normal season - possibly the most active since 2010. That could also mean between 14 and 19 named storms - an increase of the 11 to 17 storm prediction back in May. The prediction of five to nine hurricanes remains unchanged though now up to five of those are expected to be major.
Even without fully-formed hurricanes, it's already been an active season for tropical storms. But the most recent news means the most active days are yet to come as Sept. 10 approaches.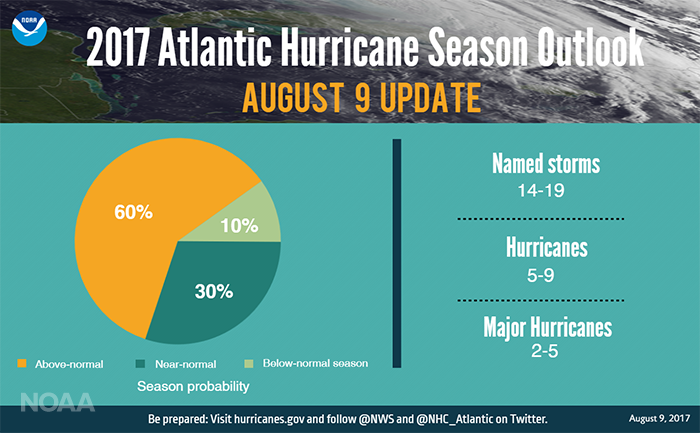 "In fact, that is the peak of hurricane season and we do expect to see activity ramp up in terms of more named storms," StormTracker meteorologist Samantha Mohr said. "And also the intensity of the storms could likely be stronger - that coming from NOAA today in a teleconference."
So what's behind the more active weather? According to Gerry Bell with NOAA, warmer waters across the tropical Atlantic than models previously predicted are playing a role.
"The wind and air patterns in the area of the tropical Atlantic and Caribbean where many storms develop are very conducive to an above-normal season," Bell said. "This is in part because the chance of an El Nino forming, which tends to prevent storms from strengthening, has dropped significantly from May."
The Atlantic basin has already seen six named storms: Arlene, Bret, Cindy, Don, Emily and, now Franklin.
"The next one on the list would be Gert so we'll be watching for that with the activity that's currently brewing in the Atlantic," Mohr said.
UPLOAD | Send us your weather pictures here
Download the FREE app now in the iTunes store or on Google Play.
POWER OUTAGES CHECK | Georgia Power customers, check here. Georgia EMC customers check here.